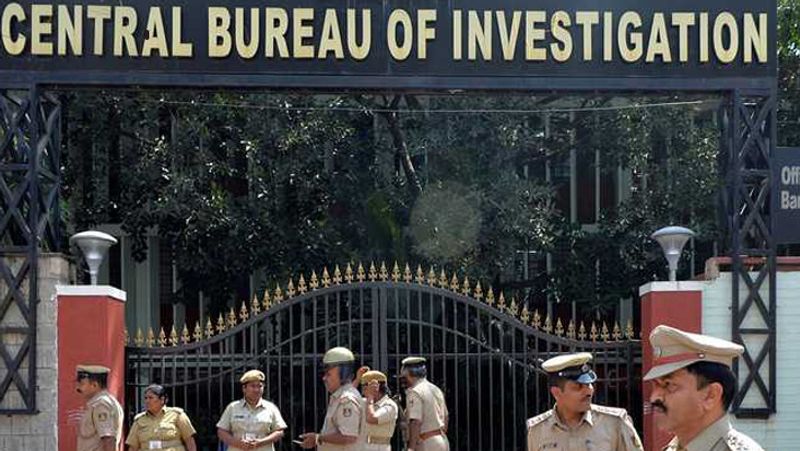 The Central Bureau of Investigation (CBI) has raided as many as six locations in Mumbai in connection with the Saradha scam. These places are reportedly the residences and offices of three officials of the Securities and Exchange Board of India (SEBI) who have been allegedly implicated in the case.
These raids, being conducted in the run up to the West Bengal elections, appear to be yet another intimidation tactic used by the Central government run by the BJP against Mamata Banerjee who is still going strong in Bengal. This is because Sudipto Sen, the main accused in the case, was said to be close to Banerjee. However, so far investigation authorities have not been able to find any evidence of Mamata Banerjee's involvement.
SabrangIndia had previously reported how the CBI began vigorously reinvesting in the case in July 2020 when it filed as many as 30 First Information Reports (FIR) in connection with the case. FIRs were reportedly filed for frauds ranging from Rs 5,000 to Rs 1 crore.
Brief background of the case
The Saradha Group, an umbrella organisation of over 200 private players started a chit-fund, promising investors high returns. It was launched in the early 2000s by businessman Sudipto Sen. But eventually it turned out to be just a ponzi scheme aimed at small investors. The fund collected over Rs 2,500 crores from 1.7 million investors spread across not just West Bengal, but also Assam, Tripura and Odisha.
In 2012, the Securities and Exchange Board of India (SEBI) asked Saradha to first get the regulator's permission before accepting money from depositors. In January 2013 it was discovered that the group's cash outflows exceeded its inflows. After that it was all downhill and the scheme collapsed quickly. Estimates of the total amount of the fraudulent fund vary but are said to be in the vicinity of Rs 10,000 crores.
The Bengal government first set up a Special Investigation Team (SIT) headed by then Kolkata Police Commissioner Rajeev Kumar to probe the case. In 2014, after Supreme Court intervention the case was handed over to the Central Bureau of Investigation (CBI). The Enforcement Directorate (ED) also questioned several accused and witnesses in the case.
Sudipto Sen was arrested in Jammu and Kashmir in April 2013, and then his custody was transferred to the Bengal Police. Another key player was Debjani Mukherjee, a close associate of Sen.
The Trinamool connection
Several influential politicians, many of whom were celebrities such as actors and sportspersons, were allegedly involved or at least connected with the scam in some way. It is alleged that they were given lucrative endorsement deals as a part of an elaborate method to bribe the All India Trinamool Congress (AITC).
Perhaps the most high-profile association was that of Bengali actor Shatabdi Roy who is also an AITC Member of Parliament (MP) from the Birbhum Constituency. Roy was alleged to be a brand ambassador for the fund.
However, in an April 2013 interview to ABP News, Roy clarified, "My image appears in endorsements for many brands and I perform at various events for which I charge a performance fee. I was only present at one event where Sudipto Sen was said to be present." She also added, "I did not get involved with any of this in my capacity as an AITC member, but in my capacity as an actor. The allegations of political bribery are false."
Those who jumped ship
Another high-profile celebrity to be associated with the brand was yesteryears actor Mithun Chakraborty who was also a Rajya Sabha MP from AITC. He had reportedly appeared in promotional videos and advertisements and also on one of the television channels funded by the Saradha group. He maintained that his association too was purely in his capacity as an actor.
Moreover, after being questioned by investigation authorities, Chakraborty returned the brand fee of over Rs 1 crore in June 2015. He also resigned from his position as MP in 2017 citing health concerns, but many speculate it might have had to do with the mental trauma he suffered on account of his name being dragged into the scam.
Interestingly, Chakraborty recently joined the BJP and is one of their star campaigners in the poll-bound state.
Another AITC MP Kunal Ghosh was appointed CEO of a media group in which Saradha had invested over Rs 900 crores. Though the party subsequently suspended Ghosh, it wasn't before he allegedly implicated Mukul Roy (who was then a close confidante of Banerjee) and 12 others in the case. Interestingly, Roy too jumped ship and is now a key player in the BJP.
Related:
CBI reinvests vigorously in WB chit-fund case investigations
The connect between criminal cases of politicians and their switch to BJP
Mamata VS CBI: Whose Fault Is It?
What has the BJP done to set the CBI free from its parrot's cage?