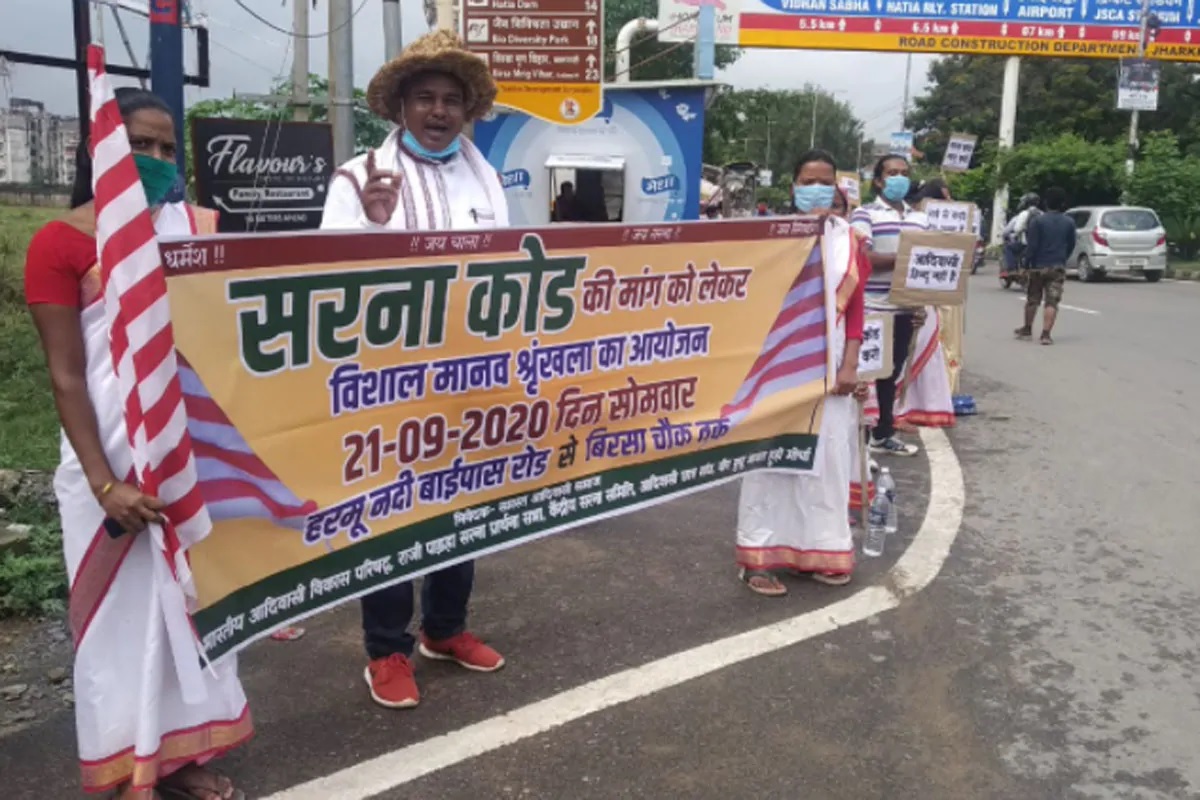 First published on: OCTOBER 30, 2020
"In today's times, everything including religion is a political issue" – former Tribal Advisory Council (TAC) member Ratan Tirkey.

This is the first rule that one must keep in mind while reading about Jharkhand adivasis' demand for Sarna code. The other argument to remember:
"The demand for a sarna code or adi-dharam is primarily a social issue." – TAC member Ratan Tirkey.
For years, tribal communities in the state asked for a separate 'Sarna' religion code in Census and other administrative forms. Their demand for a distinct religious identity has intensified recently in anticipation of the Census 2021. Various Adivasi parties including the Jharkhand Mukti Morcha (JMM) – current ruling party – supported indigenous groups by observing demonstrations and writing letters to Chief Minister Hemant Soren.
"Adi-dharma [Adivasi dharma] was practised much before sanatan dharma. Yet, their demand for a separate religion is denied, in turn denying their identity. Adivasis are forcefully converted to other religions. What kind of existence can one have if they don't have an identity," asked JMM General Secretary Supriyo Bhattacharya.
Sarna is a place of worship as well as a naturalist religion practised among Adivasi communities. Unlike Hindu rituals wherein people worship idols, adivasis who adhere to Sarna as a religion worship natural elements such as the sal tree or Mother Earth. This belief system is considered Hinduised due to certain similarities between the two faiths. However, adivasis claim that its blind grouping into Hinduism has adversely affected their population count.
A brief analysis of Census records shows that the Adivasi population has reduced from 38.03 percent of the state population in 1931 to 26.02 percent of the state population in 2011. This showed that the tribal population in Jharkhand had reduced by 12 percent in eight decades alone.
Here is a detailed table on the tribal demographic in Jharkhand. 
The TAC was organised to understand the reduction in Adivasi population while other communities thrived. Its sub-committee conducted a survey in 2018-19 to understand potential problems suffered by the indigenous groups.
Council member Tirkey told SabrangIndia that Adivasis questioned during the survey blamed a lack of a separate religion and social identity as the major cause of their reducing population. Adivasis have been demanding a separate religious identity ever since Independence, he said.
"They do not recognise Hinduism as their religion yet they are forced to choose that option because there is no longer a separate column for them under the religion section of the Census form. This could reduce the Adivasi population by 73 percent. They argued that Sarnas should have a separate option just as Christians and Jains do," said Tirkey.
Moreover, Adivasis demanded that their forms be filled with pens and not in pencils because Census workers often forcibly change their religion to Hinduism. The New York Times wrote an article in 2013 regarding religious conversion in Jharkhand wherein an Adivasi family converted from Hinduism to Christianity and back between two generations because of fiscal pressure. It also stated that entire villages were collectively converted for a demographic effect.
According to Tirkey, religious identity has become an important issue for Adivasis due to its effects on the state's budget allotment for tribal welfare. Further it also affects policies and special provisions given to tribal communities under the Fifth Schedule of the Constitution. As per Panchayat Provisions (Scheduled Extension Campaign), population is considered as the basis for reservation for tribals at different posts of each panchayat of the scheduled area. Similarly, population also decides which areas can enjoy the provision of the Fifth Schedule.
"Owing to the reducing tribal population on record, there has been a growing demand over the last several years to remove Adivasi districts in Jharkhand from the scheduled areas," wrote Tirkey in a report.
Further, he wrote that the recognition of 'Sarna' as a separate religion – denied which Adivasis are willing to boycott Census altogether – could avail Adivasis with Special Central Assistance and land rights along with Constitutional rights. He said the denial of tribal identity is a scheme to reject the fundamental rights of Adivasis. Tirkey sourced the problem to the demand for a Briha Jharkhand constituting parts of Chhattisgarh, Odisha, Madhya Pradesh and Jharkhand.
"If that demand had been addressed properly, today no tribal community would have demanded a separate religious code," he said.
Despite such arguments, the Census Commissioner said that the demand for a Sarna code – a term only recognised by Jharkhand Adivasis – cannot be accepted for the nation-wide survey. He reasoned that tribal communities in other parts of India would also demand separate codes which would complicate the administrative process.
However, some researchers have pointed out that this problem could be easily avoided by clubbing all variants of Sarna religion under an umbrella term of "Adi-Dharam" to denote such naturalist faiths. This term was established by Padmashree Dr. Ramdayal Munda who was a former Rajya Sabha member and the Vice-Chancellor of Ranchi University, Jharkhand.
According to anthropologist Dr. G. N. Jha at Vinod Bhave University, there are 32 tribal groups in Jharkhand all of whom support the Sarna code demand. Santhal, Munda, Ho and Oraon are the most vocal tribes.
However, there are Particularly Vulnerable Tribal Groups (PVTGs) such as Asur, Agaria, Birhor, Birjia, Korwa, Mal Paharia, Kumarbhag Paharia, Parhaiya, Sauria Paharia and Savar involved in hunting and food-gathering occupations recently even labour. Similarly, Karmali, Lohra, Mahli, and Chik Baraik are artisan communities that live in similar hand-to-mouth situations.
"These communities are too preoccupied with earning their bread and butter to demand identity rights," said Jha who has worked with tribal communities for 26 years.
When asked about the Sarna code, Jha pointed out that such a change could drastically change demographic data, splitting the 26-27 percent of tribal population into various new sub-sections like Christian tribals or Hindu tribals or Sarna tribals. Yet, he also conceded that there was a definite need for a separate identity so that Adivasis could organise together and work towards the development of their community.
"Identity should be there but for the development of the country, and not for inducing conflict or tension in society," he said.
Related:
Jharkhand Adivasis brutally beaten up by CRPF men: Fact Finding Report
Conversions and anti-Christian violence in India
Sardar Sarovar Dam and the denial of Adivasi rights
MP: Adivasi activists illegally detained and tortured by forest officials