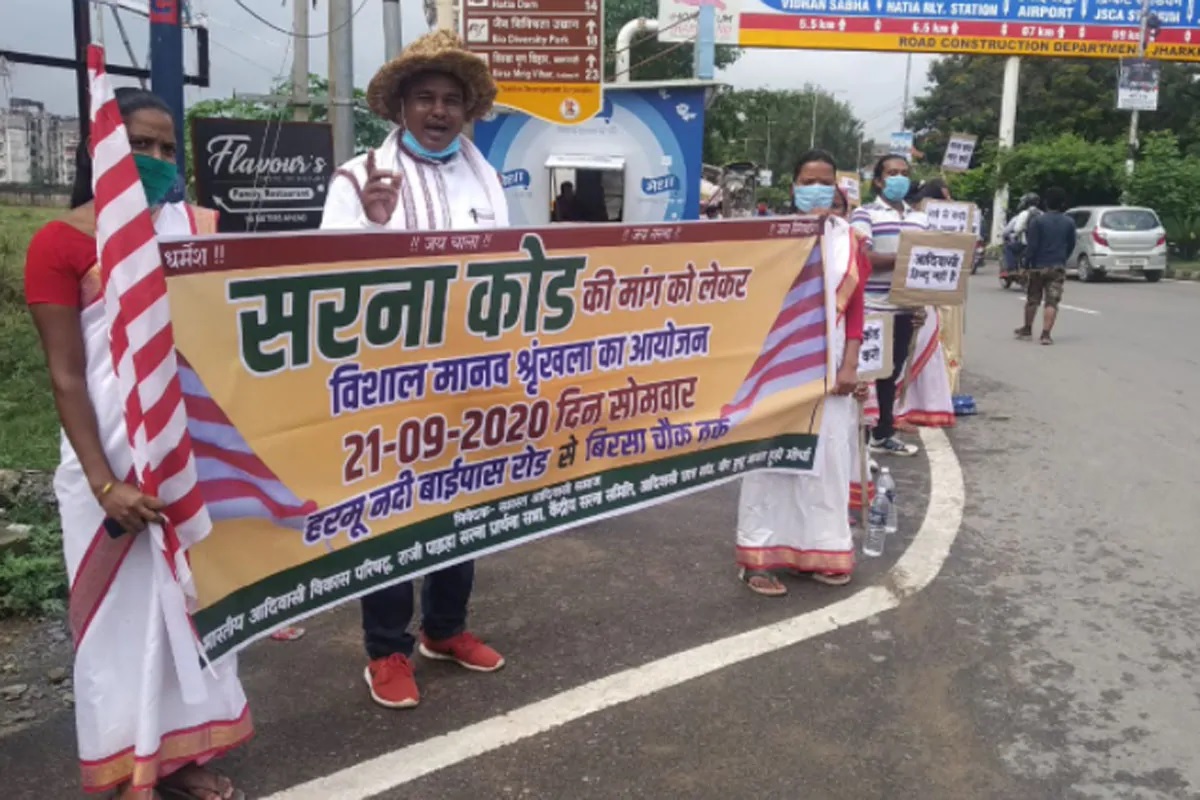 Former Tribal Advisory Council (TAC) member Ratan Tirkey remembered how overjoyed Jharkhand Adivasis were at the state government's decision to pass the resolution for 'Sarna code' on November 11, 2020.
The support for Sarna code that provides a separate identity in Census data for Adivasis practising a naturalist religion sent a positive message among tribal communities, Tirkey told SbarangIndia on December 5.
"However, this demand for a Sarna code is sure to become a headache for the central government led by the BJP," he said.
Tirkey pointed out that although Jharkhand adivasis had demanded such a code for decades no previous government had heeded their request, least of all Hindutva parties like the Bharatiya Janata Party (BJP) or the Rashtriya Swayamsevak Sangh (RSS) or the Vishva Hindu Parishad (VHP).
"The BJP officials especially called adivasis 'sanatan' as though they are part of the Hindu community. Because of this, the central government is now threatened by the demand for a separate religious identity," he said.
'Sarna' is a place of worship and a naturalist religion followed by India's indigenous people. This means that unlike Hindu rituals where people worship idols, Sarna adivasis worship natural elements such as the Sal tree or Mother Earth.
Such communities also exist in other states like Odisha, Chhattisgarh and West Bengal. Accordingly, tribal folk in these states have also demanded recognition of the Sarna code. Tirkey said that a few community members in Odisha had staged a protest for this cause in early December.
Despite the general merriment among Adivasi communities, few of the converted Christian Adivasi families remain apprehensive of the decision.
"Christian Adivasis are worried that if and when the central government passes the law, their families will be asked to convert their religion once again. Efforts are being made to reach out to such families to resolve such misgivings. However, by and large, Adivasis are happy with the Jharkhand government's decision. Now we have to see what the Union government decides," said Tirkey.
According to anthropologist Dr. G. N. Jha at Vinoba Bhave University, said that the inclusion of Sarna code will provide better estimates as to how many people in India belong to the tribal population.
Incidentally, Tirkey suggested that if the resolution is passed, the tribal population percentage in Jharkhand may increase from 26 percent to more than 50 percent.
Meanwhile, Professor Jha told SabrangIndia, "The central government should accept this separate religious identity for Adivasis. After this, we will know exactly how many people in Jharkhand belong to the Sarna community. Moreover, from an anthropologist's perspective, if naturalism receives government support, then I think it could influence other people's perception of naturalism and nature as well."
Related:
Sarna code: More than just a political tactic
Jharkhand Adivasis brutally beaten up by CRPF men: Fact Finding Report
Conversions and anti-Christian violence in India
Jharkhand Adivasis celebrate Birsa Munda Jayanti on Jharkhand formation day