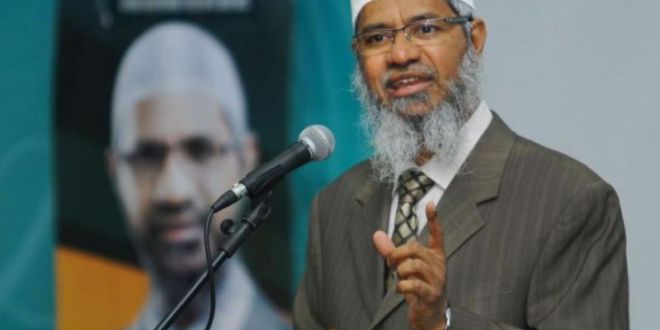 Wanted by India: Zakir Naik. Photo credit: Middleeastmonitor
Controversial televangelist Zakir Naik who is wanted by authorities in India for alleged terrorist offences, hate speech and money laundering has been granted Saudi citizenship, the Middle East Monitor has reported.
Saudi King Salman reportedly intervened to grant his country's citizenship to Naik to protect him from arrest by the International Police Organisation (Interpol) on India's request.
Last month, Indian courts issued a second arrest warrant for Dr Naik in connection with his alleged role in a terror-related case and over money laundering allegations. Naik, who was on tour at the time, decided not to return to India and remained in Malaysia where permanent residency status was granted to him five years ago by the Malaysian government, according to the Middle East Monitor.
The 51-year-old Muslim supremacist was out of India last year when the authorities began investigations against him, following the disclosure by Bangladesh security agencies that one of the terrorists who had died in the Dhaka bomb blasts in July was inspired by Naik's preachings.
He had since then refused to come to India despite several attempts by the investigating agencies. Naik stated repeatedly that he was willing to be questioned through Skype but declined from returning to India to face the authorities.
The Enforcement Directorate had moved to get Naik's Indian passport revoked paving the way for his arrest by Interpol.
The Union Ministry for Home Affairs which had cancelled the FCRA registration of Naik's Islamic Research Foundation last year, also cancelled the FCRA registration of his educational trust last month.
The Saudi citizenship has been granted to him even though well aware that the courts in India had issued an arrest warrant against Naik.
If not the only, it is certainly one of the rare cases where Saudi Arabia has granted citizenship to an Indian national.