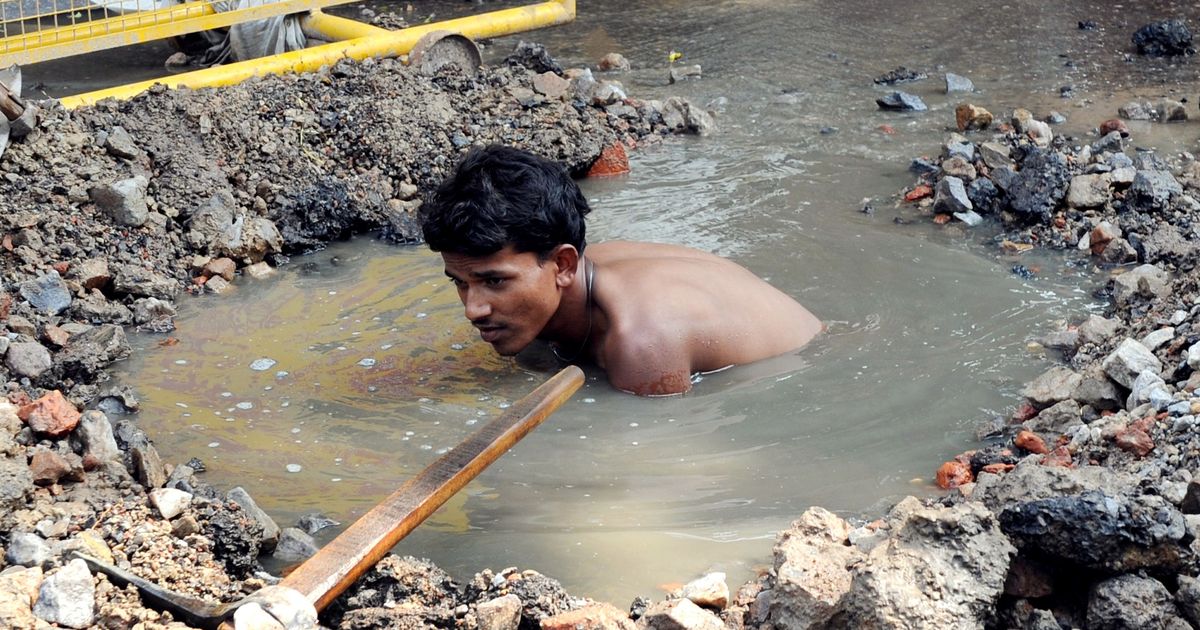 Representation Image | AFP
The Supreme Court has adjourned a plea filed in 2019, seeking criminal action against officials/contractors/agencies or any other person who employs manual scavengers, to August.
The plea filed by 'Criminal Justice Society of India' seeks directions to governments to bring on record the actual number of manual scavengers and those who have died on the job since 1993, so that cases can be filed. The plea was being heard by a bench of CJI SA Bobde, Justice Bopanna and Justice Ramasubramanian.
Advocate Ashima Mandla, appearing for the petitioner, submitted that one manual scavenger death is recorded every 5 days, as has been confirmed by Rajya Sabha. Mandala also brought to the court's attention that the notices were issued in February 2019 to 51 respondents and only 13 counter-affidavits have been filed by them. The court responded that it cannot mandate filing of counter affidavits and said that the court will draw an adverse inference against those who failed to file such affidavits, reported LiveLaw.
The plea seeks invoking of charge of culpable homicide not amounting to murder against hose contractors/agencies/government officials who continue employing manual scavengers, resulting in their death, as they are forced to work without protective gears.
Apart from the states and Union Territories, the plea impleads Ministry of Law and Justice, Ministry of social Justice and Empowerment, Ministry of Drinking Water and Sanitation, National Commission for Scheduled Castes, National Commission for Safai Karamcharis and Indian Railways.
Over the last few months, high courts have taken notice of the prevalent practice of manual scavenging and have stressed upon the need for taking urgent action. On March 10, Madras High Court took note of the six manual scavengers who died this year, while on the job. The court observed that if not directly, manual scavengers are often employed indirectly through contractors to minimise their costs or to evade responsibility for engaging such workers and this practice has been further facilitated by the State. In its March 16 order, the court commented, "It is high-time that the heads of Corporations and Municipalities are held personally liable for any death to anyone engaged in manual scavenging within their territories. It must be made clear by the appropriate department of the State to all heads of Municipal Corporations and Municipalities in the State that any manual scavenging death within the jurisdiction of the relevant Municipality or Corporation will result in the Commissioner or Chairperson or the like controlling authority of the relevant body to face criminal charges and be subjected to immediate arrest."
The Kerala High Court directed the Kerala Water Authority to ensure payment of compensation of Rs. 10 lakh each, to families of two workmen who lost their lives while cleaning a manhole in addition to the Rs. 4 lakh compensation already paid by the contractor.
The Karnataka High Court was also apprised of the matter in February and observed that there is absolutely no compliance with the provisions of the Prohibition of Employment as Manual Scavengers and their Rehabilitation Act, 2013.
Related:
Death of manual scavengers: Karnataka HC takes note of the grim situation
Manual Scavenging cannot go on in a civilised place: Madras HC
Kerala HC directs Water Authority to compensate families of manual scavengers who died cleaning manhole
Municipal officials look other way while manual scavengers still engaged for work: Madras HC