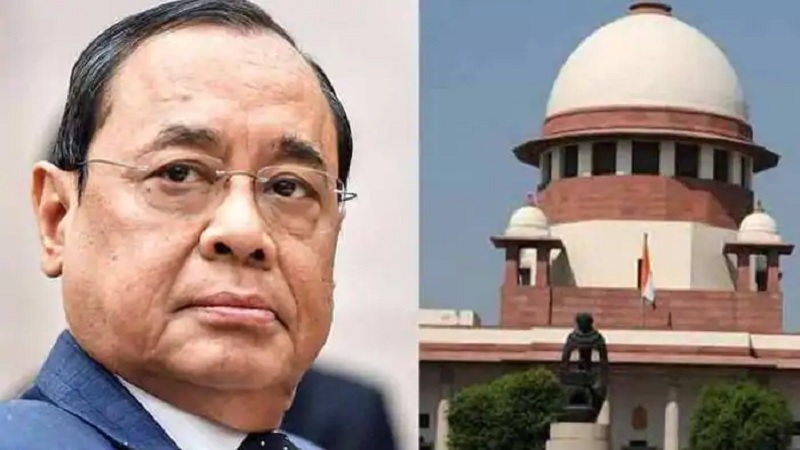 Image Courtesy:india.com
The Supreme Court Bench of Justices Sanjay Kishan Kaul, AS Bopanna and V Ramasubramanian has closed the case registered by it in 2019 to probe the alleged conspiracy against the independence of judiciary as sexual harassment charges were levelled against the then CJI Ranjan Gogoi, as per Bar & Bench.
The case titled In Re: Matter of Great Public Importance Touching upon the Independence of Judiciary was listed today, on February 18 after one year and nine months. An enquiry panel headed by former top court judge, Justice AK Patnaik submitted a report stating that a conspiracy behind the sexual harassment allegations cannot be "ruled out".
According to LiveLaw, the report also stated that certain stances taken by former CJI Gogoi during his tenure could have led to the sexual misconduct allegations. The report also referred to an Intelligence Bureau input that several persons were unhappy with Justice Gogoi for driving the Assam-NRC process.
So, the Bench observed that there is no point in prolonging the case as acquiring electronic evidence is unlikely and disposed of the matter. The court said, "The veracity of the allegations levelled by lawyer Utsav Singh Bains could not be verified completely due to the limited access of records and other collaborative material."
In April 2019, a junior court assistant accused Ranjan Gogoi of sexual harassment, which came to light after certain media outlets reported about it. Subsequently, the top court took cognisance of the allegations and registered a suo motu case that was listed on the same day in open court, as reported by Bar & Bench.
Defying the principles of natural justice, Nemo judex in causa sua which means "no one is judge in his own cause", Ranjan Gogoi sat on his own matter and denied all allegations of misconduct pressed by the supreme court staffer.
During the course of the proceedings, as reported by LiveLaw, the Supreme Court also considered an affidavit filed by Advocate Utsav Bains claiming that he was offered Rs. 1.5 crores by someone to frame sexual harassment allegations against the former Chief Justice.
In May, 2019, a three-judge committee cleared Ranjan Gogoi's name in the case and concluded that there was no substance in the allegations made by the employee of the Supreme Court. Gogoi, who served as the 46th Chief Justice of India was appointed as a member of the Rajya Sabha by the President of India, Ram Nath Kovind in March, 2020.
Related:
Former CJI Ranjan Gogoi nominated to Rajya Sabha
NFIW condemns President Kovind's decision to appoint former CJI Gogoi as member of the Rajya Sabha
CJI Ranjan Gogoi's take on the NRC: Assam