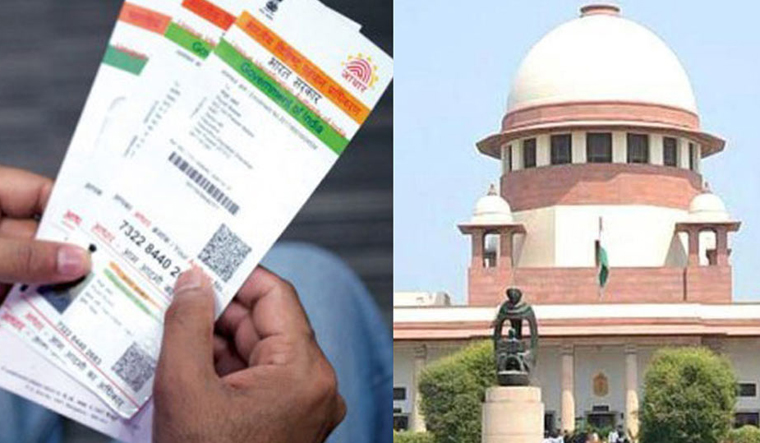 The Supreme Court Bench of Justices AM Khanwilkar, Ashok Bhushan, S Abdul Nazeer, BR Gavai has dismissed the review petitions challenging its 2018 Aadhar judgment, whereas Justice DY Chandrachud has dissented.
The majority judgment read, "In our opinion, no case for review of judgment and order dated 26.09.2018 is made out. We hasten to add that change in the law or subsequent decision/judgment of a coordinate or larger Bench by itself cannot be regarded as a ground for review. The review petitions are accordingly dismissed."
Justice Chandrachud dissented in light of a case related to the validity of the Finance Act, 2017 (Rojer Mathew v South Indian Bank Ltd) that held that the Aadhaar judgment did not correctly lay down the law regarding what constitutes a 'Money Bill' under Article 110 of the Constitution. He opined that the review petitions should be kept pending until the larger Bench decides the questions referred to in the Rojer Mathew case.
"If these review petitions are to be dismissed and the larger bench reference in Rojer Mathew were to disagree with the analysis of the majority opinion in Puttaswamy (Aadhaar-5J.), it would have serious consequences – not just for judicial discipline, but also for the ends of justice. As such, the present batch of review petitions should be kept pending until the larger bench decides the questions referred to it in Rojer Mathew. In all humility, I conclude that the constitutional principles of consistency and the rule of law would require that a decision on the Review Petitions should await the reference to the Larger Bench", he said.
The majority judgment in the Aadhaar case was authored by Justice AK Sikri, where the Bench had read down some provisions of the Aadhaar (Targeted Delivery of Financial and Other Subsidies, Benefits and Services) Act 2016, struck down a few and upheld the rest. On the other hand, Justice Chandrachud, in his dissent, deemed the entire Aadhaar project to be unconstitutional.
The majority opinion held that Aadhaar would be needed for availing facilities of welfare schemes and government subsidies but the mandatory use of Aadhaar based KYC for mobile connections and bank accounts was prohibited. Section 57 (Targeted Delivery of Financial and other Subsidies, Benefits and Services) of the Aadhaar Act that allowed private parties like telecom companies or other corporates to avail of the biometric Aadhaar data was also struck down as unconstitutional.
A year later in November 2019, a five-judge Constitution Bench of the Supreme Court while hearing the Rojer Mathew matter, doubted the correctness of the Aadhaar judgment primarily in relation to the question of passage of Aadhaar Act as a Money Bill and referred the matter related to the problems in the implementation of the Bills to a larger Bench.
The issue has now been laid to rest with the dismissal of the review petitions by the Supreme Court in January, 2021.
The judgment may be read here:
Related:
SC to review the 2018 Aadhaar Judgment
Aadhaar Verdict: SC upholds constitutional validity, assuages some privacy concerns