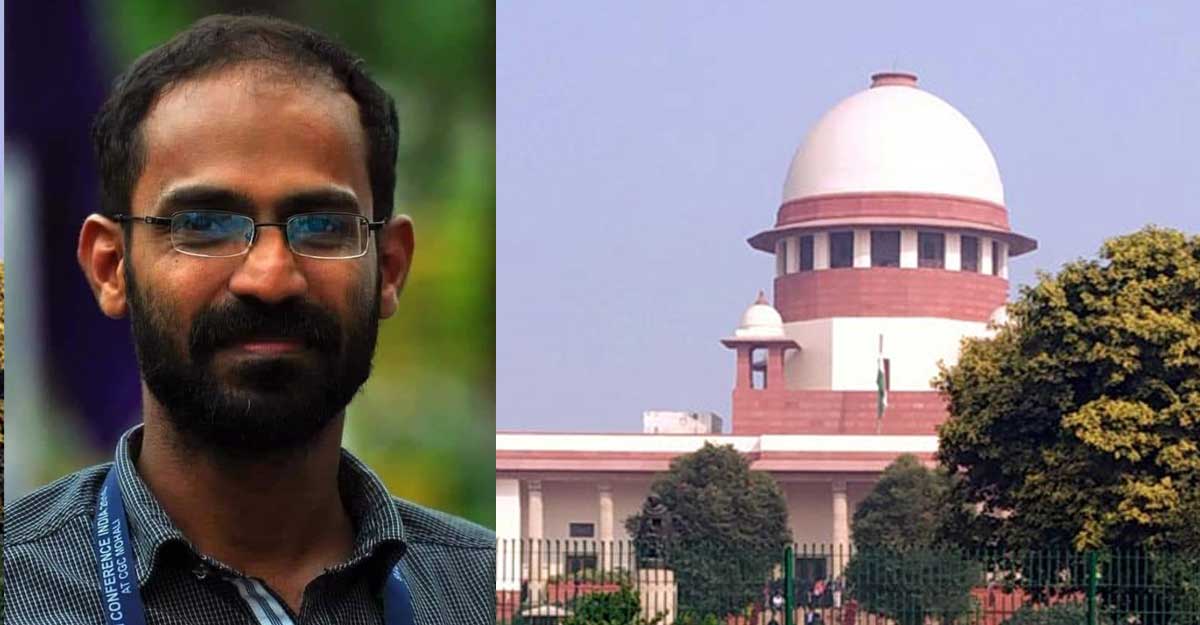 Jailed journalist Siddique Kappan has been granted interim bail for five days to meet his ailing mother in the hospital by the Supreme Court, reported LiveLaw. The Bench headed by CJI SA Bobde remarked,
"Mother is said to be in a critical situation and that she is likely not to survive for many days. In these circumstances, we consider it appropriate to permit the detenu to visit his mother and return to prison at the end of the 5th day".
According to LiveLaw, CJI further recorded that the Solicitor General Tushar Mehta expressed his apprehension that Kappan is likely to use this opportunity to get himself paraded in public and gather support for his activities, which are otherwise against the law. Hence, the court decided to impose strict conditions on him. It said,
"We permit the detenu to go to Kerala only for the purpose of seeing his mother. During the visit, he shall not give any interview to any media, including social media and he is not allowed to meet members of the public except his relatives and doctors". He will be escorted by a team of Uttar Pradesh Police officers at all times and his travel is the responsibility of the State Police, read the directions.
Senior Advocate Kapil Sibal (appearing for Kerala Union of Working Journalists) told the Supreme Court Bench that a video call was arranged with Kappan's mother on January 28 but she could not respond or even look at the mobile screen as she is presently very critical and in the hospital. He desperately said, "Now doctors are saying that one or two days are left. Hospital has given up. Please give five days to visit. Any conditions may be imposed".
Solicitor General Mehta tried to ask for more time as he was reluctant on the question of granting him bail. However, Senior Counsel intervened that the matter cannot be extended as Siddique Kappan's mother is on her deathbed. He insisted, "Doctors are saying that one or two days are left".
Arguing against this, SG Tushar Mehta said, "He is associated with PFI which is banned and is being banned in many places. They were trying to incite communal violence… What is happening in Kerala? There are big posters put up as if he is a freedom fighter. His wife is collecting money for him. He has nothing to do with journalism. He was associated with a paper already shut down…", reported LiveLaw.
CJI SA Bobde interfered at this point to say, "This is unfair Mr. Mehta. We are talking about the mother. We don't think a man, whatever he may be, will lie about his dying mother".
An urgent application was moved by Kerala Union for Working Journalists (KUWJ) in the Supreme Court on January 29, seeking journalist Siddique Kappan's immediate release for five days from Mathura jail to meet his 90-year-old ailing mother, Kadija Kutty.
The order may be read here:
Related:
KUWJ seeks interim bail for Siddique Kappan to meet his ailing mother
Siddique Kappan not linked to PFI, ready to undergo scientific test: KUWJ to SC
Siddique Kappan used "journalist cover" to disrupt law & order: UP Gov't to SC