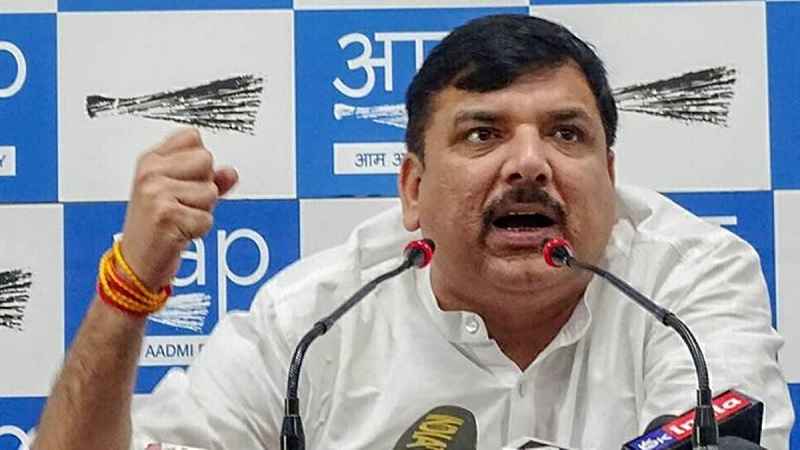 Image Courtesy:indianexpress.com
On February 9, Justices Ashok Bhushan and Subhash Reddy granted Aam Aadmi Party (AAP) leader Sanjay Singh protection from arrest in all hate speech FIRs against him and issued notice to the State on why FIRs should not be clubbed.
Since Singh is a Member of Parliament (Rajya Sabha, the top court said that the Uttar Pradesh government can approach the Chairman, Rajya Sabha for sanction for prosecution under section 196 of the Code of Criminal Procedure. The Bench also highlighted the nature of the issue and said, "The matter needs to be finally decided on the next date. List the matter in the third week of March, 2021."
According to the Indian Express, during the hearing, Senior advocate Vivek Tankha and advocate Sumeer Sodhi (appearing for Sanjay Singh), said that no procedures were followed by the police in lodging the case and sanction to prosecute the Rajya Sabha MP was also not taken. The Bench said that it will not get into the sanction aspect at this moment but it does not mean that no offence has been made out against Singh.
Last year, Sanjay Singh was charged under sections 153A, 153B, 501, 505(2) of the Indian Penal Code in Lucknow, wherein he had alleged that the state government was favouring one particular caste over the others at a press conference. LiveLaw reported that he had merely raised certain social issues, namely neglect and apathy of the government towards a certain class of society.
Thereafter, multiple FIRs were registered against him at the instance of the BJP members in various police stations in different districts of Uttar Pradesh. According to LiveLaw, Sanjay Singh said that the writ petition has been filed by him for direction to quash the FIRs registered against him, as these are "manifestly attended with malafide and have been maliciously instituted to unleash political vendetta against the petitioner and to harass him."
The matter will tentatively be listed in March and the apex court issued directions: "In the meantime, we direct that the petitioner be not arrested in Crime No. 221 of 2020 under Sections 153A, 153B, 501, 505(2), IPC registered at P.S. Hazratganj, Lucknow. Counter affidavit be filed within two weeks."
The order may be read here:
Related:
BJP government under Adityanath is torturing the people in UP: Sanjay Singh AAP
Are low numbers of Communal Riots in 2020 a mere deception?
Don't need Miya Muslim vote: Himanta Biswa Sarma