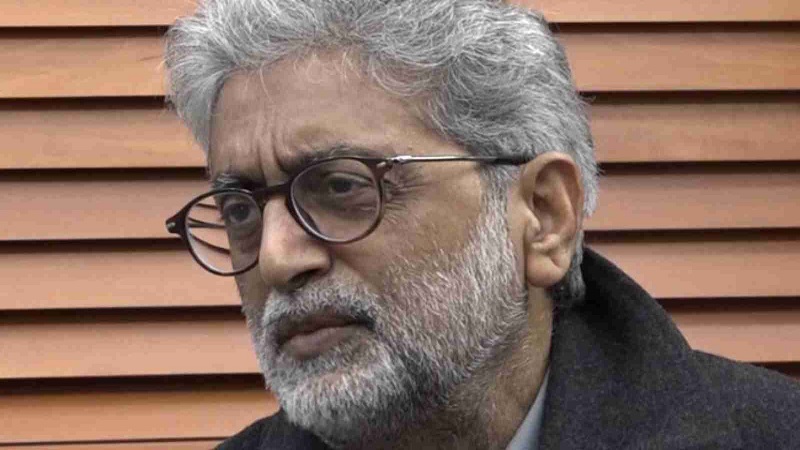 Image Courtesy:livelaw.in
The Supreme Court has issued a notice to the National Investigation Agency (NIA) on a plea filed by Gautam Navlakha, an accused in the Elgar Parishad violence case, challenging a Bombay High Court order upholding the NIA court's rejection of his default bail plea, reported The Leaflet.
Senior Advocate Kapil Sibal appeared for Navlakha. A three-judge Bench of Justices UU Lalit, Indira Banerjee and KM Joseph have posted the matter for hearing on March 15.
A Bench of Justices SS Shinde and MS Karnik had rejected the senior journalist and activist's bail application on February 8, more than six weeks after the matter was reserved for orders.
The Bombay High Court had held that the time spent in unlawful custody cannot be included while calculating the 90 days period prescribed for grant of default bail under section 167(2) of the Criminal Procedure Code. Navlakha had sought default bail on the grounds that the NIA had failed to file their chargesheet against him within the stipulated period of 90 days.
Gautam Navlakha was placed under house arrest for 34 days which he contended should be added to calculate the mandated 90 days period. But the High Court observed that those 34 days between August 28, 2018 – October 10, 2018, cannot be used to calculate his total detention period, especially since his arrest, as well as the magistrate's transit remand, was found to be illegal by the Delhi High court.
The High Court Bench of Justices SS Shinde and MS Karnik had held that section 167 (2) of the CrPC, assumes the detention is authorised by a magistrate, and 90 days upward from that day can be used to calculate the period of custody for default bail.
"However, once the authorisation by the Magistrate is declared illegal consequently rendering the detention itself illegal, the said period (house arrest custody) cannot be construed to be an authorised custody within the meaning of Section 167(2) of CrPC," the court had remarked.
Navlakha has been in custody since April 14, 2020 after the Supreme Court directed him to surrender before the NIA after rejecting his bail application. He has been booked under the stringent anti-terror law- Unlawful Activities (Prevention) Act for the Elgar Parishad violence in 2018.
As reported by LiveLaw, the Maharashtra police, through the nationwide crackdown on activists and academics, connected to the Elgar Parishad event, have claimed to have busted a larger Maoist conspiracy.
Related:
Gautam Navlakha moves SC against Bombay HC's order denying bail
Default bail period to commence only from remand date: Bombay HC in Gautam Navlakha Bail case
Elgar Parishad case: Bombay HC rejects default bail to Gautam Navlakha
SC orders Teltumbde-Navlakha to surrender in one week