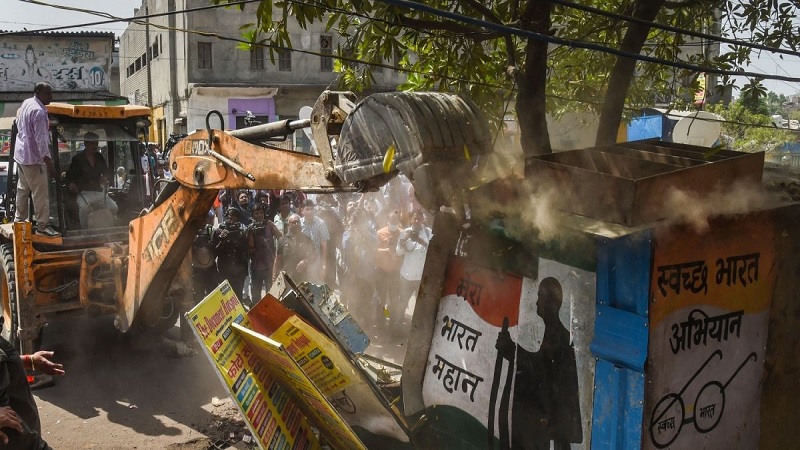 Image Courtesy:thewire.in
On April 20, 2022, the Supreme Court ordered status-quo on the demolition drive started by the North Delhi Municipal Corporation against alleged encroachers in the Jahangirpuri area, where communal violence had broken out last week, reported LiveLaw.
Senior Advocate Dushyant Dave mentioned the plea against demolition drives for urgent listing today before the bench led by Chief Justice of India, N.V. Ramana.
As reported by LiveLaw, Advocate Dave submitted, "Something serious requires your immediate intervention. This is about a completely unconstitutional and illegal demolition which has been ordered in Jahangirpuri area, where riots took place last week. No notice has been served. There is a provision for appeal under the Municipal Corporation Act. We have filed a provisional application. It was supposed to start at 2PM but they started the demolition today morning at 9 AM knowing that we will mention." To this, CJI ordered, "Maintain status-quo, list before appropriate bench tomorrow."
However, despite the Supreme Court orders on maintaining the status-quo, the anti-encroachment drive reportedly continues in Jahangirpuri by North Delhi Municipal Corporation. The North Delhi Mayor, Raja Iqbal Singh told a news agency, "The anti-encroachment drive will be stopped soon as we have received the Supreme Court order." In its letter dated April 19, 2022 to the DCP, the North Delhi Municipal Corporation sought 400 police personnel including women police officials to be deployed at the spot to maintain law and order during the said demolition drive.
The petition against the arbitrary use of bulldozers by authorities in Uttar Pradesh, Madhya Pradesh and Gujarat to demolish the houses belonging to the accused in the Ramanavami riots, as a punitive measure, was filed by Jamiat Ulama-i-Hind. The plea brings to attention the absence of due process of law and fair trial before conducting such demolitions.
Related:
Jahangirpuri Violence: 14 Arrested, all from the minority community, main accused a minor?
Fresh violence reported from Jahangirpuri
Delhi police books VHP leader for illegal rally at Jahangirpuri
How will Delhi Police respond to VHP's threat?
Jahangirpuri: "Peace" on the ground, but what about the fear in the hearts?