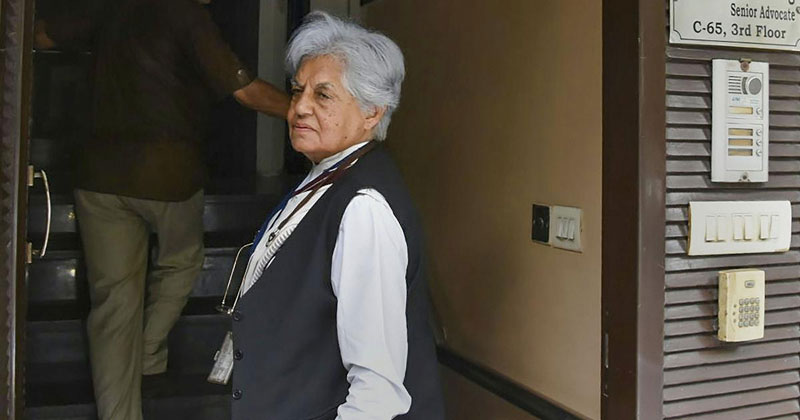 The Supreme Court refused to entertain a petition filed by Lawyer's Voice Serling coercive action against senior advocates and human rights practitioners, Indira Jaising and Anand Grover. The court however issued notice to the NGO Lawyers Collective and its founders Senior Advocates Indira Jaising and Anand Grover in the petition filed by CBI against the interim protection granted to them by the Bombay High Court in the criminal case registered for alleged FCRA violations.
Ms Jaising and Mr Grover are among the recent targets of the Modi 2 government.
A bench comprising CJI Ranjan Gogoi, Justices Aniruddha Bose and Krishna Murari also dismissed the PIL filed by NGO Lawyers' Voice, observing that since action has already been taken by the CBI, the petition no longer survived. Lawyers' Voice had sought criminal action against Grover and Jaising for alleged violation of Foreign Contributions Regulation Act by Lawyers' Collective.
Most critically , the bench declined stay of the Bombay HC order which granted interim protection from arrest to the Senior Advocates. Justice Aniruddha Bose expressed that he was recusing from hearing the matter further.
The Central Bureau of Investigation had challenged the July 25, 2019 order of the Bombay High Court which granted interim relief to the NGO Lawyer's Collective and its founders Senior Advocates Anand Grover and Indira Jaising.
A Division bench headed by Justice Ranjit More, after hearing an application by Lawyer's Collective seeking quashing of FIR, had directed CBI not to take any coercive steps against the NGO which works in the field of human rights and its founders until further orders.
Thereafter, the matter was listed on August 19, 2019 and the ad interim relief was continued. Court adjourned the matter and currently the website shows an auto generated dated of June 2021 as the next date of hearing.
The High Court had noted that there was no new material on the basis of which a FIR has been registered against Lawyers Collective in June this year following a complaint made by Anil Kumar Dhasmana, an Under Secretary in the Ministry of Home Affairs (MHA), alleging that the NGO diverted foreign contributions for activities not mentioned in the objects of association and that funds were used for personal expenses unrelated to these objects.
The FIR alleged that the NGO "was registered for carrying out social activities and had received foreign contribution amounting to Rs 32.39 crore between 2006-07 to 2014-15, but money was used for political purposes".
On November 27, 2011, the NGO's FCRA registration was cancelled and decision was taken to freeze all their bank accounts. While hearing an appeal by Lawyer's Collective against the said decision, Justice MS Sonak in an interim order held that the Centre's allegations of "mixing of foreign contribution with domestic funds" were "vague and bereft of reasoning." Thereafter, Court ordered Lawyer Collective's domestic accounts to be de-freezed.
Related
India: authorities must stop harassment of Lawyers Collective and repeal Foreign Contribution (Regulation) Act
Mumbaikars protest raid against Indira Jaising and Anand Grover
Now Members of Parliament bat for Indira Jaising and Anand Grover