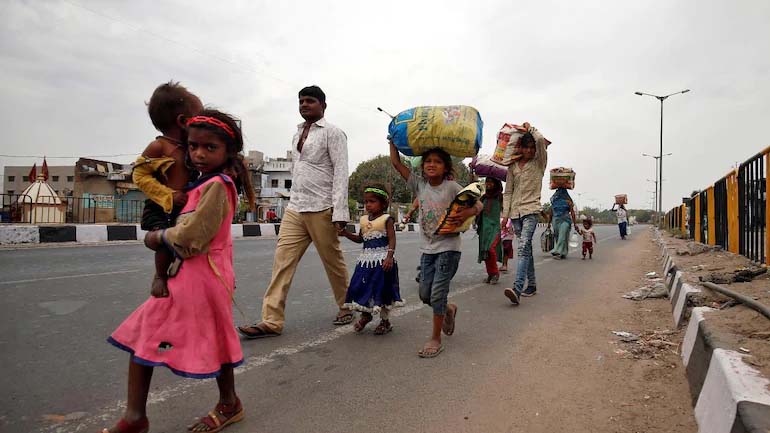 The Supreme Court has directed all states to provide data on the number of migrant children, children of migrant workers and the benefits extended to them. A bench of CJI SA Bobde and Justices AS Bopanna and V Ramasubramanian gave this direction while hearing a plea filed by Child Rights Trust for protection of the fundamental rights of migrant children and children of migrant families.
Senior Advocate Jayna Kothari had requested the bench to not just direct the state to file a response but to also provide the number of migrant children and the benefits given to them. The bench accordingly issued directions. On March 8, the court had issued notice on the plea and had impleaded all the states.
The plea filed by Advocate Rukhsana Choudhary brings to fore five areas of concern with regard to migrant children, i.e. hazardous living conditions, food security, health needs, education and protection. Kothari, at the last hearing, had requested the bench to issue directions on certain prayers in the plea concerned with giving data on out-of-school migrant children, and a plan to provide them temporary education, till schools reopen. She pointed that while schools were slowly re-opening, many children of migrant labourers have already been pushed into child labour.
The prayers for which directions were sought include:
Directions to provide data on the out-of-school migrant children from all the states, and to provide an action plan on providing a temporary education plan for migrant children and an action plan on how migrant children will be brought back to schools when schools start.

Directions to involve the VCPCs Women and Child Protection Committees and Urban Child Protection in tandem with the school authorities and District Child Protection Units to prevent children entering the labour market (animal husbandry, agriculture)

Directions to submit an action plan on the prevention of child marriages during this period
The petition categorises migrant children into three categories:
1. Children of migrant workers who are left behind in their villages
2. Children who are taken by the migrant families with them and
3. Migrant children who migrate for labour of their own.
The petition states that these children are amongst the worst affected and they remain invisible while being denied access to healthcare and proper nutrition, access to education, and are living in makeshift, unfriendly, unhygienic and testing conditions.
Related:
97 migrant workers died on Shramik trains during Covid-19: Centre in LS
SC allows States to be impleaded in plea seeking protection of rights of migrant children