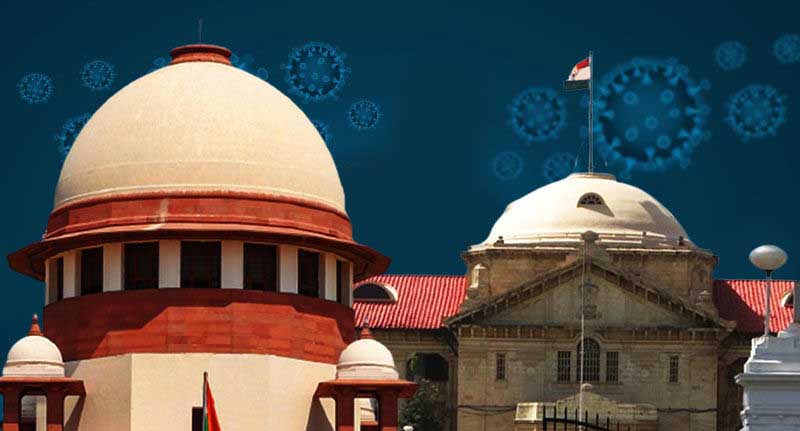 Image: Live Law
The Supreme Court Bench of Chief Justice SA Bobde, Justices AS Bopanna and V Ramasubramanian have granted interim stay on the Allahabad High Court order directing partial lockdown in Prayagraj, Lucknow, Varanasi, Kanpur Nagar and Gorakhpur amid rising infections and inadequate facilities to deal with the worsening situation.
As per a Bar & Bench report, the Bench has issued notice in the appeal filed by the Uttar Pradesh government returnable in two weeks and has directed the State to report back to the High Court on the steps taken by it to deal with the situation.
Senior Advocate PS Narasimha has been appointed as Amicus Curiae to assist the Court in the matter. Bar and Bench quoted Solicitor General Tushar Mehta (appearing for the Uttar Pradesh Government) saying, "We have done a lot of things and many things have to be done. We are not going into merit but please allow circulation today since five cities are involved."
In pursuance of the orders passed by the Allahabad High Court imposing a near total lockdown in five cities of Uttar Pradesh, the State government had approached the Supreme Court in appeal today, on April 20.
State government's appeal read, "It is most respectfully submitted that though the intention behind the impugned order passed by the Hon'ble Division Bench is both laudable and salutary, however, the Hon'ble High Court has completely failed to appreciate that while passing the direction of the nature as quoted above the Hon'ble High Court has effectively encroached upon the executive domain and has passed a mandamus which is incapable of being executed at the present stage, and if executed, is capable of creating panic, fear and law and order situation in the State", as reported by Bar & Bench.
On April 19, the Allahabad High Court had observed the horrific situation of the healthcare infrastructure in the State before calling for a partial lockdown in 5 cities. It noted that admission in government hospitals and provision of crucial drugs to fight Covid were largely being done on VIP recommendations. It also stated that VIPs and VVIPs were receiving their Covid test results within 12 hours whereas others had to wait for more than 24 hours.
The Division Bench of the High Court also said, "We must record our displeasure at the way government and the State Election Commission proceeded to hold elections forcing teachers and other government staff to perform duties exposing themselves to the threat of the pandemic that looms large these days. The police were virtually shifted to polling places giving priority to election above public health."
The matter will be taken up again after two weeks.
Related:
It's a shame govt did not plan things in advance: Allahabad HC
Article 21 casts duty on state to provide life saving means such as oxygen and drugs: MP High Court
No lockdown or curfew in Bengal, but serious steps to tackle Covid, says Mamata