The sixth phase of the ongoing Lok Sabha elections will be crucial for Jharkhand. Some of the state's most important constituencies go for polls on May 12, 2019. While one is the only industrial town without a municipality, another is the coal capital of India. The four constituencies that will vote on Sunday are Jamshedpur, Dhanbad, Singhbhum and Giridih. Currently, all the four constituencies are held by BJP.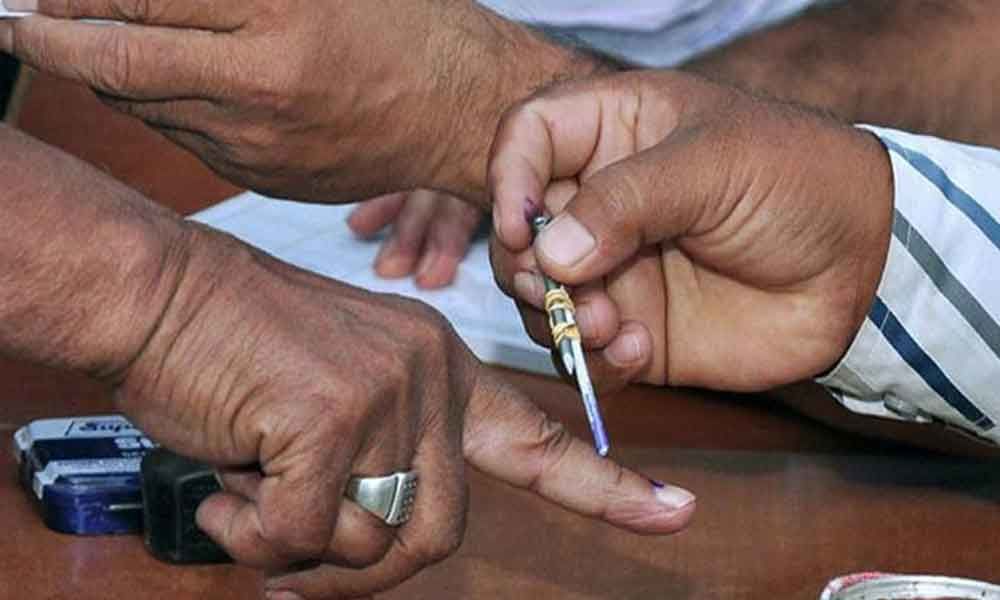 Anger appears to be simmering in Jharkhand because of the BJP government's stance on Pathalgadhi movement and the state and central dispensation's other anti-people laws and policies. There have also been a spurt in incidents of mob lynching and communal violence even as people live in abject poverty, despite Jharkhand being one of the wealthiest states in India in terms of its mineral wealth.
This is a deep dive into some of the important constituencies in the sixth phase of Lok Sabha elections.
Jamshedpur, struggle for self-governance and Tata Steel's unflinching clout
The Jamshedpur constituency covers six assembly segments – Baharagora, Ghatsila, Potka, Jugsalai, Jamshedpur East and Jamshedpur West. Of these, Ghatsila and Potka are reserved for the members of Scheduled Tribes while Jugsalai is reserved for the members of the Scheduled Castes.
The city of Jamshedpur has been under the clutches of Tata Steel for over 99 years and has seen one of the longest litigation battles to render it as a municipality so that basic civic amenities can be provided to citizens. The steel plant was established in 1907 and on June 21, 1924, Jamshedpur was declared a Notified Area. Jamshedpur is the only city in India where people don't have the right to self-governance.
Per Tehelka, "The fundamental lacuna in the administration of Jamshedpur comes from a lease agreement that appears to have been so drafted as to be deliberately ambiguous. Under the agreement, the land occupied by Tata Steel constitutes less than half of Jamshedpur's estimated area of 37,000 acres. However, Tata is required to provide civic amenities to "the inhabitants of Jamshedpur"."

On the contrary, though under the lease agreement that was renewed in 2005, once again, for a period of 30 years, with retrospective effect from 1996, Tata Steel is bound to provide civic amenities like conservancy, building and maintaining roads, sewerage, supply of water, electricity, street lighting etc., the steel behemoth charges the residents for the minimal facilities it provides. This, it does through JUSCO (Jamshedpur Utilities and Services Company), which was carved out of its Town Services Division in 2004.
The region, which is dominated by the Ho tribes, was rich and abundant in natural resources and flora and fauna. However, the onset of a steel plant of industrial proportions ensured that much of it soon vanished. The cutting of Kusum trees in the early twentieth century was a case in point. The argument of the Tatas that they provided jobs to the residents is also fallacious since a large population which is tribal depended on subsistence agriculture for their livelihood and survival.
Not only the chopping down of trees, the industrial township has led to the contamination of the nearby river waters of Subarnarekha and Kharkai rivers with industrial waste and mainly slag. The conduct of the steel magnate can be well understood by a small anecdote. When in August 2011, a Jharkhand High court directed a probe into the alleged dumping of slag, Tata Steel, while accepting that slag was indeed dumped, replied by saying, "Slag, dumped along the banks of the two rivers until 2003, helped in checking frequent flash floods" in its affidavit.
The air quality of this industrial town is equally hazardous with poisonous gases such as sulphur dioxide, oxides of nitrogen and other suspended matter cross their permissible limits.
Jamshedpur today is an epitome of unaccountable corporate conduct, currently an unchecked norm, in India. Their conduct here demonstrates how companies have shrugged off any accountability and moreover, carry on their production intentions with brazen impunity towards environmental impact or assessment.
A Supreme Court ruling of July 2018 offers some hope. The SC issued a notice to the Jharkhand government on a PIL, which demanded that the city of Jamshedpur be taken out of the sole control of the Tatas. But will elected representatives both at the Municipal and the parliamentary levels, be able to save the city and the nearby areas from the over one century long harmful impact of Tata Steel?
The growing episodes of communal violence and rumour mongering in this constituency pose additional problems for effective governance. A report published in SabrangIndia concluded that failure of local police, their intelligence gathering unit-which alert them about the tensions on the ground and possible attacks, their snail paced response, their lack of preparedness-in terms of arms and number of personnel-to deal with a situation, rumours spread through Whatsapp and its blind following appear to have contributed to the mass hysteria of mob lynchings across the country.
Per Sabrangindia, these factors contributed to the brutal killings of an elderly woman (Ram Sakhi Devi, 80) along with three youths (Gautam Verma, 27, Vikas Verma, 25, and their friend Gangesh Gupta, 26) on the suspicion of child abduction at Nagadih village in East Singhbhum district on May 18, 2017. The deceased were residents of Jugsalai area of Jamshedpur. Medical experts and doctors working in the region, however, had said that this wasn't an unusual number and that more deaths were reported because number of children admitted were more.
Per an IndiaSpend analysis, despite being the largest city in Jharkhand with a population of 1.3 million, it has one of the worst health infrastructures.
While the district of Purbi (eastern) Singhbhum, in which Jamshedpur is located, has a better infant mortality rate (IMR), with 25 infant deaths per 1,000 live births, than the average for Jharkhand (44) and India (41), the proportion of wasted children–with low weight for height–is 11 percentage points more than the state (29) and almost double the Indian average (21). Wasting is one of the indicators of malnutrition.

Singhbhum, worst performing constituency in child nutrition
A recent study indicated that Singhbhum, a tribal dominated region, was the worst performer on child nutrition indicators. The study which is being conducted by public health experts from Harvard University and Tata Trusts, who are mapping India's development indicators constituency wise, said that nearly two-thirds of Singhbhum's children are underweight, More than half are stunted (low height for age) and a third suffer from wasting (low weight for height).

In fact, the idea of the state as a body that should be entrusted with the welfare of the people, is alien to the people here. The general feeling is that of alienation. It is only now that activists that there is a visible anger amongst people against BJP for Aadhaar, Digital India etc.
GeetaKoda, a member of the Legislative Assembly from Jagannathpur who joined Congress in 2018 highlights that there are several pressing issues apart from malnutrition, plaguing the Singhbhum constituency. In an interview to Livemint, she has highlighted issues. "For the people here, even today, clean drinking water is not available. For them, even today, roads are like a far-fetched dream. Asking for anything else, they think, is a luxury. As legislators, even we realize that we have to first provide them with roads and water as these are basic needs. So, my focus has been just that,"" she says.
Systemic issues such as pilferage in the public distribution system, non-functioning anganwadis, state-centre blames games, lack of resources in medical centres. Moreover, there is hardly any phone connectivity, and internet is barely a reality. In this context, the disconnect with the ground reality becomes more stark even as the ministry for health and family welfare developed an app for auxiliary nurse midwives, not knowing the status of electrification or internet services provision.
Burning for over a century, inside Dhanbad's coal mines
Located in the mid-eastern part of Jharkhand, with Giridih in the north, Bokaro in the west and Purulia to its south, Dhanbad is the coal capital of India.
A 1965 disaster in Dhori colliery near Dhanbad drew attention to the poor and dismal conditions of mine workers in the area. A fire had killed hundreds of miners. And there are frequent major incidents due to persistent underground fires. Coal for thermal power plants across the country is transported from here. Though the region is stricken by underground fires for over a century, open cast mining in the recent decade has brought the flames to the surface with devastating consequences for the local population.
Most well known of these is the Jharia coal mines. Lying within one of India's largest coal reserves Jharia has been burning uninhibitedly for over 100 years. It's impossible to walk barefoot here. Almost everyone in the area is ill.
Over 65 percent of India's power supply comes from coal and Jharia is a source of high quality coal. Though India's coal mines were nationalised in 1971, as a result of as many as 70 fires that were found at the time, the underground fires have only worsened in the years since. It is surprising to note that once upon a time the region was rich in agriculture. However, despite being rich in minerals, the area is steeped in poverty. 381,250 households among 423,880 households in Dhanbad district are below poverty line.
At present, in Dhanbad there are as many as 112 official coal mines and approximately the same number of illegal coal mines, as per estimates. Because of lack of proper employment opportunities, many people are involved in illegal coal mining. More than 68 percent of the population capable of working doesn't have any livelihood source. (Census 2011). There hasn't been any recruitment of workers on permanent basis since 1992. High contractualisation has resulted in wages as low as Rs. 100 a day.

Constituency wise breakup and demographics
With a total number of 15,15,137 electors Giridih comprises of Giridih, Dumri, Gomia, Berma, Tundi and Baghmara constituencies. In 2004, JMM Tek Lal Mahto won the seat, trouncing BJP candidate Ravindra Kumar Pandey. However, in 2009, Pandey managed to defeat Mahto by more than 94,000 votes. BJP retained the seat in 2014 as well, with JMM's JagarnathMahto as the runner up.
The region inhabits several tribal communities mainly Mundas. This constituency comprises parts of Giridih, Dhanbad and Bokaro districts. Bokaro is one of the most industrialized zones in the country with a population of 20.62 lakh.
The DhanbadLok Sabha constituency has total 18,89,994 electors and comprises of assembly constituencies of Bokaro, Sindri, Nirsa, Dhanbad, Jharia, Chandankiyari (SC).
In 2004, Congress leader Chandra Sekhar Dubey won the 2004 elections by defeating BJP leader Rita Verma. However, in the 2009 elections BJP's Pashupati Nath Singh caught hold of the seat. He retained the seat in 2014 elections.
The Dhanbad parliamentary constituency is spread across parts of Bokaro and Dhanbad district in the state. Both districts are among the 250 backward districts receiving support from the Backward Regions Grant Fund Programme. Dhanbad is the second most populous district in the state after Ranchi, with a population of 26.84 lakh people. The coal mining industry dominates the district. Of the total population, 80.07 percent are Hindus while 16.08 percent are Muslims.
Jamshedpur has a total of around 15,81,665 electors.It comprises of Assembly constituencies Bahragora, Ghatsila (ST), Potka, Jugsalai (SC), Jamshedpur East, Jamshedpur West. JMM's Sushil Kumar Mahto won in 2004, while BJP's Arjun Munda in 2009.
In 2014, BJP candidate Bidyut Baran Mahato won the seat defeating Jharkhand VikasMorcha (Prajatantrik)'s Ajay Kumar.

Singhbhum has a total 11,52,570 electors and comprises of Assembly constituencies Seraikela (ST), Chaibasa (ST), Majhgaon (ST), Jaganathpur (ST), Manoharpur (ST), Chakaradharpur (ST)
BJP's Gilua, who is also the current state party unit president, clinched the seat in the 2014 elections.
The constituencies consists covers the West Singhbhum district and a part of a part of Seraikella-Kharsawan district. West Singhbhum district, which is a tribal region, has a population of 15,02,338 people, as per the latest census. It ranks first in terms of sex ratio (1005) against the state's 949. More than 70 percent of the population is engaged in agriculture. In West Singhbhum, tribal groups constitute 67.31 percent of the district population. Its literacy rate is comparatively lower than the state average (66.41 percent) at 58.63 percent.