Koovathur (TN): Security has been strengthened across Tamil Nadu after the Supreme Court today convicted AIADMK General Secretary V K Sasikala in the disproportionate assets case.
Police presence was especially stepped up at a resort, about 80 kms from Chennai, where MLAs supporting her have been housed since the past few days.
Sasikala herself stayed overnight at the resort.
Police personnel were also seen maintaining vigil on the roads in Chennai and other parts of the state. A unit of Tamil Nadu Police with senior officials just entered Golden Bay Resort in Kovathur where Sasikala is staying, reports ANI.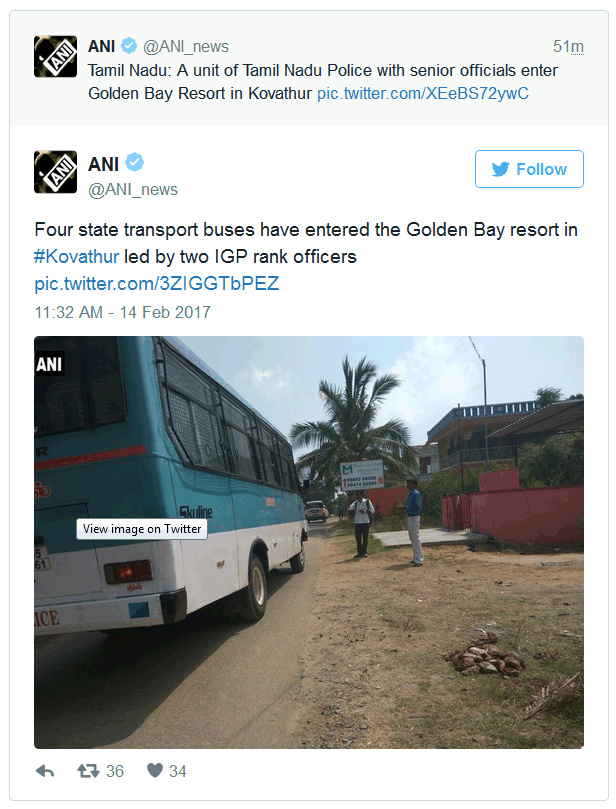 The apex court today quashed the Karnataka High Court verdict acquitting Sasikala in the disproportionate assets case and asked her to surrender herself forthwith.
She was elected as the Legislature Party Leader on February 5, paving the way for her becoming Chief Minister.
However, two days later, Panneerselvam raised a banner of revolt against her, alleging he was forced to step down for her.
Over the past few days the rival camps traded charges and counter-charges with some MPs and MLAs deserting Sasikala.
Soon after the verdict, BJP MP Subramanian Swamy tweeted, "After 20 years I won. Now turn of TDK Buddhu PC BC & Tata to join in jail (sic)."