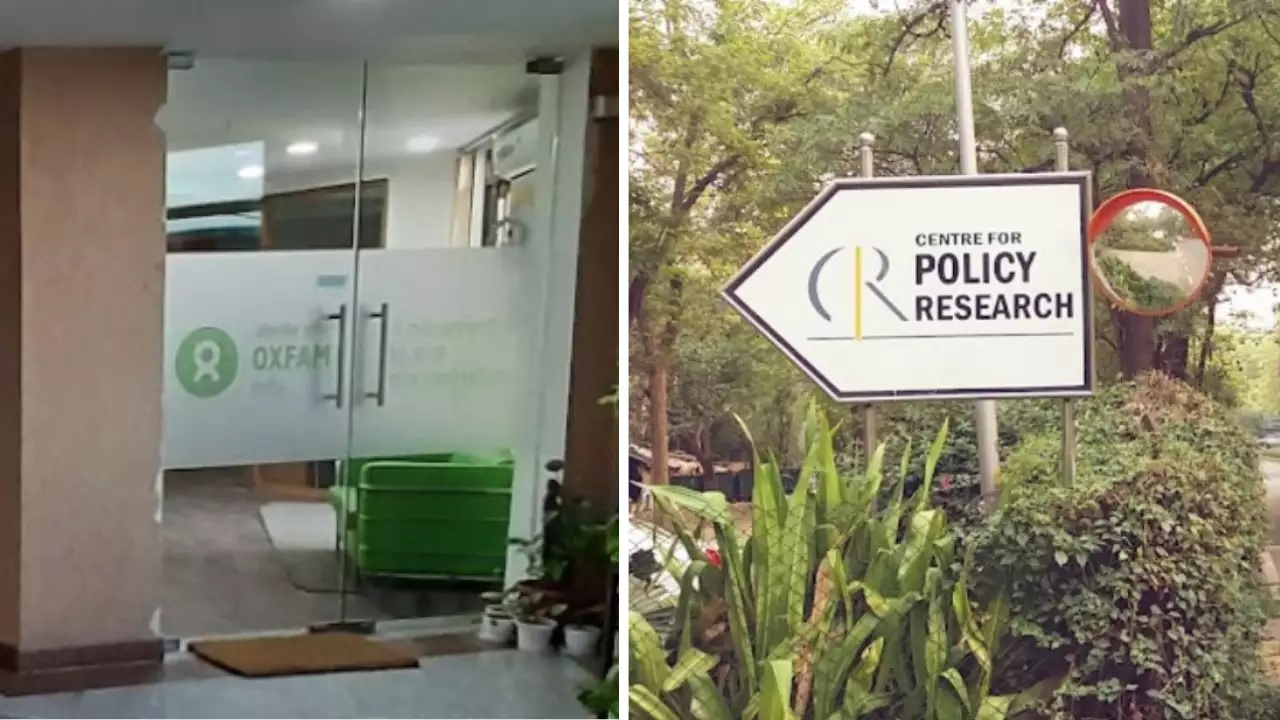 In wake of the Income Tax raids that took place on September 7, Oxfam India, Center for Policy Research (CPR) and Independent and Public-Spirited Media Foundation (IPSMF) have now issued statements describing what transpired during those raids.
Readers would recall that the IT department conducted simultaneously in five states – Chhattisgarh, Gujarat, Haryana, Maharashtra and Uttar Pradesh. The raids come in wake of a recommendation from the Election Commission to probe allegations of tax evasion against Registered Unrecognised Political Parties (RUPP) and their allegedly dubious financial transactions. The EC had recently struck down names of 198 RUPPs when they were found to be non-existent during physical verification. The entities raided i.e Oxfam, CPR and IPSMF, were accused of being associated with such RUPPs.
"During these 35 plus hours of non-stop survey, the Oxfam India team members were not allowed to leave the premises; the internet was shut down and all the mobile phones were confiscated," said Oxfam about the raid that began at noon on September 7 and ended on September 9. "The Income Tax survey team took away hundreds of pages of data pertaining to finances and programs of Oxfam India. They also took all the data by cloning the Oxfam India server and the private mobile phones of the Senior leadership team and the Finance lead," it said. The organization insisted that it was "law-abiding and community centric" and was "compliant with Indian laws and has filed all its statutory compliances, including Income tax and Foreign Contribution Regulation Act (FCRA) returns, in a timely manner since its inception." Oxfam also shed further light on its struggle with renewing its FCRA license. "In December 2021, the renewal of FCRA licence was denied by the Ministry of Home Affairs," it said, adding, "In January 2022 we also had a detailed week-long audit of the FCRA accounts by the auditors appointed by the FCRA division."
Read our full statement here: ?https://t.co/IkXp7JbvKy

— Oxfam India (@OxfamIndia) September 9, 2022
CPR too issued a statement where President Yamini Aiyar said, "We have extended full cooperation to the department during the survey, and will continue to do so in the future." She added, "We hold ourselves to the highest standards of compliance and are confident that we have done nothing wrong. We are committed to working with the authorities to address any questions they might have."
A Statement pic.twitter.com/vjH5r5INSQ

— Yamini Aiyar (@AiyarYamini) September 9, 2022
Meanwhile, T N Ninan, Chairman of the Board of Trustees of the IPSMF, also issued a statement saying, "The foundation believes that its affairs are entirely in order. Some media reporting on the IT (income tax) survey has linked it to foreign funding and the funding of political parties. We wish to make it clear that the foundation has received no foreign funds at any stage, and has funded only media entities." About what transpired during the raid/survey, IPSMF said, "The Foundation's staff were cooperative and answered all questions put to them on a wide range of matters. The officials took statements from three senior staff members," adding that all laptops and mobile phones that were taken for cloning data in them had been returned.
The entire statement may be read here: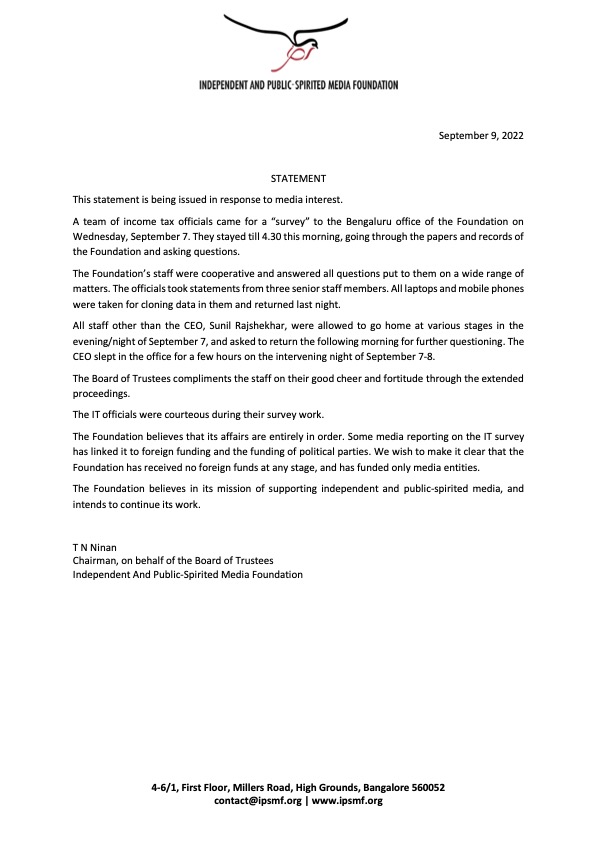 Readers would recall that previously, similar raids had been conducted at the offices of Amnesty India to probe allegations of illegal foreign funding. In 2018, the Enforcement Directorate (ED) had conducted searches in connection with alleged violation of foreign direct investment norms linked to a previous case of revocation of Foreign Contribution Regulation Act (FCRA) licence of the NGO by the Union Home Ministry in 2010.
The ED had also frozen over a dozen bank accounts of environmental NGO Greenpeace and its linked entity after it conducted searches at premises of Amnesty International in Bengaluru on charges of alleged forex violations after taking cognisance of the FCRA action against it.
Then in November 2019, the Central Bureau of Investigation (CBI) conducted raids at the Bengaluru head office of Amnesty International India in connection with accusations that the non-profit had received foreign funds. The government had earlier declined permission to the Amnesty International India Foundation Trust that had been critical of security agencies in several cases including the arrest of activists such as Sudha Bharadwaj, Rona Wilson and Varavara Rao, who was accused of being a Maoist ideologue, for receiving foreign funds.
Related:
IT raids on at offices of Oxfam, CPR, IPSMF?
Amnesty International targeted once again, this time by CBI
Amnesty, Greenpeace accuse Indian government of impeding work
"Rights Groups Being Treated Like Criminal Enterprises": Amnesty On Raids