The ridiculous exclusions from the National Register of Citizens (NRC) continue to baffle people of Assam! After the families of a former Indian President and a former Deputy Speaker of the Assam Assembly were left out of the final draft published on July 30, 2018, now the family of a freedom fighter Puran Bahadur Chetry has been mysteriously excluded!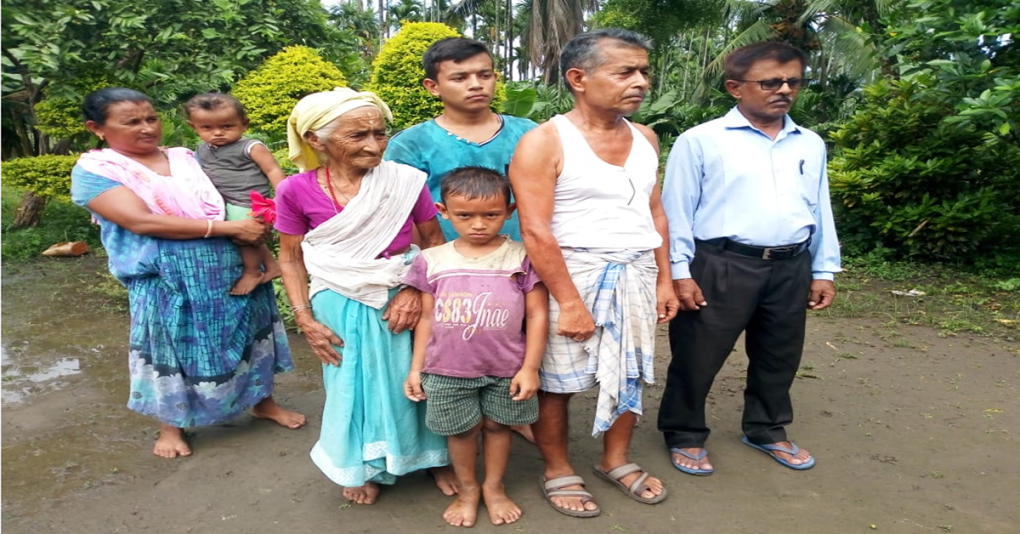 Who was Puran Bahadur Chetry?
Puran Bahadur Chetry was a freedom fighter and a member of the Indian National Army (INA). Chetry was born in Gorakhpur in Uttar Pradesh to Jogat Bahadur Chetry and his wife in 1925. The family originally hailed from undivided Kamrup district (presently the Baksa District) of Assam. When Subhash Chandra Bose laid the foundation for the INA during World War II, something stirred in Chetry's heart and the 17 year old ran away from home to go to Japan, just so he could join the INA! Though he was first inducted in the Bal Sena as he wasn't 18 at the time, he gradually rose in rank. This is his identity card issued by the Azad Hind Fauj:

Puran Bahadur Chetry Azad Hind Fauj Identity Card
Chetry was hugely inspired by Bose and was fortunate enough to have his direct presence in his life during his formative years as a guiding figure. Chetry fought bravely for Indian independence form the British and was even captured and imprisoned by the British in Rangoon in Burma (now called Yangon in Myanmar). The British ruled Burma from 1824 to 1948. Burma was made a province of British India in 1886, just a year after after Burma's loss during the third Anglo-Burmese war of 1885. But in 1937, Burma was declared an independently administered province, separate from British India. It is important to note that before 1937, Burma and India were considered a part of the larger territory occupied by the British in South Asia and it was common for people to live and travel across the wider region considered British India.

Letter from the All Burma Indian Congress with Chetry's picture
After being released from British captivity, Puran Bahadur Chetry married Maya, a Gorkha woman and began his domestic life in rural Myanmar. But his heart yearned to return to his homeland. He approached the All Burma Indian Congress (ABIC), an affiliate of the Indian National Congress, for help. As both Myanmar and India had fought for independence from the British, the ABIC forwarded his request to relocate to India to Indian authorities. Subsequently he returned to India with his wife, two sons and three daughters.
He started living in Paharpur village that falls under the jurisdiction of Tamulpur Police Station in Baksa District. This village is located very close to the Bhutan border, and the Chetry house is located just 200 meters from the border. In fact, one of the border markers is located in a field owned by the Cherty family! The Chetry family lived here in peace and it is in this village that Puran Bahadur Chetry breathed his last in 1967.
Here are some old documents of Puran Bahadur Chetry, some from Myanmar and some from India. While some are identity documents, others are certificates and records of birth/vaccination etc.:

Passport of Puran Bahadur Chetry

Small Pox vaccination certificate

Freedom Fighter Pension Certificate

Washed out certificate of joining Azad Hind Fauj

Entire family left out of NRC!
Despite the Chetry family's connection to a highly respected freedom fighter, all their names are mysteriously missing from the NRC!

Puran Maya Chetry, widow of Puran Bahadur Chetry
His widow Puran Maya Chetry is livid with rage. "After submission of all valid documents, if none of the members of my family have found their names in updated NRC, what is left to say," she asks angrily.
Puran Bahadur Chetry, was born in Gorakhpur in Uttar Pradesh, and is therefore an Indian citizen by birth. He was a freedom fighter who fought against colonial oppressors and even went to jail for it. Yet, none of the family members of Puran Bahadur Chetry, have been included in the final draft NRC released on July 30,2018. A total of seven people from the Chetry family have been excluded from the NRC, including two children, one of whom hasn't even learnt how to walk yet!
It makes one wonder if the NRC process, which is touted as highly scientific and is monitored by the Supreme Court, perhaps does not have its heart in the right place. If freedom fighters' families are denied citizenship, who does truly have the right to be called Indian?

Also Read:
Assam's former Dy Speaker's kin declared 'Foreigner'
India's former President's family left out of NRC in Assam
Who is an Indian, can the NRC decide?