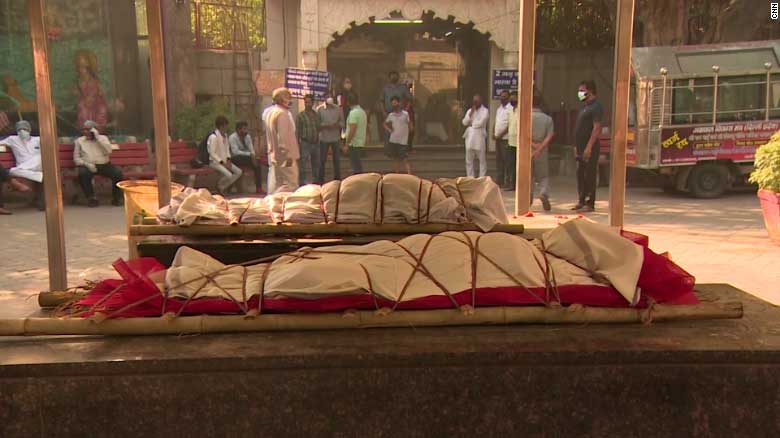 Representation image / CNN
In a disturbing display of data discrepancy, the Education Ministry declared that only 327 teaching and non-teaching staff from centrally-funded schools due to Covid-19 none of whom died during Covid-duty. This also amounts to an underplaying of deaths caused by gross medical negligence by the state and paucity of health services including oxygen cylinders in the second wave of the Covid-19 pandemic.
Minister of State Subhas Sarkar answered on December 22, 2021 queries regarding death of government and non-government teachers while on Covid-duty. Already, the number presented by the government dwarfs in comparison to the 1,621 deaths reported by the Uttar Pradesh Primary Teachers Association (UPPTA) during the Panchayat elections in the state.
However, to make matters worse, Sarkar said, "None of these [327 staff] teachers died during COVID duty."
According to the Minister, the data was collected from Kendriya Vidhyalaya (KV), Jawahar Navodaya Vidhyalaya (JNV) and Central Board of Secondary Education (CBSE) but not from state-funded or private schools.
"Education is a subject in the Concurrent List of the Constitution and schools, other than those owned / funded by the central government, are under the jurisdiction of state governments," he said.
Further, Rajya Sabha members Manoj Kumar Jha and Ajit Kumar Bhuyan asked about the Centre's contribution in the compensation to be sent to teachers' families. They also asked how many families whose kin died during COVID duty are eligible for compensation and the state-wise status of receipt of the same.
On both these accounts, the government response was sorely lacking. The only related information provided was that non-central schools and their functioning are under the jurisdiction of the state governments. Accordingly, there was no state-wise break-up of the 327 deaths announced by Sarkar.
Earlier, when the UPPTA listed the 1,621 deaths between April and May, the state government acknowledged only three deaths between April 12 to May 16. Such contradictions in data keep affected families from availing the Rs. 1 crore compensation demanded by the Union and directed by the Allahabad court.
In September, Sabrang India talked to families of deceased staff members who said that while the administration had increased the number of acknowledged deaths from three people, it still hadn't sent the Covid-compensation of Rs. 30 lakh.
This despite the UPPTA sending a detailed list of deceased people, their family contact and the district where they lived in. Geographically, the following regions lost their primary teachers and staff workers: Hardoi, Lakhimpur Kheri, Lucknow, Raebareli, Sitapur, Unnao, Azamgarh, Balliya, Mau, Gorakhpur, Deoria, Kushinagar, Varanasi, Ghazipur, Jaunpur, Chandoli, Ayodhya, Barabanki, Sultanpur, Amethi, Ambedkarnagar, Prayagraj, Pratapgarh, Fatehpur, Kaushambi, Kanpur, Farukhabad, Kannauj, Etawah, Auraiya, Agra, Mainpuri, Mathura, Firozabad, Muradabad, Amroha, Bijnor, Rampur, Sambhal, Mirzapur, Sonbhadra, Bhadohi, Gonda, Bahraich, Shravasti, Balrampur, Jhansi, Lalitpur, Jalaun, Banda, Hamirpur, Mahoba, Bareli, Shahjahanpur, Budaun, Pilibhit, Mareth, Bagpat, Ghaziabad, Noida, Bulandshahar, Hapur, Saharanpur, Muzaffarnagar, Shamli, Aligarh, Kasganj, Etah, Hathras, Basti, Siddharthnagar, Santakbir nagar. It may be noted these are districts in UP alone.
While this list may include non-teaching staff, it may be worth questioning how the Centre counted a little more than 300 deaths in centrally-funded schools all over India when UP alone talks of over 1,600 deaths.
Related:
Families of deceased UP teachers still waiting for ex-gratia payment
UP govt asks SEC to consider wider compensation for dependents of deceased polling officials
UP: 1,621 people on polling duty dead, but gov't recognises only 3!
Rs. 1 cr compensation should be given to families of polling officials who died of Covid: Allahabad HC