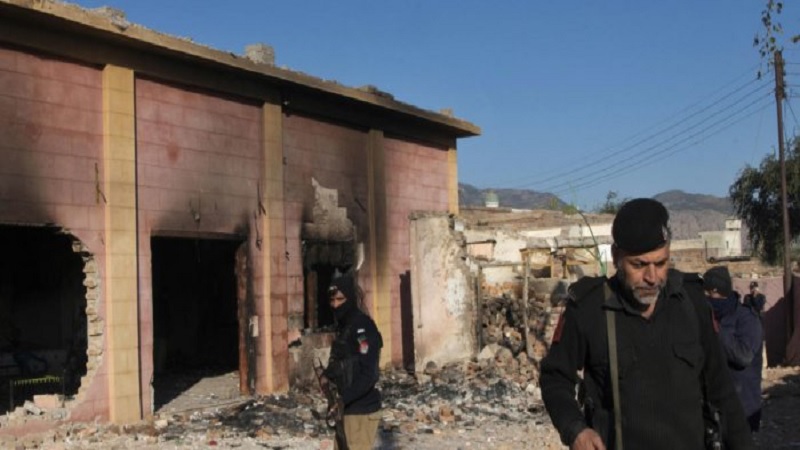 Image Courtesy:deccanherald.com
The provincial Khyber Pakhtunkhwa government has announced that it will pay for reconstruction of Hindu temple destroyed by a mob. It has so far arrested 55 suspects too. The Indian government had also expressed its concerns on the targeting of a Hindu temple.
According to a report in The Telegraph, India's Ministry of External Affairs had conveyed to Pakistan through its mission in New Delhi, that India "expects the federal government to investigate the matter and take strict action against those responsible for the demolition of the temple, pointing out that this is not the first time such an attack has taken place". The report quoted MEA sources stating, "Our message reiterated that the government of Pakistan, in discharge of its responsibilities, is expected to look after the safety, security and well-being of its minority communities, including protection of their religious rights and cultural heritage."
The Pakistan government seems to have acted fast, and damage control decisions have been put in action in the Khyber Pakhtunkhwa province. However, there seems to be no words of 'assurance' from the government, on repeated allegations of the persecution of tribals, Christians, Ahmedias, Shias in Pakistan. No words even on the allegations made in September that "around 171 Hindus in Pakistan's Sindh province had been converted to Islam". It was then reported by the Times Of India that men, women and children were inculcated into the Muslim faith at a a mass ceremony "held at madarsa Ahsan-ul-Taleem, Sanghar in Sindh province of Pakistan." The news report quoted sources as confirming that all those who were converted to Islam allegedly by "various allurements", were from Bhil community, one of the most vulnerable and marginalised among the minority communities of Pakistan. It is noteworthy that Bhils are a tribal community following animist traditions. In India they are considered Adivasis and designated as a Scheduled Tribe in many states.
Meanwhile, in Khyber Pakhtunkhwa, police have arrested 10 more people in overnight raids for their alleged involvement in the vandalisation of the Hindu temple by a mob led by members of a radical party in Khyber Pakhtunkhwa province, reported NDTV. The total number of accused arrested in the case has risen to 55, and over 350 people have been named in the FIR.
Pakistan's Supreme Court took suo motu notice of the vandalism, and its Chief Justice directed a Minority Commission to visit the site and submit a report by January 4.
Pakistan Supreme Court takes suo motu notice of the burning of a Hindu temple in Khyber Pakhtunkhwa's Karak.

Chief Justice have direction to One Man Minority Commission to visit the site and submit a report by January 4.#Pakistan pic.twitter.com/LI2bWogTBt

— Live Law (@LiveLawIndia) December 31, 2020
While Hindus make up for around two percent percent of the total population of Pakistan, the government is keen to showcase that it is deeply concerned to protect the minority community and will rebuild the destroyed temple using provincial government funds, stated multiple news reports.
The incident took place in Terri village in Khyber Pakhtunkhwa's Karak district, on December 30. However, the leader of Jamiat Ulema-e-Islam (JUI-F), one of Pakistan's largest Islamist parties, Amir Maulana Ataur Rahman had strongly condemned the incident and said his party had nothing to do with it. According to news reports the mob was allegedly protesting "the expansion work of the temple and demolished the newly constructed work alongside the old structure." Pakistan's federal Parliamentary Secretary for Human Rights Lal Chand Malhi had also strongly condemned the vandalisation of the temple by "some anti-social elements", and said such anti-social elements were defaming Pakistan. Khyber Pakhtunkhwa's Chief Minister Mahmood Khan termed the attack on the temple as "an unfortunate incident" and vowed that his government will protect places of worship.
Now the reconstruction will start as soon as possible with security provided at the site. According to a report in the New Indian Express, this temple was destroyed in similar circumstances in 1997 and then rebuilt. While no Hindus live in the area, devotees visit the temple and its shrine to pay homage to the Hindu saint Shri Paramhans, who died there before the 1947 partition of India, stated the report
When the attack on this Hindu temple happened, a couple of days ago, the bigoted right-wing ecosystem in India began using visuals of this, to serve its pro-CAA agenda in India. As always this added to the anti-Muslim sentiments the right wing continusly fuells. However when the Pakistan government announced the rebuilding the Hindutva groups probably see it as a 'win' for the community. The Hindutva agenda against Muslims will continue.
A question has also been raised by former diplomat KC Singh: "when mob destroys/damages mosques in India any nation asking questions violates Indian sovereignty. Can't have it both ways."
What kind of unilateralism is this? India questions mob's destruction of temple in Pakistan. In fact Pakistani authorities promptly arrested culprits. But when mob destroys/damages mosque in India any nation asking questions violates Indian sovereignty. Can't have it both ways.

— K. C. Singh (@ambkcsingh) January 2, 2021
Lawyer Prashant Bhushan compared how India was treating its own minorities.
Secular India? Where have we come? pic.twitter.com/plS6acckIV

— Prashant Bhushan (@pbhushan1) January 1, 2021
Human Rights' activist, journalist John Dayal called out Pakistan's move to rebuild one temple, saying the country continued to discriminate against its Hindus, Sikhs, and Dalit Christian citizens. He said, "Christians see their young women abducted and forcibly converted, churches desecrated and vandalised, lands grabbbed, their Muslim defenders persecuted and occasionally assassinated. That is your history of the freedom of religion you give us."

As reported by SabrangIndia before, Hindus in Pakistan, are a vulnerable minority, often even ignored by the media, who fail to highlight crimes against the community. Even when reported, they do not come to the fore and catch people's attention. Hindus comprise 2 percent (around 3 million people) of Pakistan's population. In 2019, the All Pakistan Hindu Panchayat (APHP) launched a campaign to collect data to ascertain the number of Hindus in Pakistan. Hindus are mainly concentrated in Sindh province where they form nearly 8% of the population. Some Hindu families in Pakistan reportedly hid their religious identities due to safety concerns too.
Meanwhile, it is not known if Pakistan's Sindh government has apologised to its Hindu community and offered to rebuild the Hindu temple that was vandalised, and the idol of the Goddess Durga desecrated in Nagarparkar area during Navratri, a few months ago.
Related
Mob vandalises, sets ablaze Hindu temple in Pakistan
Daniel Pearl Beheading: Pak court orders release of Omar Sheikh and aides
Khadim Husain Rizvi and the Weaponization of Barelvis in Pakistan