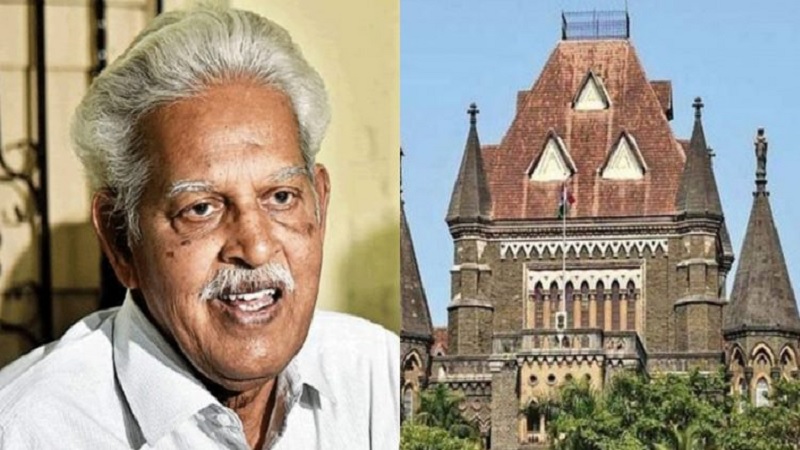 Image Courtesy:theleaflet.in
The Bombay High Court Bench of Justices SS Shinde and NR Borkar has asked the National Investigation Agency (NIA) special counsel Advocate Sandesh Patil whether the octogenarian Bhima Koregaon accused poet Varavara Rao should to be sent to prison amidst the third wave of the Covid-19 pandemic.
According to a report in Bar & Bench, Justice SS Shinde remarked, "We are seriously concerned about all stakeholders in the system, including advocates. We are all like one family. Here also, some of our colleagues have been tested…I do not want to disclose any names." The bench was hearing a plea by Varavara Rao seeking extension of his medical bail granted by the HC in February 2021.
The Bench opined that the third wave was likely to continue for another 50-60 days, and that the figures reported in this wave are higher than those of the first two waves, stated the news report. Justice Shinde asked all present for the hearing including Senior Advocate Anand Grover appearing for Rao to take extra care. According to the news report, Rao had filed his response to the report submitted by Nanavati Hospital which indicated that his vital parameters seemed to be normal and that the remaining clinical examination showed no significant abnormalities. The medical report was submitted after the High Court on November 29, 2021, had directed NIA to take Rao to a private hospital for medical examination at the expense of the agency in order to determine whether his bail can be extended or not.
Advocate Sandesh Patil, reported B&B, informed the Court that NIA was seeking for some time to take instructions on the plea and brief the Additional Solicitor General who was not in the town for a few days as he had a matter before the Nagpur Bench. The Bench granted time to NIA, but clarified that "it was pertinent that the matter is heard at length before a decision is made". The next hearing is on February 4 and the Court has extended the time granted to Rao to surrender till February 5.
Related:
Never-the-less, they persisted: Human Rights Heroes of 2021
Have publishers Penguin censored, stalled Varavara Rao's next book?
Bom HC to hear Dr. Varavara Rao's bail extension plea on Oct 26