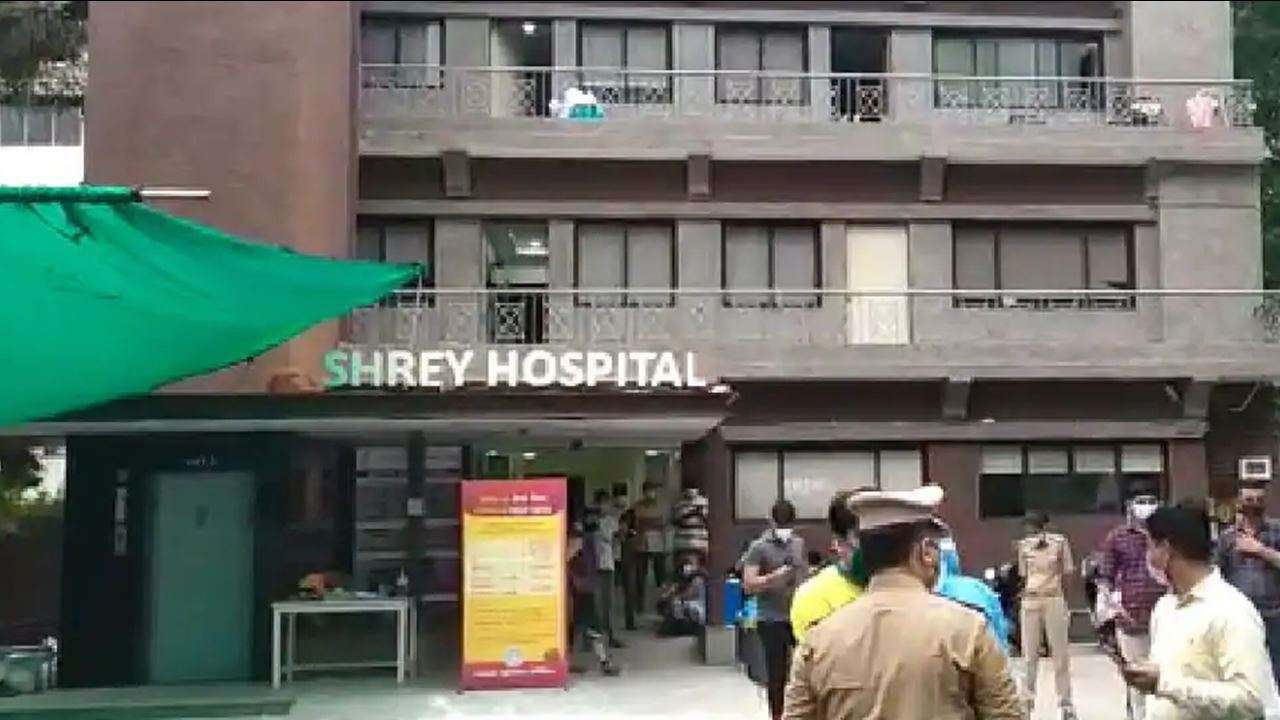 In a shocking twist to the Shrey Hospital fire case, family members of multiple victims have revealed that the mobile phones of the victims kept ringing hours after the fire, one was even alleged to be in possession of a staffer's family member!
The fire that is being said to be the result of a short circuit, reportedly broke out at about 3:03 A.M and all eight inmates of the Intensive Care Unit (ICU) of the hospital that was a designated Covid Care Facility, perished in the fire. Concerns have been raised about the alleged absence of fire fighting equipment, missing CCTV footage and there are even allegations that no doctors or medical care personnel were present in the ICU at the time of the incident. But the most curious element remains that matter of the missing mobile phones of the victims.
In a representation to the Assistant Commissioner of Police, A Division, Ahmedabad City, Rajesh Shah, the son of the deceased Lilavatiben Shah says, "It would also be crucially important to inform you that on 6 th August 2020 at 7:22 am I made a call on the mobile phone (Micromax) number ********** which was with my Late mother until the night of 5 th August 2020, however, nobody responded. When I called up on the same number at 7:27 am, the phone was shockingly switched off. I thereafter received a call from the mobile phone (Micromax) number belonging to my mother Late Smt. Lilavatiben Shah having number – ********** at 1:17 pm and my phone rang 4 times. However, since I missed the phone call from my Late mother's mobile phone, I immediately called back on her number at 1:18 pm which was answered by a lady from an area in Ahmedabad named Bapunagar. Upon enquiring as to how did she get possession of the mobile phone belonging to my Late mother which was in the ICU ward with my Late mother, I was informed that the lady who answered the phone call is mother of a lady named Manisha who works at Shrey Hospital and that she was given the mobile phone by Manisha. The lady further threatened me not to call on the mobile phone and that she will be deleting the details from my Late mother's mobile phone, which admittedly did not belong to her, and proceeded to disconnect the phone. Thereafter, I tried to call on the said mobile phone on 11 th August 2020 at 10.13 am, 3.43 pm and 3.50 pm but the phone could not connect."
Shah has added screen grabs of the call log and submitted it to the police asking that the phone be retrieved and returned. Shah also demanded that his representation be treated as a formal complaint and asked for certified copies of the Investigation Report, FSL report and the Spot Panchnama.
Speaking to SabrangIndia, Shah said, "The investigation has not been proper and we are still waiting for answers. This incident has taken a heavy emotional toll on the entire family."
In fact, in another curious turn of events in the matter of the missing mobile phones, Samirbhai Mansuri, brother of Late Mr. Arifbhai Mansuri, told SabrangIndia that the Shrey Hospital administration handed over the mobile phone belonging to his deceased brother and the same was completely in a working condition and fully functional. "The hospital authorities called me at 7 A.M and I reached there with my other family members in 20 minutes. There was a lot of police presence and obviously we knew we were not going to be allowed inside. But we were informed about my brother's death. At about 8 A.M, a man I had often seen at the reception came and gave me my brother's phone. I don't remember the man's name."
Mansuri is disappointed with the investigations so far and said, "Recently a fire broke out at a Covid hospital in Vadodara and people were rescued. We need to find out why couldn't these eight people be rescued from the Shrey Hospital ICU? They had Covid. They weren't paralysed! They could have run for their lives. Moreover, why wasn't a single doctor or paramedic present at the ICU?"
Advocate Suhel Tirmizi, whose wife Ayesha perished in the fire, also had a curious experience where his wife's phone appeared to have remained intact, hours after the fire. He told SabragIndia, "I had sent her a video message at 5:30 A.M. and it showed that it was delivered. Now if the victims died of 80 percent burns, how did their phones not get damaged?"
Advocate Tirmizi has also filed a representation to the Additional Commissioner of Police where he elaborates on the same point. He says that "despite the entire ICU Ward at Shrey Hospital being reduced to ashes pursuant to a fire breaking out at 3:03am on 6 th August 2020, the mobile phone being Moto G5 (cream / golden in colour) (IMEI 1 No.xxxx & IMEI 2 No.: xxxx) bearing No. xxxxxxxxxx belonging to my wife Late Mrs. Ayshaben Tirmizi was in working condition since messages could be delivered on the said phone even after the incident and infact, calls could be made and the said mobile phone was ringing till around 4:00 p.m. on 7 th August 2020, i.e. almost 36 hours after the incident."
He has also raised several other concerns and made a series of allegations that require urgent scrutiny in his representation. He says, "Shrey Hospital administration / management:
a. had knowledge and was very well aware that the entire Hospital and especially the ICU ward does not have any fire safety and / or fire prevention system such as fire alarms, sprinklers, fire extinguishers, fire hose, etc. to protect its innocent patients who have no knowledge about the same;
b. had knowledge that the obsolete electric wires and equipments have not been checked / audited and considering the onset of monsoon season wherein electrical appliances are even more prone to fail, the Shrey Hospital administration / management took no corrective measures in this regard;
c. had knowledge and was very well aware that there is no fire detection / prevention / protection system / equipment in the ICU Ward;
d. had knowledge and was very well aware that in case there is a fire, the Hospital does not have any means to protect its helpless patients resulting in their deaths;
e. had knowledge and was very well aware that the Hospital does not have a Fire NOC. Infact, the Shrey Hospital administration did not even bother to apply for Fire NOC which means that the Hospital administration was aware that the Hospital is not safe to protect lives of innocent and helpless patients in case of fire and has deliberately put their lives at stake;
f. did not bother to train / teach the Hospital staff to deal with fire and save lives of helpless patients in emergency situations;
g. did not bother to inform relatives of the deceased patients for 4 hours after the incident;
h. have stolen the belongings such as gold chains and mobile phones belonging to the patients admitted in the ICU Ward BEFORE the fire so that the said patients would be deprived from contacting anybody from outside while the Shrey Hospital administration / staff / management set the ICU on fire."
SabrangIndia was the first to report how the families have been demanding a more comprehensive investigation, preferably by the Central Bureau of Investigation (CBI).
Related:
Shrey Hospital case: Victims' families demand CBI inquiry
8 killed in Ahmedabad Covid-19 Hospital Fire