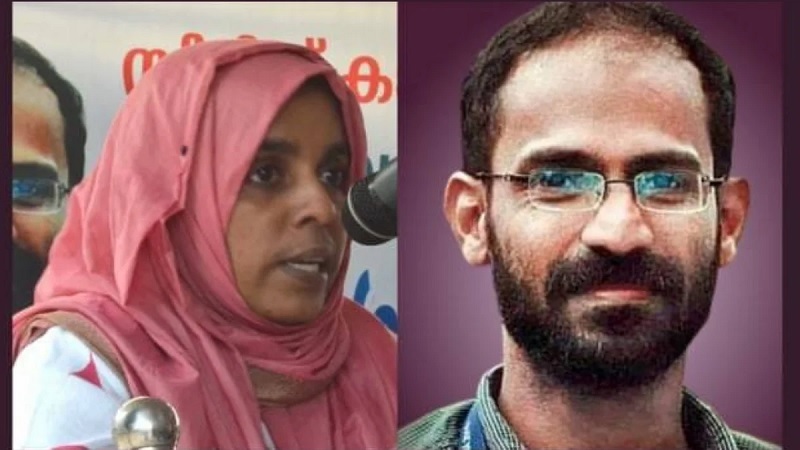 Image Courtesy:freepressjournal.in
Kerala journalist Siddique Kappan has been allegedly "chained to a hospital bed like an animal" and is not being allowed to use the bathroom. His wife, Raihanth Kappan has written a letter to the Chief Justice of India, N.V. Ramana, for his immediate intervention to release him from Mathura Medical College back to Mathura Jail till his plea for release from jail is decided.
The plea by advocate Wills Mathew on behalf of Kappan's wife reads, "It is most respectfully prayed to take immediate steps/pass necessary orders to release Mr. Sidhique Kappan from the Medical college Hospital back to the Mathura Jail as interim relief," reported Bar & Bench.
She alleged in the letter that after Siddique had suffered a fall in the bathroom, he was taken to KM Medical College, Mathura where he is reportedly being ill-treated. Kappan has also tested positive for Covid-19.
Advocate Will Mathew told ThePrint that Raihanth found out about her husband's condition when she spoke with him over the phone after he was moved to the hospital. Mathew said, "Before he was admitted, Kappan had a fall in the jail bathroom due to weakness. He sustained injuries on his face and was unable to speak clearly. He simply told her, when she called, that he does not want to stay in the hospital, or else, he would die. He said he would prefer to remain in jail."
In an online event to pay tribute to the political prisoners, Raihanth said, "Siddique called me from someone else's phone. He doubts that his jawline is broken. He can't even eat properly; his face is paining. He was constantly asking to be discharged. After being hospitalised, he was not allowed to go to the bathroom. He is handcuffed to the bed. He is urinating in a plastic bottle lying on the bed itself. He said he cannot eat because of severe pain."
According to The Hindu, Chief Minister of Kerala, Pinarayi Vijayan has written to his counterpart in Uttar Pradesh Yogi Adityanath on April 25, seeking his intervention to ensure expert health care to the ailing journalist.
After testing positive and taking a fall in the jail bathroom, the Kerala Union of Working Journalists (KUWJ) had moved the Supreme Court seeking Kappan's transfer to either AIIMS or Safdarjung Hospital for treatment.
The plea before the Supreme Court read, "It is reliably believed that more than 50 inmates of Mathura Jail suffer from Covid, with various scarcities, and even drinking water from the toilet, seriously affecting hygiene, health, all leading to a major disaster in the making. In short, as of today, the life of Mr. Sidhique Kappan is in danger for all reasons."
Kappan, who is charged under Unlawful Activities (Prevention) Act and sedition, was arrested on October 5 last year when he had gone to cover the Hathras horror of the alleged gangrape, and murder of the 19-year-old Dalit woman. The Uttar Pradesh government had alleged that he along with other Popular Front of India (PFI) activists and their student wing (Campus Front of India) leaders were going to Hathras under the 'garb of journalism' with a very determined design to create a caste divide and disturb law and order situation.
In more disconcerting news, Dr. Umar Khalid, ex JNU student and human rights activist has tested positive for Covid-19 in Tihar Jail according to some news sources and has been isolated. According to The Indian Express, Tihar has 227 active cases among jail inmates and 60 among jail staff, including a jail superintendent and two prison doctors as of April 23.
Umar has been booked under UAPA for his alleged role in the North East Delhi violence case of 2020 and has been in jail since September last year. His father Ilyas SQR took to Twitter and said, "Umar Khalid tested positive for Covid after an antigen test was conducted on the instructions of the court. He has been kept in isolation on the advice of the doctor. Please keep him in your prayers!"
Related:
Siddique Kappan tests Covid positive, collapses: Plea in SC to transfer him to AIIMS
Siddique Kappan used "journalist cover" to disrupt law & order: UP Gov't to SC
Application for production of Umar Khalid and Khalid Saifi in handcuffs 'bereft of reasons': Delhi Court