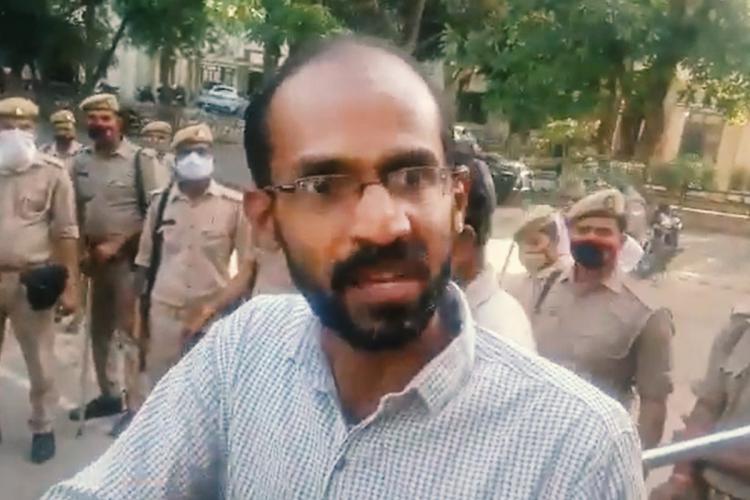 On October 5, Tuesday, journalist Siddique Kappan will complete 1 year in jail along with three others arrested with him by the Uttar Pradesh police when they were on their way to Hathras to cover the horrific gang rape and murder of a 19-year-old Dalit girl.
In April this year, the police filed a chargesheet against Kappan listing more than 50 witnesses to support the police charges. In this 5,000-page chargesheet, the UP police alleged that Kappan and others received funds totalling almost Rs. 80 lakhs from financial institutions in Doha and Muscat to create unrest in the state. The police claimed that they were all PFI activists and their student wing (Campus Front of India) leaders were going to Hathras under the garb of journalism with a very "determined design to create a caste divide and disturb law and order situation."
According to an Indian Express report, the chargesheet includes a case diary note, in which the investigating officer highlights certain portions from 36 articles written by Kappan, on the Nizamuddin Markaz gathering after the Covid outbreak, anti-CAA protests, Northeast Delhi riots, the Ram temple in Ayodhya and the chargesheet against Sharjeel Imam who was jailed on sedition charges.
The note states that Kappan's writing reflects Muslims as victims who were beaten up by police and were asked to go to Pakistan during the protests against the Citizenship Amendment Act, 2019. The IE quoted the case note read, "It is evident from the writing that it has been done to incite Muslims….These writings of Siddique Kappan, to a great extent, can be classified as communal. Responsible journalists do not do such communal reporting. Kappan only and only reports to incite Muslims, which is a hidden agenda of PFI (Popular Front of India). Some stories were written to sympathise with Maoists and Communists."
The chargesheet also alleged that Kappan worked as a "think tank" of the PFI. It reportedly states that he was attempting to publish anti-Hindu stories in the Malayalam media and also had plans to inflame the north-east Delhi violence.
The Police have also accused him of trying to hide the death of Intelligence Bureau officer Ankit Sharma and head constable Ratan Lal, and downplaying the alleged role of former Aam Aadmi Party councillor Tahir Hussain, who has been charged under UAPA in the violence case.
According to the IE report, the chargesheet has also recorded the statement of Gyanendra Singh Solanki, the toll plaza in-charge in October last year, who said, "The accused were arrested during checking on the highway. The accused said they wanted to get justice for the victim and did not stop despite repeated requests. Except the driver Alam, the persons had 1,717 pamphlets which had details of how to cause caste-based violence and create a massive law and order situation. Besides Alam, the three persons are found to be active members of PFI's associate Campus Front of India (CFI). The accused were part of several WhatsApp groups. The accused had been directed to create tension in Hathras area in connection with the murder and gang-rape."
Kappan, along with three others have been booked under sections 153(A) (promoting enmity between different groups on ground of religion, race), 124A (sedition), 295A (deliberate and malicious acts, intended to outrage religious feelings), 120B (Criminal conspiracy) of the Indian Penal Code, sections 17 (raising funds for terrorist act), 18 (punishment for conspiracy) of UAPA, and sections 65 (tampering with computer source documents) and 72 (breach of confidentiality and privacy) of the Information Technology Act.
Atiq-ur Rahman, the other person arrested with Siddique Kappan and charged with sedition and under UAPA, suffers from a heart condition called Aortic Regurgitation. After his bail was rejected in June 2021, his lawyer moved the high court for medical bail. His matter has not come up for hearing after August 27.
Related:
UP police file 5,000-page chargesheet against Siddique Kappan
SC grants 5 days interim bail for Siddique Kappan to meet his ailing mother
Siddique Kappan used "journalist cover" to disrupt law & order: UP Gov't to SC