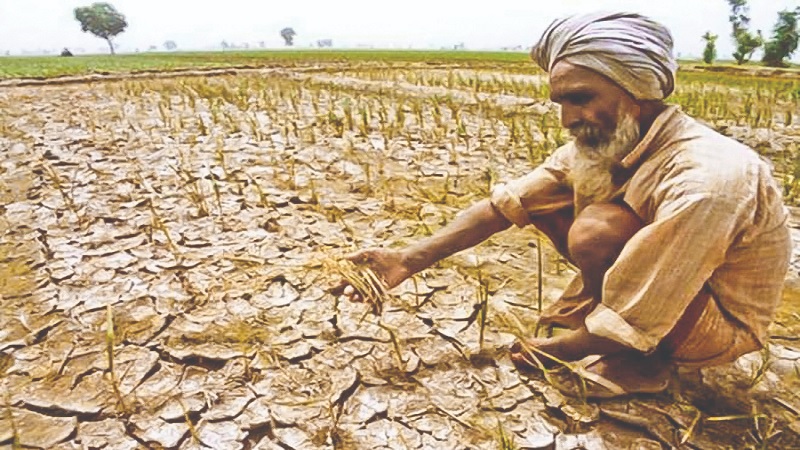 Image Courtesy:sundayguardianlive.com
End the suffering of farmers by way of land attachment and auction of agricultural land, demanded the farmers coalition Sanyukta Kisan Morcha (SKM) on January 24, 2022 amidst protests outside Rajasthan Raj Bhawan.
राजस्थान के किसान संगठनों के प्रतिनिधियों ने आज राजस्थान गवर्नर भवन का घेराव किया व राज्य विधानसभा में पास व राज्यपाल के पास अटके हुए जमीन कुर्की रोकने संबंधी कानून को मंजूरी देने की मांग की। #KisanMajdoorEktaZindabaad #FarmersProtest #Rajasthan pic.twitter.com/Sqg38XerbR

— Kisan Ekta Morcha (@Kisanektamorcha) January 24, 2022
For over a year, state farmers have waited for the government to pass the Removal Of Difficulties (Amendment) Act 2020 and alleviate farmers' concerns about losing their land. However, Governor Kalraj Mishra of the Congress-led government has stalled on signing the document for the past months.
On Monday, as many as 200 farmers grew tired of the imminent danger of land attachment and land auctions and gathered outside the Raj Bhawan for the passing of the law. Protesters handed the Governor a memorandum appealing for the realisation of the law that bans land auction of farmers with agricultural land up to 5 acres.
"Farmers have been removed from their own land and died by suicide. If this goes on then in the time to come many such deaths will continue," said State Gramin Kisan Majdoor Samiti (GKS) Convenor Ranjeet Singh Raju.
In the memorandum, farmers pointed out that commercial houses across India took loans of ₹ 1 lakh cr each yet the government has not called for an inquiry for such defaulters. Instead, farmers with small loans are targeted in the name of NPAs. There is great content among farmers regarding this because it gives land mafias an advantage in taking over farm land at cheap prices.
Citing instances, the protesters demanded the removal of the Dausa Collectorate office superintendent who recently dismissed the stay on land auction called by Chief Minister Ashok Gehlot and forcefully sold farmland.
Farmers unrest brewing
As elections approach in various states, farmers continue to be vocal in voicing their grievances. SKM leaders warned that members will observe widespread protests across India if the demands assured to them are not accepted by January 31. Further, unions in Uttar Pradesh and Uttarakhand will also start "Mission UP Uttarakhand" where farmers will discourage people from voting for the ruling regime as they did during West Bengal elections.
"Along with our major demands on MSP legalisation, removal of laws penalising farmers and suspension of the Minister responsible for the Lakhimpur Kheri killings, we also want the UP police to free the 12 farmers facing FIRs and arrests. If all of this is not accepted, we will once again appeal to people not to vote for this government," SKM member Gurmeet Singh Mahima told SabrangIndia.
Farmers have dubbed the potential nationwide protests on January 31, "Day of Betrayal". Joint Platform of Central Trade Unions, Independent Sectoral Federations / Associations will join this event as well.
"The Centre seems to be dithering on the promises made to the SKM in writing, such as formation of a committee to look into the question of legal guarantee for MSP for agricultural produce, withdrawal of Electricity (Amendment) Bill 2021, sacking of Union Minister Ajay Mishra, the alleged perpetrator of Lakhimpur Kheri atrocity. Agriculture Minister Narendra Singh Tomar, to salvage the image of the Prime Minister as having buckled before the rock-like resolve of farmers, shamelessly said "we can always enact the laws again"," said CTUs. They further said the ruling regime "needs to be told that their act of betrayal will not go unnoticed."
Like the support of the CTUs, the SKM also promised its support for the nationwide strike called by trade unions on February, 23 and February 24 against the anti-labour, anti-people and anti-national policies consisting of wholesale privatisation of national assets and pushing the labour codes.
Related:
Lakhimpur Kheri killings: SIT files chargesheet against farmers!
SKM demands Centre come through on its promises
Punjab: PM Modi's convoy blocked by protesters
Lakhimpur Kheri massacre: Fact-finding report highlights administrative tyranny
Lakhimpur Kheri killings were planned: SIT