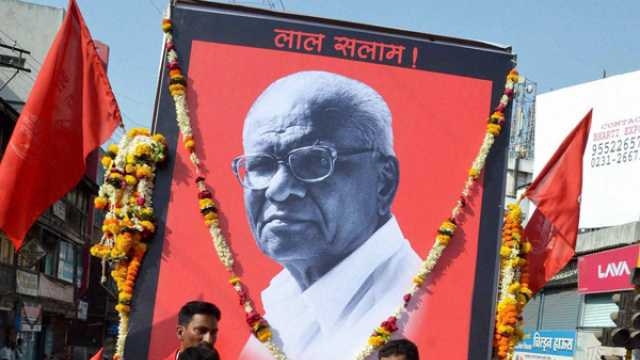 Image: PTI
On February 16, 2015, exactly a year ago, Govind Pansare, a public intellectual and political academic-activist was shot at, in cold blood while on a morning walk with his wife, who also sustained serious injuries but survived.

Govind Pansare succumbed to the deadly bullets, four days later on February 20, 2015. Two years earlier, in August 2013, rationalist and anti-superstition activist, Narendra Dabholkar was shot dead in Pune while he was also out for a morning walk. Both these killings took place in Maharashtra. Finally, again on August 30, 2015, the former Vice Chancellor of the Hampi University and scholar MM Kalburgi was also killed with bullets aimed by a man who knocked at his door, in Dharwad, Karnataka.

The three killings have a chilling similarity. Serious questions about the role of the Sanatan Sanstha, an extreme Hindutva right wing, supremacist organisation have been raised and one arrest also followed. The investigating agencies in both states (which includes the CBI) have however been accused, by the surviving family members of all three leading public intellectuals, of dragging their feet over the pinning responsibility on the perpetrators and the organisations behind them.

On December 11, 2015, daughter-in-law of Govind Pansare, Megha Pansare had seriously questioned the role(s) and motive(s) of the Central Home Ministry when the junior minister stated on the floor of the Indian Parliament, that there was no link or similarity between the three murders.

In this tribute to Govind Pansare who is something of a legend all over Maharashtra –on the one year anniversary of his political assassination (shooting)–, Sabrangindia reproduces his writing/speech on 'Mahatma Gandhi and his legacy." The speech was delivered in 1998, when the country was observing 50 years of the martyrdom of Gandhi.

The English translation of the original in Marathi was published by Sahmat, New Delhi in The Republic of Reason, 2015-The Words that they could not kill. The translation is by Dr. Uday Narkar.
---
Mahatma Gandhi and His Legacy
Govind Pansare

I remember we were once sitting talking about something in the office of an institution working for social and political education.

We were seized with the question, who in Maharashtra, was well qualified to officially talk on Gandhism. Some names were suggested. However, we were struck by a strange fact: There were not many commentators, who could ably speak on the subject, in the state. The office-bearers of the Congress and their ministers, sitting or former, were conspicuous in their inability to carry out this task.

We zeroed in on some Sarvodaya person and carried the day, somehow.

It was a perturbing thought. How much of Gandhism had survived? Where do we look for it, exactly? If it could not be found anywhere, why was it so? This, in fact, is a subject of a separate and deep study. But that is another matter.

A strange inheritor
It is not some followers in Sarvodaya or the scant persons within the Congress who are claiming his legacy. Some new elements have come forward to claim it. Sounds strange, but one must understand this phenomenon.

When Atal Bihari Vajpayee, a thirteen-day Prime Minister and the one who was to later to stake his claim to the post after the next general elections, was the president of the BJP, the party had officially declared "Gandhian Socialism" to be its ideology. Another leader of the party,
an expert in organizing dubious yatras on all sundry issues, Lal Krishna Advani, too displayed a massive poster of Mahatma Gandhi on the stage when he organized another yatra, this time to commemorate the Golden Jubilee of Indian Independence.

The Rashtriya Swayamsevak Sangh (RSS) has compiled a list of 'venerable' persons who qualify to be 'remembered' in their morning prayers. The RSS deigned to include, though as afterthought, the Mahatma's name in that list. Apparently, these are the new inheritors of Gandhi's legacy.

Sangh Parivar
The Sarsanghachalak (chief), and other leaders of the RSS, have never tired of claiming ad nauseum. for years that the RSS was a cultural organisation and it had nothing to do with politics. The RSS was banned after Mahatma Gandhi's assassination. The organisation, in a letter to the then Home Minister Sardar Vallabhbhai Patel, assured that the Sangh was a cultural organisation and it did not dabble in politics. Having procured this letter of assurance, and other assurances, the ban on the RSS was lifted.

However, in the recent Mahashibir (Great Camp) at Nagpur, its chief, Rajendrasingh or Rajju Bhaiyya, issued a firman (diktat) to the Swayamsevaks to do everything for the success of the BJP in the forthcoming elections. Moreover, he pronounced utterances that no cultured person would find fit to say about women, about Sonia Gandhi's complexion.
It is the Sangh which decides who speaks, what and when. Sangh is the boss, the rest are all subsidiaries. The Sangh determines the policy; others merely implement it, so goes its style of functioning. One cannot forget what Govindacharya said recently, "Atal Bihari Vajpayee too is a mukhauta. The real leader is Advani."

Well, this organisation, the RSS is now claiming Mahatma Gandhi's legacy. It is more than clear now that the RSS is the mother organisation and the Bharatiya Janata Party(BJP), Bharatiya Mazdoor Sangh (BMS), Akhil Bharatiya Vidyarthi Parishad (ABVP), Vishwa Hindu Parishad (VHP), Bharatiya Janata Yuva Morcha (BJYM), Bajrang Dal (BD), Patit Pavan Sanghatana are its affiliates or masks, mukhaute.

It is the Sangh which decides who speaks, what and when. Sangh is the boss, the rest are all subsidiaries. The Sangh determines the policy; others merely implement it, so goes its style of functioning. One cannot forget what Govindacharya said recently, "Atal Bihari Vajpayee too is a mukhauta. The real leader is Advani."

Such is the Sangh with its mukhauta. It is now donning another mukhauta, of Mahatma Gandhi. Well, why not, one may ask.

Murderers and inheritors
Nathuram Godse, a Savarkarite activist of RSS, working in the Hindu Maha Sabha, murdered Mahatma Gandhi on January 30, 1948. Nathuram, his brother Gopal, a Sangh activist himself and a co-accused in the conspiracy, and in fact all the RSS activists justified the Mahatma's murder, which they still continue to do. The self-proclaimed Hindu Hridaya Samrat Bal Thackeray declared that the statues of Mahatma Gandhi should be brought down and in their place should be erected the statues of Nathuram Godse, 'the true martyr'.

On the day of Gandhi's murder, sweets (pedhas and sugar) were distributed in Pune and other places. Nathuram Godse was hanged on November 15, 1949, so people of the Sangh, sometime clandestinely and sometimes openly, observe this day.

While for the whole of the country, January 30 is Martyr's Day. For the Sangh, it is November 15. For India, Mahatma Gandhi is a martyr; for the Sangh Parivar, Nathuram is a martyr.

It's a weird thing; on the one hand murder someone, justify the dastardly act, treat the murderer as a martyr, celebrate the murder and, on the other, proclaim "Gandhian Socialism", and display huge posters of Gandhi and remember the man in prayers every morning. How do we explain this riddle?

Several acts, one objective
These acts, apparently contradictory, are in fact contradictory acts to accomplish but one objective. The acts are different, the mukhautas (masks) different, the language different but the goal is one. Gandhi was not murdered for any personal motive. It was not a crime driven by personal vendetta. Those who did not like his ideology, his views, it was they who murdered Gandhi. Those who killed him had their own ideology.

They killed him to affirm supremacy of their ideology. Those who murdered him were neither ignorant persons nor paid assassins. They were well educated, politically conscious individuals, from families with access to quality education.

The then Home Minister, Vallabhbhai Patel himself has recorded, in a letter to Nehru (Prime Minister) on February 27, 1948 that the conspiracy to murder Gandhi was hatched by a group operating under the leadership of V. D. Savarkar.

Those who are curious to know more may study the sixth volume of Vallabhbhai Patel's published letters. Gandhi's murder was not occasioned by any contemporary event or incitement. It was not a case of Gandhi angering someone and paying the price for it.

He was not murdered in anger. It was a well planned and carefully executed conspiracy. The timing of the assassination was appointed. A weapon was obtained. The murderers were well aware of the consequences. It was a murder, planned and executed after a carefully planned conspiracy, recognised as such in both law and in practice.

Equality Vs Inequality
Except one, all the murderers belong to Maharashtra. The RSS was founded in Maharashtra. Its headquarters are in Maharashtra. Its work also began in Maharashtra. All those taking pride in the progressive tradition of Maharashtra should take note of this tradition as well.

All the suspects were Brahmins; all Brahmins who are proud of their "Brahmanya", Brahminism. When the persons belonging to the castes known decreed as 'criminal/convict castes or tribes' resort to acts of murder or of robbery, the headlines (in newspapers) never fail to scream their caste.

The caste identity of upper caste criminals (Brahmins, Marathas, Jainas, Gujrathis) – when involved in conspicuous crimes — is concealed. The powerful perpetrators in most scandals, especially financial scams, are mainly upper caste people, because it is they who occupy these opportune positions. But nobody (not the newspapers certainly !) declares their caste.

There is a reason why the caste of Mahatma Gandhi's murderers should be made public. Of course, they were all Brahmins. But, moreover, they believed in the superiority of the Brahmins. They practiced Brahminical culture. "However debased, a Brahmin is superior in all the three worlds,"—such is the nature of the belief they held.

Gandhi was against Brahminism. He was against inequality. He not only believed in equality, he followed it in actual practice. He was murdered for it.

Hindu–Muslim unity versus Hatred of Muslims
Mahatma Gandhi's murderers were Hindu. They were not only Hindu but they held that Hinduism was superior to all religions. More than love for Hinduism it was the hatred for other religions, especially, Islam that was a strong and running thread, a passion common to all of them, both in thought and practice.

Mahatma Gandhi was born a Hindu. He believed in God and religion. But he did not believe that only Hinduism was good and other religions were worthy only of disdain. He believed in Sarva Dharma Sama Bhava. This reflected in the Bhajan that he always sang, "Allah Tero Naam, Ishwar Tero Naam".
The murder was committed for ideology – both his and theirs. This false praise is also to further their ideology and undermine, or kill, Gandhi's ideology. Those who killed Gandhi fifty years ago have set themselves the task now, to finish off his ideology, Gandhism.

He believed that true religion was to serve the poor and weak. This reflected in the Bhajan, "Vaishnav Jana to tene Kahiye". One who understands the suffering of others, is a true
worshipper of God, held Gandhi. Gandhi's view of religion and that of his murderers were diametrically opposed to each other. Gandhi was murdered for his view of religion. His 'Sarva Dharma Sama Bhava' was treating Muslims with more favor, the murderers contended. This was why he was murdered.

Murder and False Praise: Two sides of the same coin
Now, heed this contradiction. The reasons for which the RSS is praising Gandhi are also the reasons why he was murdered. When those taking pride in the ideological legacy of the murderers begin praising Gandhi, their intentions are very clear.

What they wanted to achieve by murdering him, they are now further attempting with this false praise.

The murder was committed for ideology – both his and theirs. This false praise is also to further their ideology and undermine, or kill, Gandhi's ideology. Those who killed Gandhi fifty years ago have set themselves the task now, to finish off his ideology, Gandhism.

One way of doing so is by displaying his images, remembering him in prayers and canvassing
views which are against his views in actual fact.

We are familiar with some shop owners who display his photograph on the wall but have indulged in crimes related to the black market…. They garland his (Gandhi's) image every day, bow before it and then turn around, free to do their dealings: black marketing etc etc, all this, in his presence. They happily carry out their 'business'.

These (older)worshippers of Gandhi and the new (RSS) worshippers who praise him but spread hatred for other religions and even murder in the name of this hatred; foment and spread communal riots as a proof of the love of their own religion, are no different from each other.

Gandhi murder: False reasons
"Gandhi was killed because he was responsible for the creation of Pakistan, he forced Indian Government to pay 55 crore rupees to Pakistan". These are two of the most favorite, and patently false, reasons forwarded to justify Gandhi's murder. It is a shrewd conspiracy. There were seven attempts made on Gandhi's life.

Before the last and successful attempt of January 30, 1948, he had said in a prayer meeting earlier in the same month, "I have survived, by God's blessing, seven attempts made on me."

The first murderous attempt on him was made in 1934. There was no question of Pakistan or 55 crores rupees (to Pakistan) then. Nathuram Godse himself had tried to assault him with a knife in hand at Panchgani, Maharashtra, in 1944. Nathuram once tried to assassinate him with a knife at Sevagram in 1946. "I had brought the knife to puncture the tyre of Gandhi's car", Nathuram had admitted.

A bomb was hurled at a library in the centre of Pune city. N. R. Athawale, a Hindu Mahasabha activist was arrested for it. All these details have been recorded in the testimonies given to the Kapur Commission.

Save Gandhi
Those opposing Gandhi's ideas lived then, they are living now, too. But except the extreme Hindutva elements, who spread hatred against Muslims and support overtly or covertly the ideas of inequality propounded by the Manusmruti, none of his opponents have ever tried to murder Gandhi. None tried to display his photograph on the wall while killing his thoughts (in practice).

Gandhism, or whatever is left of it, is in danger from these elements, which include his name in their morning prayers to hoodwink people.

India today needs Gandhi's ideas of 'Sarva Dharma Sama Bhava', religious tolerance and social equality. It is our duty to safeguard the remaining part of Gandhism and further develop it. We are observing the 50th anniversary of Gandhi's murder this year. The forces that hate other religious faiths and support the ideas of inequality are much stronger today than they were in Gandhi's time.

We, therefore, need to work more. We also need a broader unity and more intense struggle.

Background:
Govind Pansare joined a local branch of Rashtra Seva Dal, a local socialist group founded by Sane Guruji at a young age. Pansare was introduced to communism in at a young age. He helped the election campaign of communist candidate P. B. Kadu Patil in the assembly elections. Pansare then moved to Kolahpur district where he was joined by Patki who was a native of that district. It was in 1952, that he joined the Communist Party of India (CPI).
He was even arrested in 1962, during the Sino-Indian war, as he was a communist and was seen as a China-sympathiser. In 1964, he began practicing law, specialising in labour law. He represented various labour unions and the urban and rural poor. In 1964, when the Communist Party of India (CPI) split, he stayed with the parent party. He later became a state secretary of the CPI and a member of CPI's national executive.


Pansare has written 21 books, most of them commentaries on social wrongs. Shivaji Kon Hota? (Marathi for Who was Shivaji, 1988 ) is considered his most widely read work. It was based on a speech he gave in May 1987. It was a counter to the ideology of organisations wedded to the supremacist Hindutva ideology, especially the Shiv Sena, for whom the Shivaji has been manipulated into a Hindutva king. Pansare said in his book that Shivaji in reality was a leader with a pluralist approach, secular in his rule, who appointed several Muslims as his generals and . He also pointed out that Shivaji respected women, abolished serfdom. The book has been translated into Hindi, English, Urdu, Kannada and Gujarati. Since its first print in 1988, the book has seen 38 editions with each print run being of 3000 to 5000 copies. It has sold over 1,45,000 copies.

Pansare publications:
शिवाजी कोण होता? (in Marathi). Lokvangmay Griha.
धर्म जात वर्ग आणि परिवर्तनाच्या दिशा (in Marathi). Lokvangmay Griha
व्दि-वर्ण शिक्षण व्यवस्था (in Marathi). श्रमिक प्रतिष्ठान.
मार्क्सवादाची तोंड ओळख (in Marathi). Lokvangmay Griha.
मुस्लिमांचे लाड (in Marathi). Lokvangmay Griha.
राजश्री शाहू वसा आणि वारसा (in Marathi). Lokvangmay Griha.
काश्मीरबाबतच्या कलम ३७० ची कुळकथा (in Marathi). श्रमिक प्रतिष्ठान.
महाराष्ट्राची आर्थिक पाहणी – पर्यायी दृष्टिकोन (in Marathi). श्रमिक प्रतिष्ठान.
मार्क्सवादाची तोंडोओळख (in Marathi). श्रमिक प्रतिष्ठान.
मुस्लिमांचे लाड (in Marathi). सुगावा प्रकाशन.

References:
1. Signatures of bullet cartridges point to common killers of three rationalists- It is suspected that one particular set of operatives, using two weapons, carried out the three killings.
http://indianexpress.com/article/india/india-news-india/signatures-of-bullet-cartridges-point-to-common-killers-of-three-rationalists/
2. Govt: Dabholkar, Pansare and Kalburgi cases are not linked, Dec 03 2015 : The Times of India (Mumbai)
http://epaperbeta.timesofindia.com/Article.aspx?eid=31804&articlexml=Govt-Dabholkar-Pansare-and-Kalburgi-cases-are-not-03122015014054
3. Dabholkar's son: Rijiju 'misguided' Parliament
http://indianexpress.com/article/india/india-news-india/dabholkars-son-rijiju-misguided-parliament/