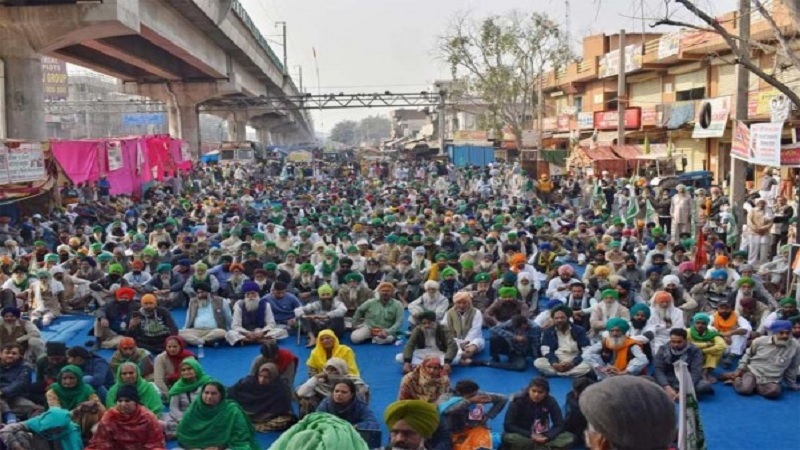 Image Courtesy:outlookindia.com
A day after a right-wing Hindutva group threatened protesters, an altercation at Singhu border resulted in lathi-charge and tear-gas shelling by Delhi police to fend off stone-pelters claiming to be local residents.
According to protester and part of the "kitab langar" (book langar) group Lovepreet, the stone-pelters have been visiting the protest site since January 28, demanding that farmers leave Singhu border for allegedly disrespecting the national flag on Republic Day.
"These people have been approaching the barricade for the last two days. Yesterday, they hardly came for an hour but the media hyped the incident. They are just RSS-BJP people who are trying to create chaos," Lovepreet told SabrangIndia.
However, on Friday, the miscreants succeeded in disrupting the peace in the area by hurling stones at the police and nearby farmers. Police resorted to lathi-charge of both groups once the stone-pelters succeeded in breaking through the barricades.
According to The Hindu, the Alipur SHO was injured during the altercation by a protester carrying a sword. He was later arrested. The internet was shut-down in the area and continues to be suspended as of Friday night. Protesters also claimed infrequent electricity throughout the day.
Similarly, Lovepreet also said people in the vicinity were injured although the exact number of wounded people is unknown.
Finally, the situation was brought under control by the police and volunteers of farmers' Unions. More security forces have been stationed in the region in light of consecutive incidents. Despite the short duration of the attack, it received wide coverage from media houses.
Some news channels such as NDTV questioned how people managed to enter the area when Delhi Minister Satyendar Jain and City Jal Board Chairman Raghav Chadha were not allowed to supply 12 water tankers to protesting farmers.
https://www.facebook.com/raghavchadhaca/videos/2833844540167441/
However, there is no concern of food or water within the protest area because farmers claim that real local residents provide basic amenities to the protesters.
"You can come here and talk to the locals. No one is telling us to go back. These people come from outside and tell us to go back. However, leaders have told us to maintain peace," said Lovepreet.
Farmer leaders are yet to officially comment on recent incidents at Singhu border. Instead, people at protest sites have been told repeatedly to maintain peace in keeping with the spirit of the freedom struggle.
Meanwhile, morale is healing slowly among protesters especially after a "sadbhavna" march from the protest point and along the KMP highway where people waved the tricolour flag and marched as a mark of social harmony. Farmers prepare for a hunger strike on January 30.
Related:
The anti-CAA and the ongoing farmers' protests in India: Similar protests, different outcomes
Armed forces retract as protests soar at Ghazipur; Delhi police mulls UAPA
Kisan Ganatantra Parade: A picture of peace
Farmers protest sites remain on high alert on Delhi borders
All eyes on Ghazipur farmers protest site
Opposition parties to boycott President's address to Parliament on Friday