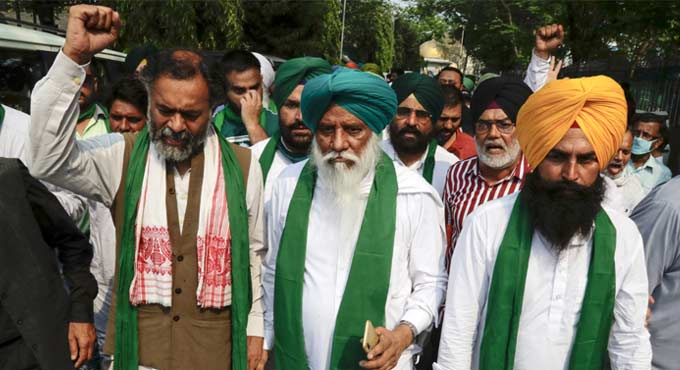 Image: AP
Anticipating a government attempt to vacate farmer protest sites in the name of coronavirus precautions, farmers on April 19, 2021 announced 'Operation Shakti' to raise awareness about Covid-19.
On Monday, farmers' organisation Samyukt Kisan Morcha (SKM) held a press conference to announce a 'resistance week' from April 20 to April 26 wherein farmers will take precautionary measures against coronavirus by: informing each and every trolley and tent about necessary precautions; providing and encouraging the use of masks to all protesters; setting up vaccination camps for farmers above 45 years; measures for social distancing during daily meetings; increasing supply of thermometers, masks and oximeters in all medical camps; fully cooperating with local administration in the prevention and treatment of Covid-19.
"There have been several reports in the media that as soon as assembly elections are over, Haryana and central governments plan to attack farmers' fronts and eliminate them in the name of Operation Clean. The Union Agriculture Minister and the Haryana Chief Minister have also pretended to call for an end to the peasant movement in the wake of the Corona crisis. The SKM warns the government that if any such actions take place, farmers will fight it out," said SKM leader Darshan Pal.
Simultaneously, the SKM also addressed rumours of a weakening struggle. It called on all farmers to return to protest sites from April 24 under the 'Phir Delhi Chalo' programme. As the harvest season concludes, the Bharatiya Kisan Union (BKU-Ugrahan) also appealed to its members to return to the Tikri border from April 21.
SKM leader Ashish Mittal reminded the conference that Saturday will also mark 150 days of the farmers' struggle across the nation. During this time, there have been no news of a large number of coronavirus cases at any protest site.
"There is no basis for the government to point a finger at the peasant movement. The ineffectiveness and hypocrisy of BJP governments in combating Corona has now come before the entire country, while the Prime Minister and the Home Minister themselves are claiming to mobilise the largest number of people in the Assembly elections. This government has no moral right to advise farmers to survive the epidemic," he said.
Similarly, the SKM condemned the government for spreading fear among people under the garb of the pandemic, blaming the general public, imposing fines on them, and giving corporate houses a free waiver of profits.
Regarding the proposed parliament march, farmers said details will be announced after addressing concerns of the organisation of some sharp shooters planning to kill farmer leaders. Meanwhile, toll plazas that were functioning in recent weeks will once again be made open by farmers in Punjab, Haryana and Rajasthan border areas.
Later, a special conference will be organized on May 10 at the Singhu border and online for farmers' organizations representatives, Kheti Andolan farmers, workers, youth leaders and other democratic organizations.
Related:
Government should fight Corona, not farmers and labourers: SKM
Tents of protesting farmers allegedly set on fire at Singhu and Ghazipur borders!
Back-to-back farmers' events in coming days: SKM
Kisan Shaheed Smarak: How artists contributed to the farmers' movement