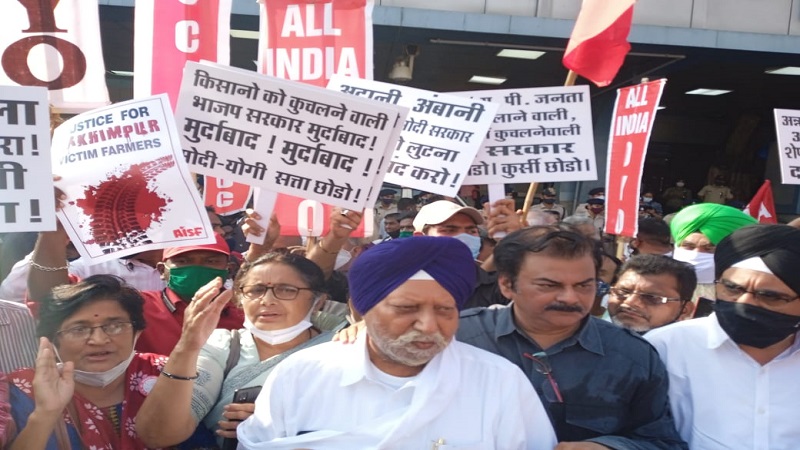 Farmers group Samyukta Kisan Morcha (SKM) on October 5, 2021, decried how "bhakt" TV channels have been spinning alternate narratives and blaming protesting farmers for the Lakhimpur Kheri massacre.
A day after four farmers, one journalist and four other victims died during the Sunday incident in Tikunia village, right-wing media jumped into action colouring the incident as a Khalistani attack by farmers carrying sticks and swords. In reality, protesters only had black flags and were protesting Minister of State for Home Affairs Ajay Mishra's remarks ( made during a September event) threatening farmers.
"It was only a matter of time that the true narrative of the reality of the incidents in Lakhimpur Kheri had to emerge. That happened in the early hours today [October 5] with a video, where even 'bhakt' TV channels of India had to demand justice by their own standards, even though no media house offered any apology and correction for the narrative that was spun since Sunday night," said the SKM in a press release.
Netizens especially protested the baseless allegations against farmers, using hashtags such as "#इतनी_बेशर्मी_लाते_कहां_से_हो". In some cases, BJP supporters claim that the farmers stone-pelted the convoys and turned over the vehicles. To this, people responded by ridiculing the media.
Breaking News: एंकर चिलग़ोज़ा मिश्रा ने कहा है लखीमपुर खीरी किसान नरसंहार मामले में अजय मिश्रा का बेटा नहीं, किसान ही दोषी हैं। किसान खुद ही थार के पहिए में घुस गए थे। आज सुबह उन्होंने ऐसा सपना देखा है। एंकर जीरा पांडे और एंकर मेथी बनर्जी का कहना है कि सुबह का सपना सच होता है।

— Dilip Mandal (@Profdilipmandal) October 6, 2021
Three days on, the situation hasn't changed. From blaming protesters for road-rage, the regime's lapdogs in the news media has now gone on to undercut the outrage for the martyred farmers.
Lack of protest coverage
On October 4, media houses like the Hindustan Times said that farmers had ended their agitation after Union Minister Ajay Mishra and his son Ashish were booked for murder and similar charges. However, the paper and many other mainstream media channels did not talk about the outrage pouring in the streets of Mumbai, Delhi, Rae Bareli and other regions in Karnataka, Uttar Pradesh, Punjab and Haryana.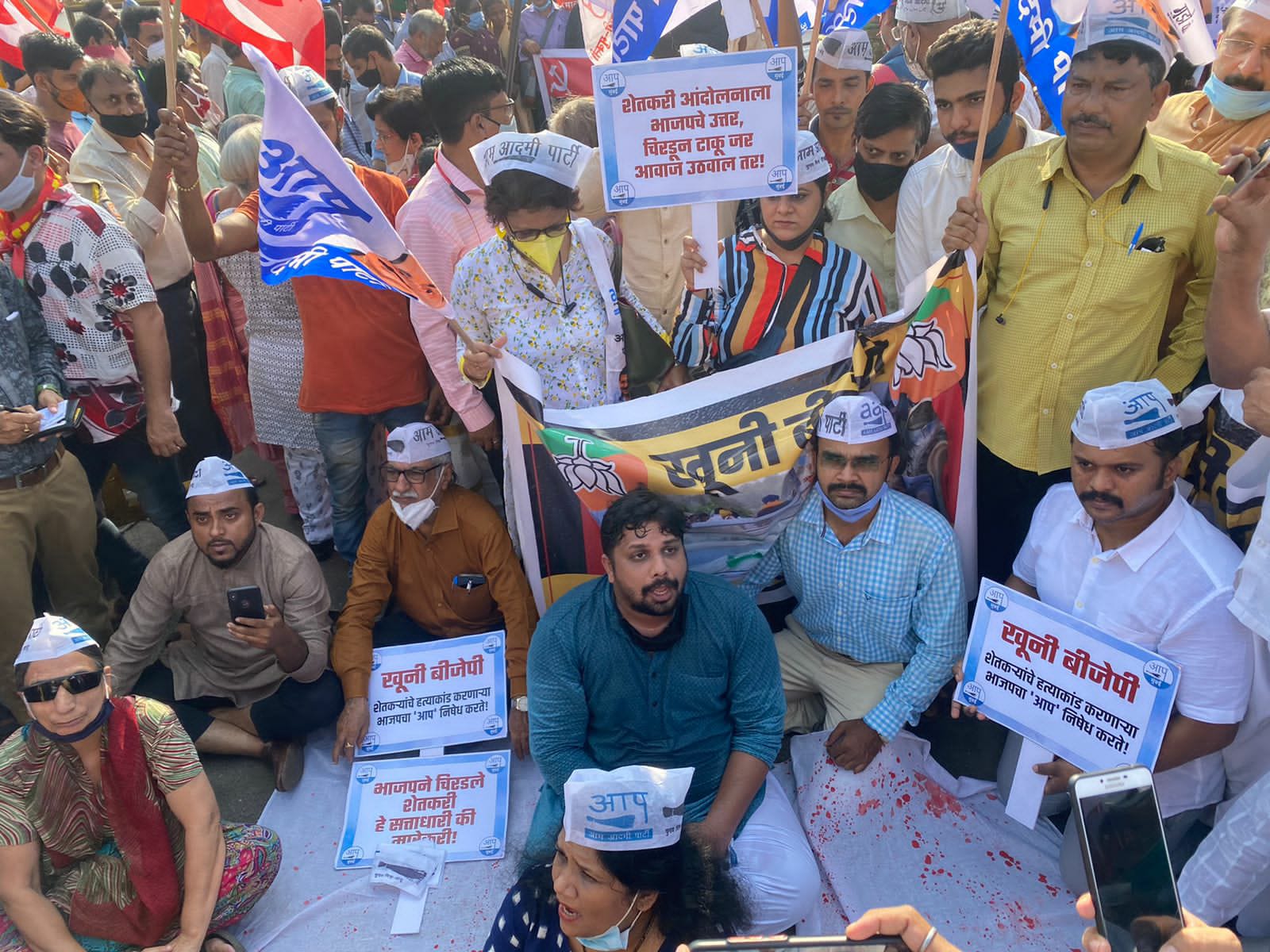 Despite imposition of Section 144 in Lakhimpur Kheri district, farmers, workers and all citizens across India condemned what farmers dubbed 'a massacre' on Sunday afternoon. In Kolkata, farmers burnt effigies of Prime Minister Narendra Modi and UP Chief Minister Yogi Adityanath.
All protesters demanded the same:
– dismissal of Union Minister of State Ajay Mishra and charges for spreading violence and hatred
– arrest of his son Ashish Mishra (Manu)
– a special investigation team under the supervision of a Supreme Court judge
– dismissal of Haryana Chief Minister Manohar Lal Khattar.
Still mainstream media chose to focus on the political aspect of the incident rather than the public anguish.
Political spin to a heinous crime
Family members of the deceased appealed for justice for their kin on Facebook but news channels focused on how Congress leader Priyanka Gandhi Vadra, SP President Akhilesh Yadav, BSP leader Satish Chandra Mishra and AAP leader Sanjay Singh were among those leaders who were not allowed to enter the district due to Section 144 imposition.
On October 6, ABP news talked about how Ajay Mishra's son may surrender, bypassing the bigger question of why the police had not arrested the accused three days after the incident.
The only people focused on the crime itself are the family of the deceased, who delayed final rites for their loved ones until the completion of post mortems. Notedly, family of youth Gurvinder Singh who was allegedly shot dead by Ashish Mishra demanded a second autopsy to ensure that the report acknowledges the bullet injury that caused his immediate death.
Related:
Lakhimpur Kheri: Ashish Mishra still not arrested
Lakhimpur Kheri farmer deaths: Families to light candles, not pyres until post mortem
Lakhimpur Kheri deaths: A Timeline
I was not in the car: Ashish Mishra's feeble defence in Lakhimpur Kheri farmer deaths
'Godi media' on a rampage: Mowing down of farmers labeled 'clashes', victims 'khalistanis'
Lakhimpur Kheri: Main accused yet to be arrested, Opposition leaders being detained