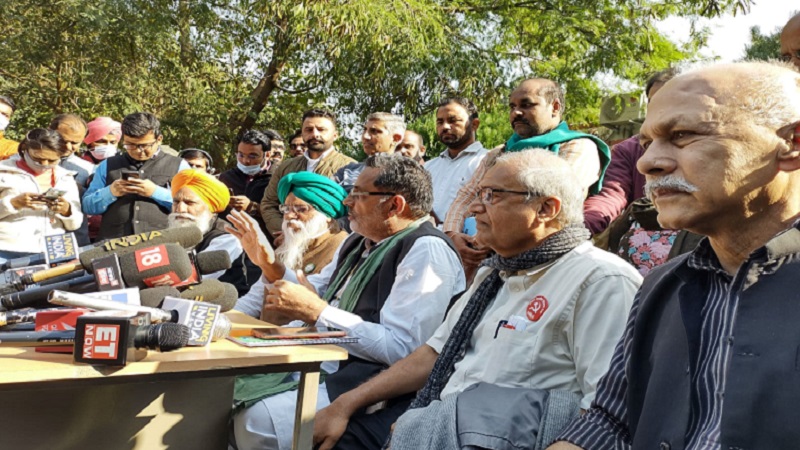 Farmers umbrella body Samyukta Kisan Morcha (SKM) leaders on December 8, 2021 expressed a general approval regarding the draft document sent by the central government regarding major farmer demands. The SKM will formally announce the future of the farmers' struggle on December 9.
The government sent a revised draft to farmers on Wednesday in response to the changes demanded by the SKM. All member unions have expressed a general consensus of approval regarding the document. However, leaders said they will wait till Thursday noon for the government to realise the draft as a signed document on the government's letterhead.
SKM leader Ashok Dhawale said, "A good thing about the draft is that the entire SKM approves of it. But it is still only a draft. We want this same document as a government letter by tomorrow. Until that is done, the struggle will go on."
While the document was sent back to the government with a few more changes, all peasant leaders remained tight-lipped on the demand regarding the suspension of Union Minister Ajay Mishra.
Following the repeal of the three farm laws, farmers demands were listed as follows:
A legal guarantee to Minimum Support Price (MSP) based on the C2+50 percent formula

Withdrawal of the draft Electricity (Amendment) Bill 2021 that the Centre had promised to dispose in earlier talks

Removal of penal provisions on farmers in the Commission for Air Quality Management in the National Capital Region and Adjoining Areas Act 2021

Withdrawal of FIRs against agitating farmers

Compensation and rehabilitation to families of the 700-martyred farmers

Immediate dismissal and arrest of Union Minister Ajay Mishra
As state elections draw closer, the central government has supposedly agreed on all these demands barring the last. For MSP, they recommended a committee comprising government officials, SKM representatives, experts and other farmer union leaders. For this, the SKM asked that union against MSP or favouring WTO goals be excluded from this committee.
Similarly, the SKM said that the Electricity (Amendment) Bill be disposed of as per previous discussions along with section 15 of the Delhi AQM Act and FIRs against protesting farmers. Accordingly, the government earlier agreed to compensate families of 700 people who were martyred during the farmers' struggle in the last year.
Related:
Willing to end struggle but no faith in GoI: SKM
SKM forms five-member committee to hold talks with GoI
Centre refuses compensation to martyred farmers claiming it has "no record"
SKM decries Centre's tyranny in disallowing debate on farm laws
Parliament repeals farm laws sans discussion, but what's next?