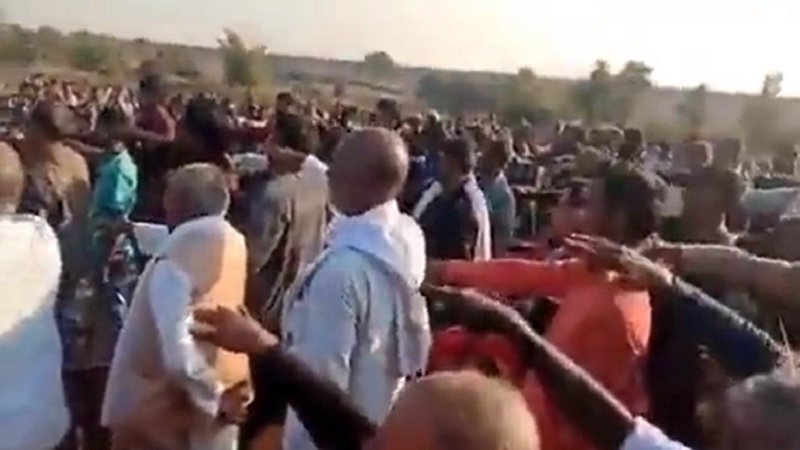 An oath of communal discrimination was administered in the Surguja in Chhattisgarh. Video clips on social media show how some Hindutva group gathered a large group of locals and made them take an anti-Muslim oath in a open ground. It is not immediately clear which group is leading this hate speech.
"We Hindus will not buy goods from any Muslim shopkeeper. We Hindus will not sell or rent our land to any Muslim. We will take back spaces already rented. We hindu will not work with Muslims," the oath in Hindi is repeated by the people, adding that Muslims will not be allowed in their villages.
This video is from Surguja in Chhattisgarh where some Hindutva people are taking oath.

We Hindus will not buy goods from any Muslim shopkeeper.

We Hindus will not sell or rent our land to any Muslim.

We hindu will not work with Muslims. Is Tarah se nafrat failayi ja rahi hai pic.twitter.com/rvekkMdnGD

— Rubina Afaque (@RubinaAfaqueIND) January 6, 2022
Not the first communal event in Surguja
While it is not yet known who led these illegal communal hate oath ceremonies, or if any action has been taken against any group yet, the area was in the news in October 2021, for communal hate. Hindutva leader Swami Parmatmanand, had then purportedly ordered a gathering of his followers to "behead those who come for religious conversions." According to a report in the Quint, Parmatmanand was speaking at a protest organised against an alleged "rise in religious conversions of Hindus to Christianity." That event was attended by prominent Bharatiya Janata Party (BJP) leaders such as Ramvichar Netam, a former MP, ex-chairman of the National Scheduled Tribes Commission, Nand Kumar Sai, and BJP spokesperson Anurag Singh Deo.
In that same month one of the most bizarre cases of communal discrimination, was reported from Chattisgarh, when the body of a dead tribal Christian woman was "re-converted" before her family was allowed to conduct her last rites. Reconversion, or as the right wing calls it 'Sangh wapsi' or 'homecoming' as they believe everyone is a Hindu and must 'return' to Hindu faith if they follow any other, has been rampant, but this is perhaps the first reported instance in recent times of a corpse being converted to hinduism. The village elders reportedly added that Christian "converted families who accept the tribal customs and culture will be welcomed". All they have to do to 'return to the fold' is to 'offer coconut and incense sticks before the goddess' and give it in writing that they have stopped being Christian.
Now, an oath to boycott Muslims has been given. SabrangIndia's calls to Surguja Collector and District Magistrate Sanjeev Kumar Jha to seek the official response to the hate oath now circulating have so far gone unanswered.
Why is this oath dangerous?
It is a part of the Pyramid of Hate, as it calls for "social exclusion, discrimination, harassment, bullying, exclusion in housing, employment, education issues," of Muslims.
CJP Secretary and human rights defender Teesta Setalvad explains how minute biases and prejudices like looking down on one's appearance, their mannerisms, how one chooses to pray, has the capacity to consume us within a society. "It is these bias attitudes of stereotyping, insensitive remarks, fear of differences, non-inclusive language, micro aggressions justifying biases by seeking out like-minded people, that takes shape in the form of hate," says Setalvad. This prejudiced attitude is the first stage in the pyramid of hate.
The next stage is acts of prejudice which involves name calling, social exclusion, targeting particular sections of the society by telling belittling jokes. The third stage is discrimination, where certain communities are subject to harassment, bullying, exclusion in housing, employment, education issues, based on their race, sexual orientation, caste, class, religion etc. The fourth stage in the hate pyramid is that of violence, of targeted hate crime which includes threat, assault, battery, murder, and terrorism. In a recent live session on social media Setalvad explained how India has already entered the fourth stage of the pyramid which must compel the majority community to break this chain of silence against institutional hate. The fifth and last stage is genocide, a deliberate systematic cleansing of a community.
Related:
Hate Speech: The worst words of 2021, we hope do not spill over into 2022
Poisoning people's minds to ensure polarisation in the coming polls
Why does the PM look the other way when BJP leaders give communal speeches?
Activists counter call for genocide with a call for secularity
Uttarakhand: Will Jitendra Narayan Singh Tyagi nee Wasim Rizvi benefit from the FIR against him, or will he be the scapegoat?