The case had 22 persons, most of them police officers, on trial. The court earlier discharged 16 of the 38 persons charge-sheeted by the CBI for want of evidence. These included BJP President Amit Shah, former Rajasthan Home Minister Gulabchand Kataria, former Gujarat police chief PC Pande and former senior Gujarat police officer DG Vanzara.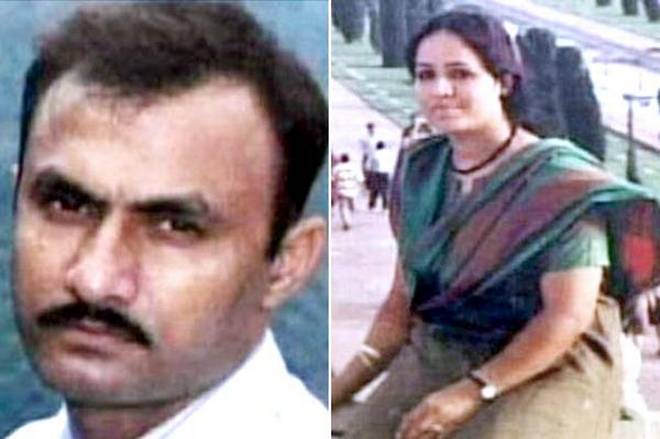 Mumbai: A CBI special court in Mumbai acquitted All 22 accused in the 2005 killing of Sohrabuddin Sheikh, his wife and his friend Tulsiram Prajapati by police officers on Friday. The court said that the evidence was "unsatisfactory" and not enough to prove conspiracy and cold-blooded murder.

"The way in which evidence was brought before me I could not help," Special Judge S J Sharma said while passing the order. He ruled that the prosecution has failed to put forth any "documentary and substantive evidence" to suggest or establish the alleged conspiracy. He apologised to Sohrabuddin's family saying that he was helpless.

92 witnesses, including three key ones, turned hostile during the trial. Taking note of this, the judge said though the prosecution took efforts to bring as many as 210 witnesses but nothing could be done "if they don't say anything."

Gujarat cadre IPS Rajnish Rai, who probed #Sohrabuddin fake encounter case and arrested three IPS officers was suspended by the Ministry of Home Affairs on Thursday.

The case had 22 persons, most of them police officers, on trial. The court earlier discharged 16 of the 38 persons charge-sheeted by the CBI for want of evidence. These included BJP President Amit Shah, former Rajasthan Home Minister Gulabchand Kataria, former Gujarat police chief PC Pande and former senior Gujarat police officer DG Vanzara.

Sohrabuddin Shaikh, a wanted criminal, his wife Kauser Bi were allegedly abducted and killed in a fake encounter in November 2005. Kauser bi was raped and killed three days after Sohrabuddin's encounter.

A year later, on 27 December 2006, his friend Tulsiram Prajapati was also shot dead by Gujarat and Rajasthan police in an alleged fake encounter near Chapri on Gujarat-Rajasthan border.

According to the accused, Shaikh was a Lashkar-e-Taiba (LeT) operative and was on his way to Gujarat to "assassinate a big political leader". The CBI had said that the three were murdered by Gujarat police officers as part of a conspiracy for political and financial gains.

The case was initially probed by the Gujarat CID before the CBI took over in 2010. The Supreme Court in 2013 directed that the trial will be shifted to Mumbai from Gujarat on the central agency's request to ensure a fairness.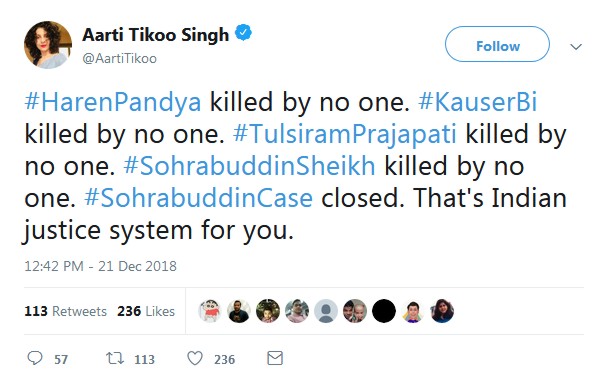 "Even as the trial has wound down to a close, two prosecution witnesses applied to the court Wednesday that they be re-examined. One of them, Azam Khan, an aide of Shaikh, claimed in his plea that accused Abdul Rehman, a former police inspector who had allegedly fired on Shaikh, threatened Khan that if he did not depose as told, he would be framed up in false cases. His wife was also threatened, Khan claimed. Another witness, Mahendra Zala, a petrol pump owner, has alleged that the prosecution did not furnish to the court his statement recorded before a magistrate. The court will decide both pleas Friday," reported The Wire.

Witnesses tortured, went missing or turned hostile

What the trial in the case of the alleged extra-judicial killing of Sohrabuddin Sheikh and his wife Kausar Bi has taught us, is that there is an urgent need for witness protection in criminal cases where powerful perpetrators often have the ability to change the outcome of the trial in their own favour. What started with the silencing of Sheikh's wife Kausar Bi and his associate Tulsiram Prajapati, eventually led to 92 witnesses turning hostile in the case!

From the mysterious death of Judge Brijmohan Loya who was presiding over the case to the first ever press conference by four sitting justices of the Indian Supreme Court, such has been the journey of this case that it can easily be termed the trial of this century.

Citizens for Justice and Peace has a long history of fighting for Witness Protection laws and mechanisms. Because of CJP's efforts, the Zahira Sheikh judgment expressly recommended legislative intervention to emphasize the prohibition against tampering of witness, victim or informant. To support the campaign for Criminal Justice Reforms, donate now.

According to Azam Khan, a key witness in the case, Sohrabuddin Sheikh was killed to cover up the murder of Gujarat Home Minister Haren Pandya in 2003. Khan says Sheikh had confessed to him about killing Pandya. Azam Khan has claimed that DG Vanzara was the person who declared a hit on Haren Pandya. He claims that Sohrabuddin got the contract to kill Pandya and his associate Tulsiram Prajapati executed the hit. Khan also claimed during his deposition before CBI Judge SJ Sharma to have met Prajapati in Udaipur jail said that Prajapati told him that the Gujarat Police had killed Sohrabuddin and Kausar Bi.

This makes Azam Khan one of the most important witnesses in the case who is still alive. But according to a recent petition by his wife Rizwana, his life is in danger. She says her husband was tortured for 20 days by the police before bringing his from Udaipur to Mumbai to depose in the case.

Azam Khan's brothers and uncles were let off by the police. Upon their return, they revealed that police had tortured them for seven days and forced them to sign concocted statements prepared by the police stating that they had gone to Ajmer Sharif dargah without informing their family members.

Witnesses began deposing in court on November 27, 2017, the day that judge SJ Sharma passed the gag order. By the time the order was struck down on January 24, 2018, 30 witnesses had turned hostile. These include Mysbah Hyder and Gazuddin Chabukswar, the driver and cleaner respectively of the bus in which Sohrabuddin was travelling from Hyderabad to Sangli with his wife Kausar Bi and associate Tulsiram Prajapati. They had both initially claimed to have seen the trio being made to alight from the bus by policemen who came in an SUV. Sharad and Amit Apte, passengers who had also initially stated having seen the trio on the bus, later retracted their statement in court. Mohammed Ahmed, owner of MJ travels that owned the bus who had booked the tickets and given photo copies to the CBI also retracted his statement.

On February 13, 2018, Bombay High Court judge Revati Mohite Dere observing that 30 witnesses had already turned hostile, pulled up the CBI for failing to provide protection to witnesses. "What protection are you offering to your witnesses? It is your duty to protect the witnesses, so they can depose fearlessly. You can't file a chargesheet and not give your witness protection," justice Mohite Dere had asked. She had also asked during a previous hearing, "What action are you taking in cases where witnesses have turned hostile? Are they being charged for perjury for giving false evidence?" But the CBI callously responded with a feeble explanation… that none of the witnesses had sought protection, so no protection was provided.

CJP has written an extensive and detailed report on this case. It can be read here.