Even though Santoshi Kumar's death created a nationwide stir, the on-ground realities haven't changed. Access to the Public Distribution System is abysmal and Aadhaar based biometric machines constantly fail, often leading to poor Indians dying of hunger.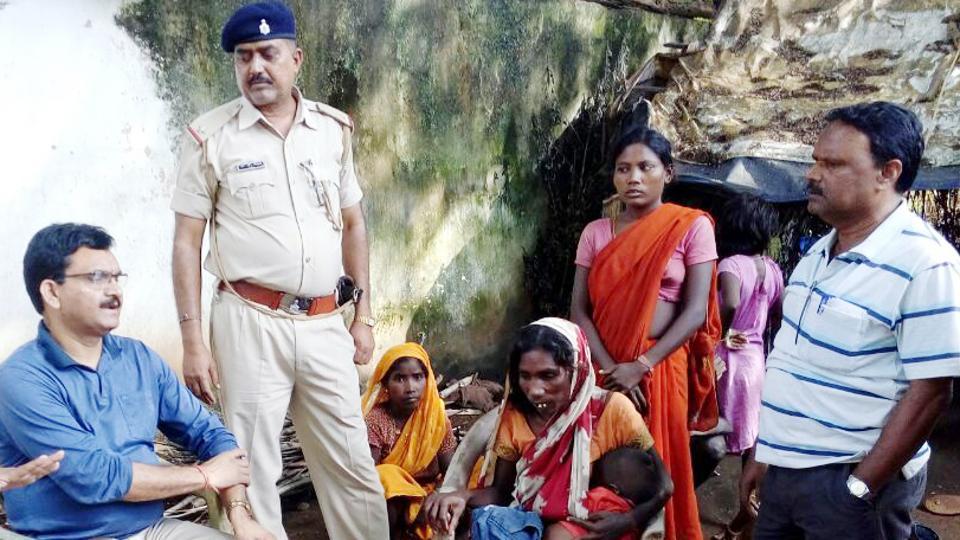 Image Courtesy: Saurav Roy/ Hindustan Times

Jharkhand: In 2017, The Jharkhand government patted their backs with a full-page ad for saving Rs. 225 crores and 86 crores by cancelling 'Fake' Aadhaar cards and old age pensions. They ended up depriving the poorest of poor of necessary food which has since resulted in many starvation deaths in the state.

The death of a young girl Santoshi Kumar in 2017 due to starvation had riled the country. Many did not even think it was possible to die of starvation in a country with stuffed granaries. Even though the news created a stir, the on-ground realities haven't changed. Access to the Public Distribution System is abysmal and Aadhaar based biometric machines constantly fail, often leading to poor Indians dying of hunger.

The Right To Food Campaign has released many fact-finding reports with annexures which delve into the complexities of the failure of the state government in providing the right to life to its residents. It details shocking negligence and corruption to deny basic human rights to the most marginalised.

In a table released by the group before they held a protest on July 13, they detailed how 16 people died of starvation in the country since 2017. In states like West Bengal, Uttar Pradesh, Jharkhand and Odisha, entitlements were denied to people consistently which led to their death by hunger.

Details of starvation deaths
*Cases where Aadhaar-related failures clearly contributed to starvation.

The process of justice has been slow and the people responsible for this negligence and crime have not been arrested, much less fired.

The stories of many victims of Jharkhand are eerily similar.

On 23 January 2018, 30-year-old Lukhi Murmu of Dhawadangal village of Hiranpur block in Pakur (Jharkhand) succumbed to prolonged undernutrition and exhaustion. She lived with her 14-year old sister Phulin in extreme poverty. Their meals usually comprised solely of rice and they even had to sleep hungry at times. The sisters' deprivation worsened over the last four months when they were unable to access their ration from the Public Distribution System (PDS) due to Aadhaar-based biometric authentication failure.

Etwariya Devi, a 67-year-old widow, passed away on 25 December. She did not get sufficient food and nutrition over a long period of time. She used to live with her son Ghura Vishwakarma, daughter-in-law Usha Devi and their children. The family routinely faced a shortage of food and nutrition. None of the members of the family ate on the night of 24 December as there was no grain in the house. The family was denied ration from October to December 2017 and she did not get her pension for the months of November and December.

Ruplal Marandi, a 62-year old villager of Bhagwanpur in Mohanpur block of Deoghar district in Jharkhand, died of hunger on 23 October 2017 (though the investigating team of the BDO Ashok Kumar and accompanying Doctor have declared it a natural death and denied possibilities of post-mortem.) The deceased was living with his daughter Manodi Marandi and daughter-in-law. According to Manodi, "there was not a single grain to eat at home", and they did not receive any rice from the rations shop in the past two months (September and October). The ration dealer, Dharmdev Choudhary, refused to give ration because the fingerprint was not working in the biometric machine.

A 64-year old widow, Premani Kunwar, died of hunger and exhaustion on 1 December in Danda Block of Garhwa district (Jharkhand). Till September 2017, she received her old age pension in her State Bank of India (SBI) account in Danda branch. Thereafter, without her knowledge, her pension amount was redirected to the SBI bank account of Shanti Devi in Piprakala branch (22 km from Danda). Shanti Devi, who died 25 years ago, was the first wife of Premani Kunwar's husband late Mutur Mahto. Following the release of the fact-finding report on Premani Kunwar's death by the Right to Food Campaign, UIDAI conducted an inquiry on 8 December. Its report acknowledges that Premani Kunwar's old age pension had indeed been credited to Shanti Devi's account which was linked with Premani Kunwar's Aadhaar on 10 October 2017. The report also acknowledges that Premani Kunwar did not receive her ration for the month of November 2017, even though the dealer authenticated her biometrics in the POS machine for that month and also made an entry of 35kgs in her ration card. The issue of denial of ration was discussed at length in an earlier press release of the Right to Food Campaign on 7 December 2017.

Recently in June, 58-year-old Shanti Devi succumbed to hunger in Jharkhand because her ration card was not processed. All the borrowed rice she and her two daughters-in-law had procured was not enough for the family of five including three children. Her two sons, working in different states, were unable to earn any money that could be sent home for six months. After surviving on a little bit of rice and its starch, she allegedly breathed her last on Sunday after not having eaten for three days.

Following the hunger death of Santoshi Kumar in Simdega in September 2017, the Food Ministry issued a notification which states that even in case of failure of biometric authentication or lack of Aadhaar, ration dealers to give PDS rations to eligible households. The Food Ministry and UIDAI keep referring to this notification to claim that no one now denied of their entitlements due to Aadhaar. However, on the ground large-scale exclusion from public services continues due to Aadhaar. It may be recalled that last month a woman of Garhwa also died due to hunger and exhaustion as her household could not access its PDS ration to biometric authentication failures. The repeated denial of food entitlements in Jharkhand's PDS also exposes the lack of seriousness in the state government towards addressing the issues in the delivery of ration.

How the systems deliberately worked against them-

1. Lukhi Murmu constantly denied ration due to biometric failure

Lukhi Murmu's household was issued an Antyodaya ration card under the National Food Security Act. In around June 2017, this ration card was converted into the "Priority" category without the family's knowledge. This reduced her household's monthly grain entitlement by 15 kg (the ration card also includes names of two of their other sisters). The household did not receive any PDS foodgrains since October 2017. Lukhi Murmu was too weak to go to the ration shop, which is about a kilometre away from their house. Phulin went to the ration shop a few times, including the day her sister died, but always returned empty handed as she was unable to authenticate herself in the ePOS machine. One of their other sisters also went to the ration shop once, but the dealer did not give her any rice too (only Lukhi Murmu and Phulin's Aadhaar number is seeded with their ration card, and not the other two sisters').

The Deputy Commissioner's report argues that Lukhi Murmu could not have died of hunger as she had some land, two cows and paddy in her house at the time of her death. Lukhi Murmu did possess these assets, but that does not preclude her death due to starvation. Government officials argue that the family could have sold its land, cattle or paddy for food. However, the deterioration in Lukhi Murmu's condition was gradual and there was no way for her family to predict her death.

As per the ration dealer's testimony to the local administration, no one from Lukhi Murmu's household came to the PDS shop in the last four months. However, to the Right to Food Campaign fact-finding team, the dealer admitted that Phulin came to collect her household's rations but was turned away due to biometric authentication failure. Local officials claim to have given instructions to all the dealers in Pakur to also give PDS rations to households that are unable to authenticate themselves through Aadhaar. However, the dealer claimed to have not received any such instruction.

2. Etwariya Devi denied ration due to machine failure and denied pension

Etwariya Devi's family not own any land, except a small piece of land on which their dilapidated kutcha house stands. Ghura Vishwakarma works as an unskilled labourer under contractors in other states. Usha Devi works as an unskilled labourer in local agricultural works. The family routinely faced a shortage of food and nutrition. None of the members of the family ate on the night of 24 December as there was no grain in the house.

The family was heavily dependent on 25 kg grains, entitled under the Priority Household card under National Food Security Act. It did not get ration in October, November and December (till the death of Etwariya). In October, Usha Devi's (who collected the ration every month on behalf of the family) fingerprint did not work in the POS machine. In November, the dealer said that he had not been allotted grain for that month and in December, the dealer said that the POS machine was not working and had to be repaired. In the last three months, the shortage of food was severe for the family.

Etwariya was a pensioner under the Indira Gandhi Old Age Pension Scheme. She last received her pension from the local Pragya Kendra in October. Pension amount of Rs. 600 was credited in her account on 7 December. She went to the Kendra on 4 December and a transaction of Rs. 503 was made in her account. According to the CSP Anil Chowdhary, the internet connectivity broke right after she authenticated her fingerprint and the money was not credited to the CSP's account. As a result, he did not give her the money. Similarly, on 8 December, a transaction of Rs. 600 was made, but she was not given the money as the internet connection again broke. The CSP claims to have received the money in his account on 19 December. When asked why did not give the money to Etwariya before 25 December, he said that she did not visit the Kendra again. The CSP deposited Rs. 1200 back in her account on 26 December.

In the morning of 25 December, Etwariya Devi saw the dealer cross in front of their house and she went after him shouting "ruka na dealer babu", but the dealer did not stop. Another person of the dealer's household was also crossing and he stopped after hearing Etwariya's shouts. She asked him to give her the ration ("rationiya da na babu"), but he said that she would get grains the next day. The dealer visited their house on 25 December after Etwariya passed away and gave 30kg of rice to the family. On 27 December, Usha Devi got 30 kg rice after she authenticated her thumbprint in the POS machine, but the transaction was made for 50 kg. The dealer also transacted 5 litre kerosene oil on her card, but she did not get oil. She said the family did not have any kerosene oil when Etwariya died and they had to keep the body in the dark for the whole night of 24 December.

People said that the dealer did not distribute ration in August 2017. As per the dealer, he was not allotted any grain for that month. They also said that the dealer did not distribute ration as per the transaction made in the POS machine. In October, he had transacted twice the monthly entitlement of grains and kerosene on most of the cards, but had distributed ration and oil only for a month. Many people complained that they did not get ration in November. Similarly, in December too, the dealer transacted twice the monthly entitlement of grains and kerosene on most of the cards, but distributed only half of it (corroborated by the online transaction list for October and December). The people also said that the dealer did not give the printed receipt to cardholders and cut 400-500 grams from each person's monthly entitlement.

3. Ruplal Marandi denied ration as machine failed to authenticate fingerprints.

Ruplal Marandi lived with his daughter Manodi Marandi and daughter-in-law. According to Manodi, "there was not a single grain to eat at home", and they did not receive any rice from the rations shop in the past two months (September and October). The ration dealer, Dharmdev Choudhary, refused to give ration because the fingerprint was not working in the biometric machine.
Whatever Manodi and the daughter-in-law earned from daily wages was the only means of living. For the past many days, they did not get any work because of Diwali and the incessant rain, and there was no single rupee at home. For two days the family did not light the hearth because they had nothing to cook. There was some puffed rice (mudhi) at home, which the family was surviving on. Ruplal's condition deteriorated with hunger and he died.
4. Premani Kunwar denied ration even after biometric authentication and her pension was redirected
The bare two-room dilapidated kutcha house of Premani Kunwar stands witness to her death amidst abject poverty. In the absence of PDS grain, she had to borrow rice from her neighbours to survive. There is no doubt that Premani lived in a state of semi-starvation. It is now well established that she did not receive her grain entitlement for August and November and her pension for September and October. Premani's death is a grim reminder of how vulnerable people like her routinely experience uncertainties in accessing their lifelines owing to complex systems like Aadhaar. Premani Kunwar's son, Uttam Mahto has clearly testified in a video as well as a written statement that his mother died due to starvation. However, as per the report of the Block Development Officer of Danda, Uttam Mahto testified to his mother's death due to illness. This exposes the local administration's attempt to cover up the actual cause of Premani Kunwar's death.
Further, the administration lodged complaints against the local whistle-blowers who drew attention to Premani Kunwar's death due to starvation. It filed FIRs against Birendra Chowdhary, Pramukh of Danda, Kalicharan Mahto and Sushma Mahto for "causing disruption of a government inquiry and for instilling fear in the government inquiry team". It is also alleged that they tore government documents in the process which the defendants have denied.
According to a news report published in the Economic Times on 23 December, as per the report of the local police, Premani Kunwar, along with her youngest step-son, Sunil Mahto had "fudged her Aadhaar card" to avail Shanti Devi's family pension. Shanti Devi's account was being credited with a monthly family pension amount of Rs. 849 from the Coal Mines Provident Fund. As per the report submitted by the Branch Manager of Piprakala to the Inspector of Garhwa Police Station, Shanti Devi's account was operated by Premani Kunwar and her family members. It further states that a sum of Rs. 30,000 was withdrawn in the name of Shanti Devi on 6 November 2017. The police arrested Sunil Mahto on 13 December for this withdrawal.
The reports of UIDAI and Economic Times leave many pertinent questions unanswered. As per the UIDAI report, the name in Premani Kunwar's Aadhaar (UID no XXXXXXXX7606) was changed to "Shanti Devi" on 23 September 2015. This report fails to explain how, despite this change, Premani Kunwar continued to receive her pension in her Aadhaar linked bank account till September 2017. There is also no explanation of how a bank account could be opened in the name of Shanti Devi in 2007, given that she died over two decades ago. The KYC of Shanti Devi's account was last updated on 7 December, just a day before the UIDAI team's visit. This draws suspicion on the complicity of bank functionaries, among others, in the fraudulent withdrawal of money from this account. The bank manager of the Piprakala branch of SBI refused to share with the Right to Food Campaign fact-finding team the KYC documents that were used to open Shanti Devi's account. There is also no explanation from UIDAI on how UID no XXXXXXXX7606 was linked with bank account numbers of Premani Kunwar as well as Shanti Devi.
These issues highlight the vulnerability of the Aadhaar-bank integration system. Recently, a massive scam of opening Aadhaar-linked Airtel payment bank accounts of Airtel network subscribers without their consent was unearthed. In 2016, ICICI Bank opened accounts of around 6000 NREGA workers in Boram block of East Singhbhum district without their consent and linked them to their Aadhaar. Shell accounts have been used to siphon off NREGA wages, as a recent investigation in Mahuadanr Block (Latehar district, Jharkhand) revealed. A Member of Parliament also recently became a victim of fraudulent withdrawal after fraudsters used the OTP sent to the MP's mobile to authenticate Aadhaar-based online transfer of fund.
No Food Security or accountability in this country-
Improper implementation of the National Food Security Act and frequent failure of the complex Aadhaar-based biometric authentication (ABBA) system in the PDS are depriving many poor families of food rations that are essential for their food security. The facts indicate that all these deaths are hunger and undernutrition deaths, but the Government is denying this and citing other causes. This is a camouflage of the government departments to disown responsibility and avoid accountability.
As in the cases of previous deaths due to starvation in Jharkhand, the government has denied the role of Aadhaar integration with welfare programmes or administrative lapses that led to the denial of entitlements. It has instead been harassing the surviving members of the families suffering from starvation.
Disruptions in the delivery of ration and pension in Jharkhand continue unabated. For those living on the margins, denial of such crucial entitlements leads to the violation of mere right to life.

Right to Food Campaign Jharkhand condemned this response and demanded that:
The State Government must take concrete actions for the enactment of all Supreme Court orders on the right to food.
The State Government must clarify about the orders which deny ration on account of Aadhar seeding and biometrics, and the government should release a white paper to reveal how many people in the state are denied ration due to these reasons.
If any unconstitutional order is passed by any Government Officer on these processes, such officers must be held accountable for the same and the Government should take strict against such officers.
The faulty Aadhar and biometric system in the PDS, which denies food to large numbers of poor and hungry people, must be corrected immediately.
Immediate dismissal of the ration dealer of Sonpurwa and registering FIR against him for embezzlement of PDS grain and tampering of PDS records.
Immediate shift to "offline" delivery of PDS entitlements.
Transfer of all ration shop licenses from private dealers to Gram Panchayats or self-help groups.
Introduction of pulses and edible oil in the PDS.
"More children under the age of five die in India than anywhere else in the world. A recent estimate puts this figure at over 1.5 million children a year—over 4,500 child deaths a day. A third of these could have been averted if children did not go to bed hungry night after night. These figures suggest that over 3,00,000 children die every year in India because of hunger. And for many children who escape death, the poverty of their parents means that hunger remains an unremitting part of their lives. Hunger does not stunt only the body, it also affects the brain. The result: An entire generation of children born into poverty with stunted intellectual development which traps them in the same poverty their parents lived with. A state of poverty which will ultimately kill them well before their fellow citizens who did not go hungry during childhood," wrote Vikram Patel, a Pershing Square Professor of Global Health at Harvard Medical School and affiliated with the Public Health Foundation of India and Sangath.

"While it is plausible that the middle-aged people in desperate situations in Jharkhand and elsewhere did not die of acute starvation, it is more likely that their premature deaths were written into the scripts of their lives because they starved as children. It does not matter how fast our economy is growing when tens of millions of our children (and their families) go to bed hungry. Stunting due to hunger and its consequences on premature mortality is a major reason for the pathetic position India occupies in the human development league table of the world. It is also holding back the prospects of an entire generation of our children to survive and escape poverty. That it should be so prevalent, 70 years after Independence and with our food granaries stuffed, is nothing short of a national shame. As many other and much poorer countries have shown, eradicating hunger and stunting can be addressed but to do so will need action on an emergency scale. Only then will Indians stop dying of hunger," he wrote in The Indian Express.

This report is a compilation of RTFC's reports on different starvation cases. It has been edited for relevance.
Read Also : https://sabrangindia.in/article/savitri-devi-one-more-name-added-starvation-death-toll-jharkhand