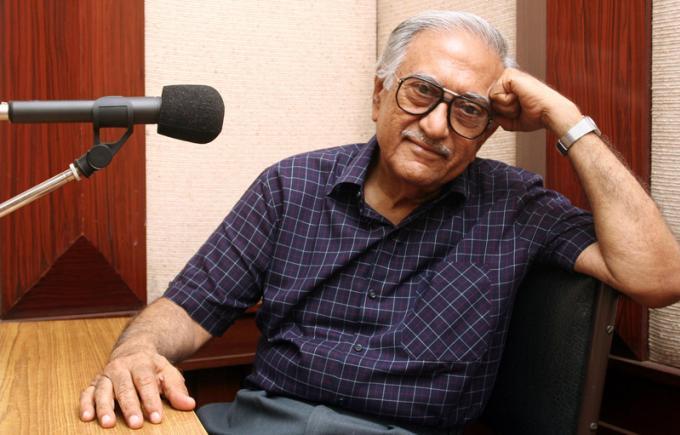 For over four decades the resonant voice of Ameen Sayani was the voice of Indian radio entertainment. On Radio Ceylon's Geetmala and then All India Radio or Akashwani's Vividh Bharti, Sayani's radio hours brought us the pick of Hindi film songs interlaced with his attractive commentary in Hindustani. A child of the freedom movement, born into a family that hailed from Gujarat and was especially influenced by Gandhi, Ameen Sayani journeys through 60 years of India's experiment with public broadcasting, culture and entertainment.
I was initiated into radio broadcasting at the age of seven by my elder brother Hameed who was a very fine broadcaster with the English section of All India Radio (AIR), Bombay. He used to take me along with him for smaller programmes and gradually I started lending my voice to radio plays and later on, to other broadcasts. It was not until 1949-50 that I shifted towards full-fledged broadcasting in Hindustani. I was a student from the Gujarati medium, then an English broadcaster and later I graduated towards broadcasting in Hindustani.
In expanse, my career has spanned decades of broadcasting. Geetmala was aired on Radio Ceylon for 38 years after which, in 1989, it started as a half-hour programme on Vividh Bharti. The material was the same in both but the songs were reduced in length for the half-hour version. On Radio Ceylon the entire song was played but as reception of Radio Ceylon became difficult in later years, I shifted to AIR. Vividh Bharti ran until quite recently, 1993-94. In fact, we celebrated Geetmala's 42nd birthday on Doordarshan through a 31-episode series. I was also producing programmes and commercials for seven or eight countries across the world, countries like the UK, Mauritius, Fiji and Canada, Swaziland and Dubai.
The atmosphere at All India Radio in those days, pre and post-independence, was special. A motto hung over the entrance of the building: "Bahujan Hitai Bahujan Sukhai" – for the benefit of the people, for the happiness of the people – this was the proclaimed aim of broadcasting. AIR had, in those days, an army of the best writers, performers, musicians, and the best producers. The cream of talent used to gravitate towards AIR and it was considered a matter of great pride to be able to participate in any AIR programme. This was through the late forties and early fifties when AIR was perhaps one of the finest broadcasting organisations in the world, on par with the BBC.
They broadcast fabulous plays and features backed by first-rate newsreaders. Though the formal name, Akashwani, was adopted later, AIR was indeed like an akash wani (broadcast through the skies). Anything that was broadcast on radio was the absolute last word. It carried weight and creativity.
It was only about a decade after independence that AIR started receiving the first shock waves of bureaucratic and political interference that slowly began to affect its functioning. The first shock came of course with partition, the greatest tragedy we faced. Partition took the best of our talent away; many writers and producers migrated to Pakistan.
Finally, after all that bloodshed, on the night of August 14-15, with the hoisting of the national flag for the first time, I heard Nehru's great "Tryst with Destiny" speech. Less than six months later, in January 1948, it was the shattering news of Gandhiji being killed that AIR broadcast on its airwaves. For us in the Sayani family, passionately fond of and devoted to Gandhiji, for me, growing up in the laps of the great leaders of the freedom movement, it was a very personal tragedy. Why this man, who was so peaceful, so non-violent, a man who spread love and goodness and goodwill? Why did anybody have to kill him off? As a schoolboy, my reaction was one of pain and bewilderment.
At the New Era School in Bombay, where I studied for seven years, I learnt Gujarati from the Balpothi (primer) from kindergarten onwards. These formative years were critical. Our school song, for instance, it was in Gujarati and its words, which made a lasting impression on me, embodied a fantastic concept of unity – love, affinity, neighbourliness and humility – it's all there. I remember at New Era we also had a four-line motto that was, in fact, a four-language motto because it had all the four main languages of Maharashtra! The first was English, the name of the school, which was in English, the second was a Gujarati line, the third line was in Marathi and the fourth line was in Hindi. This is how it went: "New Era, Nau Jawan Badho Aage, Aami Jagat Che Nagreek Ho, Bharat Bhumi Jai Jai Ho (New Era; Youth, forge ahead; We are citizens of the world; Hail, hail to India)".
So this fusion has always been part of my life and a part, I think, of the life of all Indians. As I keep saying, if we had been more inclusive and creative on the issue of language there would have been less separateness, less tension, we would have engendered an ability to understand the other. The maulvi saheb who used to teach me taught me about the opening prayers in the Koran, "Alhamdulillahi Rabbil Alamin", which means, Praise be to Allah, lord of the worlds – master of the entire universe, not only the god of Muslims. Similarly, in the Rig Veda you will come across a line, "Ekam Sat Vipra Bahudha Vadanti" – there is only one truth, we look at it from different points of view. There is also a famous Sanskrit saying, "Vasudeva Kutumbam" – the whole world is one family.
As a schoolboy and a keen listener of the radio, I remember listening to all the beautiful film songs in all the farmaishi (request) programmes. The farmaishi list would be about a mile long and in school all of us youngsters used to wait in the common room hoping that our names and choice of song would sometimes feature. What music it was, the golden years of Hindustani music!
Slowly, with the golden age of Hindi cinema producing songs and music of incredible quality, I shifted over to broadcasting film music. I started with Radio Ceylon where thanks to my brother I got my breakthrough. Initially, it was difficult, as I had to speak neither English nor Gujarati but Hindi and I did not know Hindi or Urdu very well.
I inched my way into broadcasting in Hindustani with determination and hard work. I did have a background of written Hindustani. My mother was a shishsya (student) of Gandhiji and he had instructed her to start a regular publication, a fortnightly on adult education for neo-literates. Inspired and guided by him, she began it from our home and ran it for several years. Gandhiji had instructed her to start it in three scripts, the Hindi script (which is the Devanagari script), the Urdu script and the Gujarati script, which were the three main scripts used in Maharashtra. What vision! What simplicity of integration! Whilst three distinct scripts were used, each line read the same in simple, spoken Hindustani. It sounds trite and obvious but it was this vision that made Gandhiji what he was. It was an incredible stroke of genius from Gandhiji and reflected his awareness of the importance of a common language, a simple language that can bring people together, through which they can communicate with each other, which can build up a sort of affinity and integrate people into one whole body of people.
You see, in those days the only lingua franca was English and although Hindi, Urdu, were widely used and simple Hindustani was being promoted quite a bit, it was not officially the Indian language. I remember that at a very important session of the Congress Working Committee (CWC), Gandhi proposed that Hindustani be the national language, not Hindi. But at a subsequent CWC session after his death, by a majority of just one casting vote from the president, Hindi was chosen instead of Hindustani. Thereafter, we began to use a language that was barely understood by millions of our people.
So when the challenge of broadcasting in Hindustani was thrown at me, I found that my mother's publication and its basis in and affinity with Hindustani helped me to slip into the role of broadcaster quite easily. Through Radio Ceylon I was communicating not only with Indians and the whole of Asia, Radio Ceylon used to be the popular radio station as far as the east coast of Africa. As producer and presenter of Geetmala, my main programme, I was learning how to speak simple Hindustani. I already knew how to write it but I was learning the correct accent of speech and the communication and nuances along with my listeners, using rich material that my mother used in Rahbar (Showing the Way), the magazine she published from our home right up to 1960. I used a lot of the material she used, the philosophy of life that this fascinating experience, the publication of Rahbar, provided, to link my Geetmala programme between songs, thematically.
My own experience with the Hindustani language, my learning it, grew with my programme and with my listeners. My listeners would write back with their choice of film songs and their views, sometimes in Marathi or in Punjabi or Gujarati or Telugu or Bengali. Gradually, as the programme grew in popularity, Hindustani was the language that the listeners shifted to.
My listeners and I grew together with a simple, common denominator language that was a tremendous connecting point between them and me. I believe that if the simple language of Hindustani had been our national language, many of our complications as a nation would not have arisen.
There is a very simple saying in Hindustani that has been part of my life and also an intrinsic part of the leadership of early India, "Todo Nahi, Jodo" – Don't break, Unite.
All my life in broadcasting, which spans four decades, that's what I've been trying to do, simplify concepts and communicate them with social relevance as connections between songs.
Why break up this beautiful nation, why break up this lovely conglomeration of cultures, of philosophy, of social habits, of colours, taste and attitude? There is no country anywhere in the world with so many diversities, so many colours and so much variety.
Instead of getting all that dynamite together, moulding it into an actual Saare Jahan Se Achcha, Hindustan Hamara (Our India, Unequalled in the entire universe), we have been breaking it, dividing its people. What is the point of the Sensex booming if our farmers are committing suicide? There are two or three main reasons for this disparity, this tension, this hatred. We do not know our own faith or religion and neither do we know the faith practices of our neighbours. I can say this because of my experience in holding the listener through Geetmala; my programmes always had an undercurrent of social relevance. No entertainment can ever exist or succeed without being close to life and no socially relevant programming can ever be successful unless it has a little or lots of bits of entertainment, a little bit of lure. So there has to be a mix, of both good and bad. Whether calamity or great achievement, both always got talked about on my programme.
For instance, man's first step on the moon, Armstrong taking the first step, I made a whole programme on Geetmala, weaving this theme through everything with couplets referring to the moon, references to the moon, what repercussions this would have on us and so on. If there was a famine or calamity or a great leader died or a big festival, it was reflected somewhere in the programme and interspersed with songs or listeners' comments.
In all my broadcast programmes, communication for me was the essence. I never let my listeners feel that I was preaching any kind of integration because integration can never be preached. For example, during the emergency, the government introduced its 20-point programme when an order was issued to both Doordarshan and AIR to make programmes on the 20-point programme! There were hundreds of proposals but none saw the light of day. Another time, there was this bureaucrat who called all of us producers and directed us to produce a television programme on humour! I remember saying, Sir, humour is always the soul of all conversation, you can put humour into as many things as you like, why do you say that you want only a humorous programme? Say you want an interesting programme. How interesting programmes are made is the producer's lookout. If you like it, take it, if you don't like it, don't take it but don't put a kind of maniacal handcuff on them, it will not work. Good work originates from within.
All India Radio still has the potential, it has the physical potential, it also has a tremendous number of excellent people still there and if they were allowed to come together and work in a conducive and creative manner it could have tremendous scope and reach, giving the new FM channels (whose chatty styles are quite interesting, actually) a run for their money.
So as a broadcaster I would narrate anecdotes, poetry, which spoke of my experience of our people, the goodness, sweetness, beauty, gentleness, affinity, getting together is the big thing for me. This is what I tried to do everywhere, I can't pinpoint that I did this or that for integration. Everything I was saying was for integration.
When we started the programme it was as an experiment and I got to have a go at it because I was the juniormost in the group and they were only going to pay 25 rupees to the person who presented, produced and scripted the programme and even checked the mail it received! After the very first broadcast, we got 9,000 letters in response and I went mad checking them. Within 18 months, when the weekly listeners' mail jumped to 65,000 letters a week, it became impossible to faithfully monitor so we decided to convert it into a simple countdown show.
We used our unique way of rating the most popular songs. First, we tied up with the 20-25 major record shops all over India that used to receive clear reports of popularity ratings and sales. We then discovered that we could still miss accurate ratings because there was often about a fortnight's gap between demands for records (78 format) being expressed and stock being delivered. We then started depending upon the farmaishi list but realised at the end of six months that a lot of pulls and pushes were influencing this selection – film producers, music directors, who bought postcards in bulk and sent them to us (postcards, some ostensibly from Pune, some from Delhi, some from Kanpur, some from Madras, had actually been posted from one post office in Kalbadevi, Bombay, the postal franking showed us!).
So finally we hit upon a very good idea – lining up several small groups of listeners from all over India who were writing to us very regularly. They had formed radio clubs and they met every week, listened to the programme together and engaged in other related activities. So I started encouraging them and we built up as many as 400 clubs all over India, which used to regularly send us their weekly or fortnightly ratings and numbers. We used these as a basis to be collated with sales reports from record shops and voilà, we got 99.9 per cent accurate ratings.
Coming back to my form of communication, my method was simple, my language was simple. See, I feel communication must be straightforward, honest, understandable and simple. There should be no double meanings; there should be no kind of equivocation as they say. It should be a direct matter of one heart to another. You say what you mean and the other person understands what you are saying. There are two things wrong with our country, our lack of understanding of each other's faiths coupled with our very confused communications. Especially official communication. I have also started a movement on the need for a national anthem that is understood by one and all.
(As told to Teesta Setalvad.)
Archived from Communalism Combat, February 2008 Year 14 No.128, Culture