It was in the western Indian state of Goa, the land of the sun and sea, Goa, that has witnessed open rebellion from the ranks of the Rashtriya Swayamsevak Sangh, an organisation much lauded for its discipline and unity. A day after the decision to sack the Goa chief, Subhash Velingkar was taken, the decision itself raised eyebrows of discontent.
The official twitter handle of the Sangh had this phlegmatic, if unconvincing message on the rebellion: 'RSS statement on Goa. No unit of RSS can dissociate from a prant as its own: Dr Vaidya"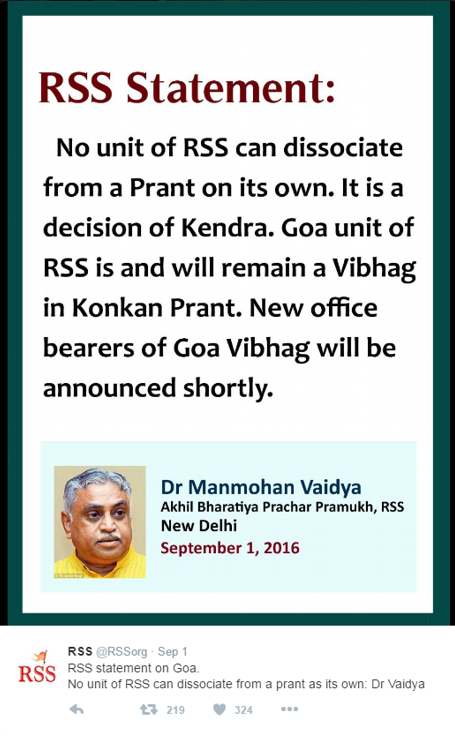 This controversy is expected to dominate the meeting of the Sangh's national executive – the Akhil Bharatiya Karyakari Mandal – to be held at Hyderabad from October 23 to October 25.On Thursday, Velingkar had announced that the Goa unit of the RSS would function as an independent organisation. (For the purpose of its operations, the RSS has divided the country into 41 prants, in 11 kshetras.)
But this second twitter message, also today, is even stranger given RSS' running interference/influence in government policy under the Modi regime, the fact that Ram Madhav, a former senior RSS person is now general secretary of the Bharatiya Janata arty(BJP) ! The RSS' frequent role especially in the Smriti Irani and Prakash Jawdekar-led Ministry of Human Resources Development is well known.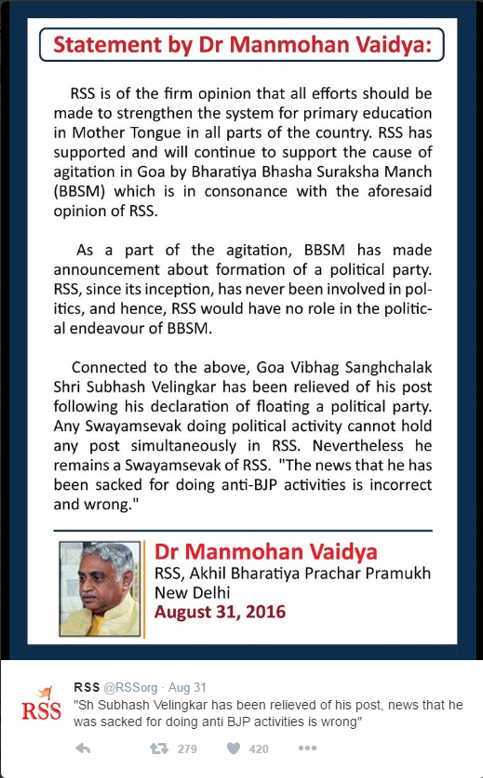 Velingkar's recent dismissal was seen as an act of direct interference by the Bharatiya Janata Party (BJP) in the functioning of the Sangh. Though the names of BJP leaders Manohar Parrikar and Nitin Gadkari were publicly given as the reasons for the expulsion, many in the RSS believe that the Sangh brass might not have taken such a drastic measure had party chief Amit Shah not added to the pressure. Shah was apparently upset after he was shown black flags by the BBSM activists – most of whom are RSS Swayamsevaks – during his visit to Goa on August 21."Amit Shah may be dictator of the BJP, but he cannot be allowed to dictate to the Sangh," said a senior office-bearer of the RSS from Rajasthan told Scroll.in.
Many also feel that what happened in Goa is a clear reflection that convictions change as circumstances change and that Goa is just the beginning. Rajasthan is another state where the RSS and the BJP government have been at loggerheads for some time. Last year, when some temples were demolished in Jaipur, the state capital, the two almost headed for a showdown. Chief Minister Vasundhara Raje managed to pacify the local RSS by promising to build new temples but the tension simmers.