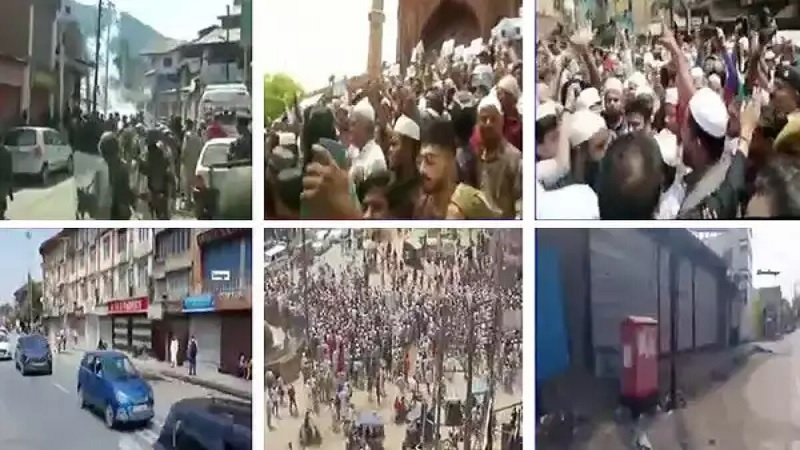 Image Courtesy: economictimes.indiatimes.com
Huge protests of the Muslims from several parts of India, from Delhi, the capital city, Srinagar (Kashmir), Lucknow, Prayagraj (Allahabad) and Sahranpur (UP), Firozabad, Hyderabad, Ranchi, Kolkatta-Howrah and Sholapur-Panvel (Maharashtra) reflected the widespread anger against the controversial remarks against Prophet Mohammad uttered by recently suspended BJP leader Nupur Sharma. The single demand was strict(er) action, even arrest of the long-standing spokesperson of the ruling regime that was a regular feature on all television channels.In fact Doda in Jammu and other parts of the erstwhile J & K also saw communal tensions rise around the issue.
During a Times Now prime time debate on May 26, 2022 Bharatiya Janata Party (BJP) Spokesperson Nupur Sharma had made derogatory remarks about Prophet Mohammad and Islam. Uninterrupted by the news anchor Navika Kumar, Sharma went on to utter anti-Islam slurs. It wasn't until June 5 that the BJP suspended Sharma, that too,after massive outrage from Gulf countries. On May 28, the Mumbai police also registered an FIR against her on receiving a complaint from Raza Academy Mumbai wing Joint Secretary Irfan Shaikh.
However, far from satisfied people are gathering in huge crowds across India to condemn remarks of BJP party leaders like Sharma and even recently-expelled BJP leader Naveen Kumar Jindal. Roughly, around 16 cities/regions reported such protests all of which unitedly demanded action against the recent speeches made by Sharma and Jindal.
Here's a list of some cities that observed mass protests so far.
Delhi
As mentioned before, Delhi is the latest city to mark their protests against the caustic comments made by the RSS-affiliated political party members. After Friday prayers, people gathered at Jama Masjid in the city and demanded that the offending leaders be arrested.
According to the Hindustan Times, the protest went on peacefully for half an hour. People carried placards while decrying the statements made against Prophet Mohammad. Shahi Imam of the Jama Masjid told media persons that the authorities had not called for the protest.
Meanwhile, Delhi Police registered an FIR against 31 people, including AIMIM chief Asaduddin Owaisi, regular hate-offender Yati Narsinghanand and filed a separate case against Sharma for allegedly hurting religious sentiments. Mediapersons like Saba Naqvi have been included in one of the FIRs to create an equivalence, Saba Naqvi has clearly stated that she has been selectively targeted and the Press Club of India has protested the FIR against her.
Lucknow
In Lucknow, protesters gathered outside Tila Vali mosque in huge crowds. Like other regions in Uttar Pradesh, the crowds gathered and demanded Sharma's arrest and condemned the hate spewed by the BJP members, targeting a specific community.
Saharanpur
Of the many Uttar Pradesh cities that observed protest on Friday, Saharanpur protesters were among the few who were arrested for protesting. According to NDTV, 21 people were arrested for participating in unauthorised demonstrations. People forcibly closed shops and some videos showed the police chasing protesters. Police officers told media persons that while they had to use force to dispel the crowd, the area is "tense but under control".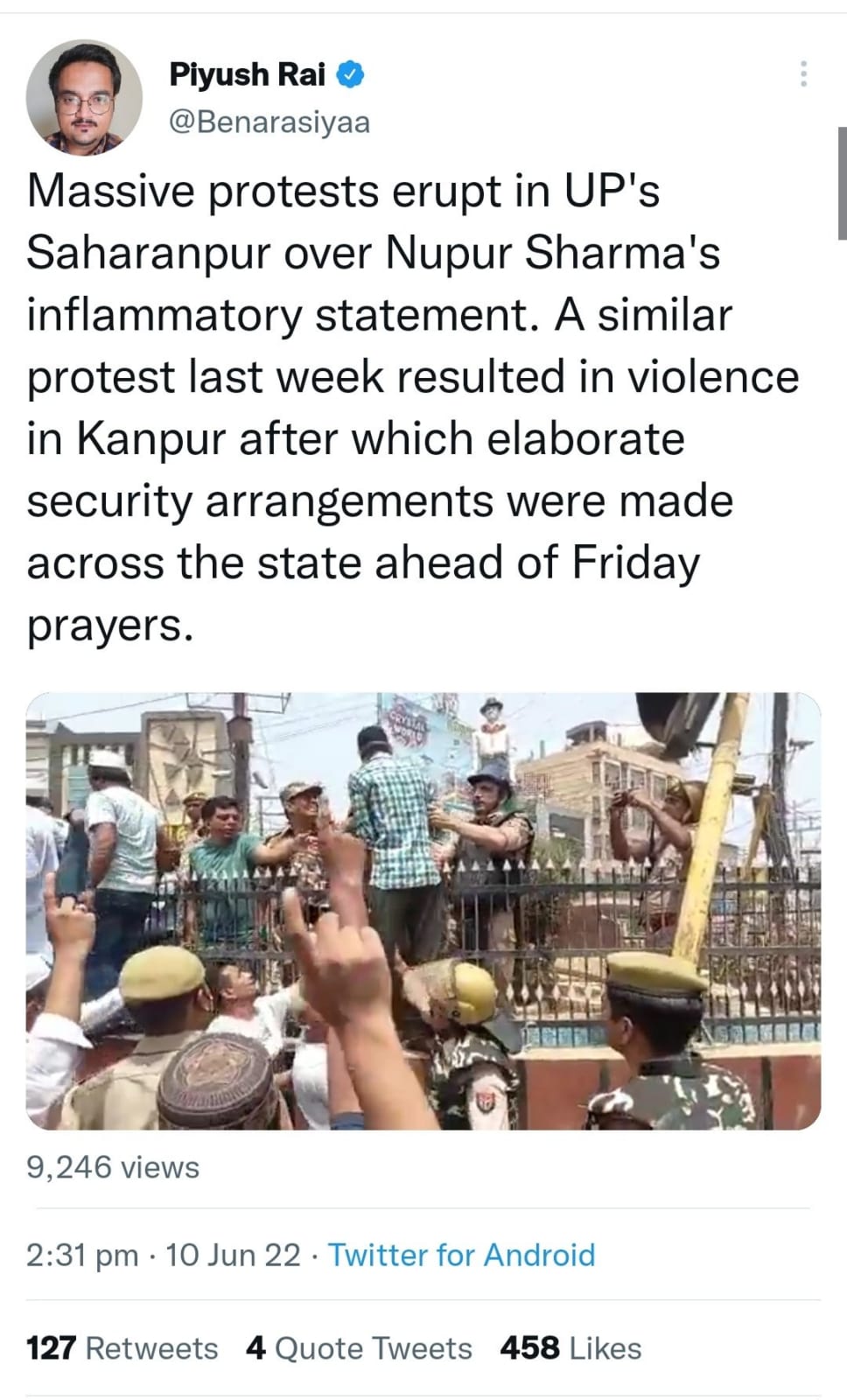 There were similar scenes in a locality in Moradabad too. Last week, similar protest broke out in Kanpur. However, the protests led to a communal conflict resulting in arrest of at least 36 people under the National Security Act and booking of 500 people for rioting.
Prayagraj
Hundreds of Muslims gathered in Atala area of the old city gathered to condemn Sharma's statements against Prophet Mohammad. Media outlets like the Hindustan Times reported stone-pelting by protesters.Here too shops were closed and slogans were shouted on the streets demanding Sharma's arrest. According to the Free Press Journal, the police used tear gas to disperse the crowd. By evening, the authorities said the situation was under control.
Srinagar, Doda
Protests extended all the way to Srinagar and Bhaderwah in Jammu and Kashmir. According to The Indian Express, the city observed a shutdown in protest against Sharma's her objectionable remarks against the Islamic community. Members of the majority community also participated in Bhaderwah.
Shops and similar establishments were closed at the city centre or Lal Chowk. The report said that authorities snapped mobile internet services in the Srinagar district. However, broadband services remained operational. Protests were also reported in Shopian district in Kashmir Valley.
Ranchi
In Jharkhand's capital, the protests decrying the hateful comments took a violent turn. Several police officers were injured as the crowd resorted to stone-pelting. According to the Free Press Journal, the police had to fire in the air in to disperse the crowd. The crowd had gathered near Hanuman temple near the Main road of the city. There were also reports of vehicles being set on fire.
A syndicated feed said that owners of over 1,100 shops in the market shut their establishments and protested after the police refused to give a permit for a peaceful procession.A curfew has been imposed in several areas of the city.
Firozabad
In Firozabad, Muslim women staged a protest march demanding strict action against Sharma as early as June 9, said the Hindustan Times. The women submitted a memorandum to police officials at Rasoolpur police station on Thursday.
Kolkata and Howrah
In West Bengal the capital city and Howrah region reported huge protests against Sharma and Jindal. Boards, effigies and busts with photos of the two BJP leaders were torn, damaged or garlanded with chappals as a sign of condemnation. Protesters also blocked road and sloganeered against the communal statements. Similarly, hordes of people gathered on Kolkata's streets and Park Circus and Ballygunge – a chic part of the Kolkata city – area demanding the immediate arrest of Sharma.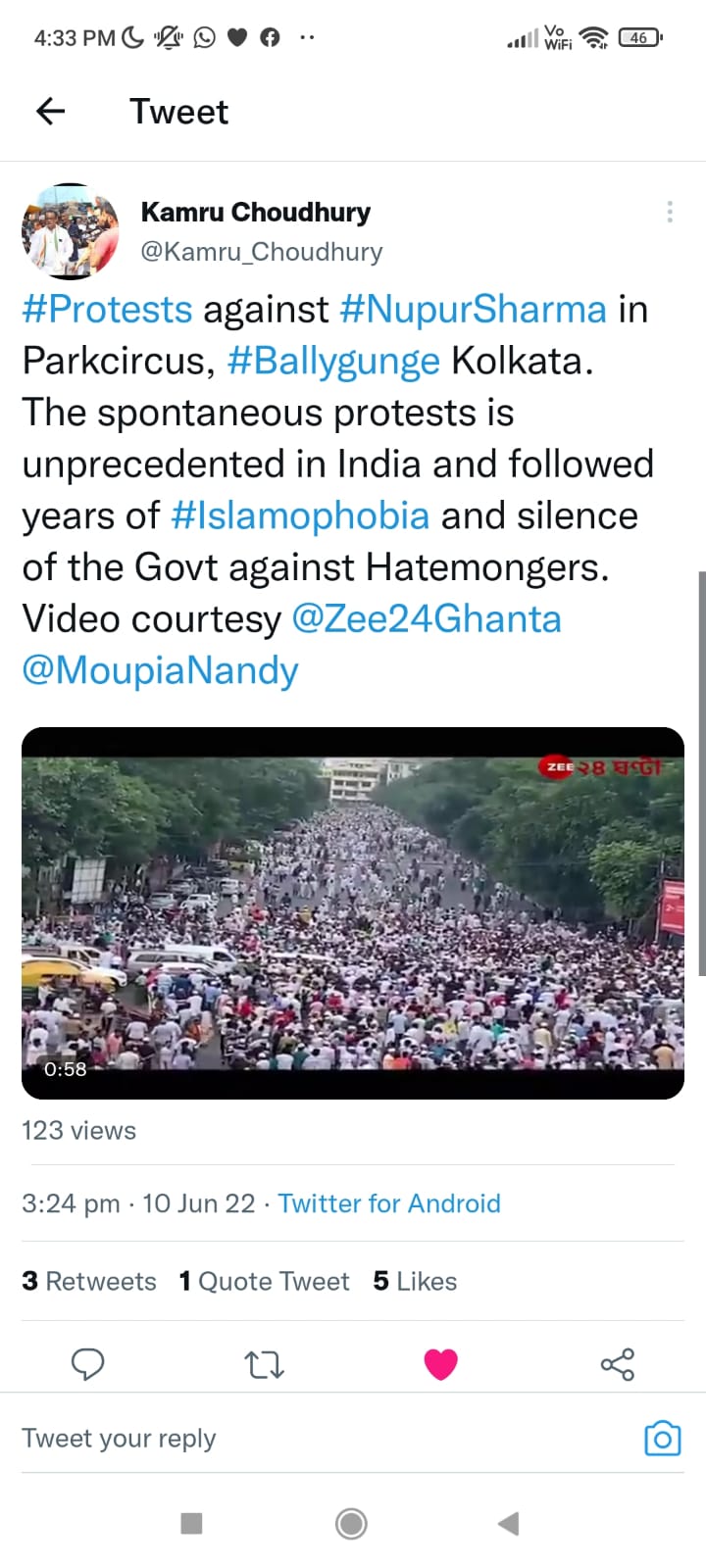 Hyderabad
Like Delhi, protests broke out in Hyderabad city outside the Mecca Mosque on Friday, reported the Indian Express. Hundreds of people gathered to voice their outrage against Sharma and Jindal's statements.
While this group too gathered after prayers and sloganeered, the city police here had anticipated the protest and deployed officers in the area. Similarly, police and CRPF officers were also patrolling the area. The surrounding area of the mosque, Charminar and the police cordoned off. The group then dispersed after around 15 minutes of sloganeering.
Social media reports also show protests outside the City Press Club.
Muslims in city of Hyderabad came out to protest outside Charminar against insults to prophet Mohammad (pbuh) by Modi officials pic.twitter.com/AjrufbIvjR#إلا_رسول_الله_يا_مودي #الهند #BoycottIndianProducts #Arab #Stopinsulting_ProphetMuhammad #Hyderabad #Telangana #IndianMuslims

— South Asian Journal (@sajournal1) June 10, 2022
Protest by Tehreek-e-Harmat Rasool Hyderabad at Press Club Hyderabad against the desecration of the Holy Prophet (PBUH) by Indian cursed politicians. In which leaders of different parties and business leaders addressed.#محسن_انسانیت
#Hyderabad pic.twitter.com/O7lPGWxyIj

— Saqibmughal Hyd (@SaqibmughalH) June 10, 2022
From Solapur to Panvel
In Maharashtra too people staged protests from Panvel to Solapur. While the Free Press Journal said both areas observed peaceful protests, the latter reported at least 3,000 protesters including around 1,000 women. Once again, the women submitted a memorandum to Panvel tehsildar and concluded the protest by 4 PM. Another protest was reported at Shivaji Chowk in Vashi where people approached the local police.
Other parts of Maharashtra to report similar demonstrations were Thane, Aurangabad, Nandurbar, Parbhani, Beed, Latur, Bhandara, Chandrapur and Pune districts. IN all these areas Muslims demanded FIRs against Sharma and Jindal, police said.
Earlier this week, the BJP declared that it has listed 38 people who hurt religious sentiments. Dainik Bhaskar on June 7 said the party listed people using 'IT experts' to go through the statements of leaders over the last eight years, since September, 2014. The party found that 5,200 statements were unnecessary while 2,700 statements were worded in an insensitive manner.
However, with the community out on the streets in such a spontaneous and united front, the move comes off as too little too late. Needless to mention that of the 38 people apparently listed, only 11 people are publicly named.
Related:
UP: Media adds communal tone to Kanpur Qazi's words
Hate speech impact on Kashmir Valley & Jammu, communal tension reported
BJP dumps spokesperson Nupur Sharma, Naveen K. Jindal in damage control move
Three FIRs registered, 500 booked as police personnel stay alert: Kanpur violence