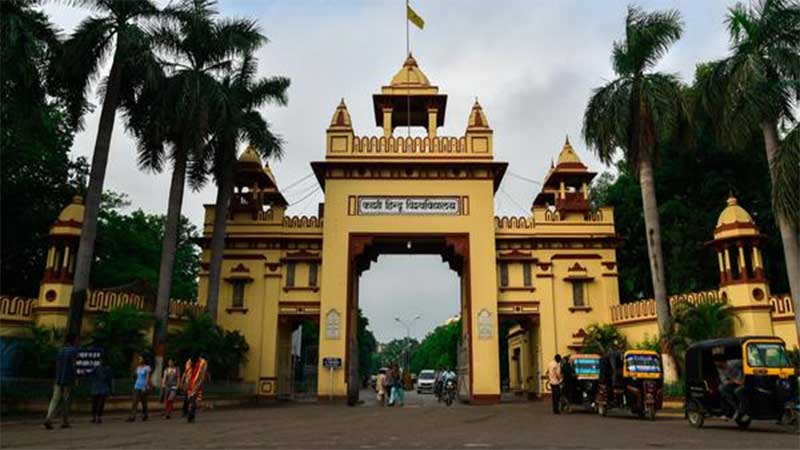 A Deputy Chief Proctor at the South campus of Banaras Hindu University (BHU) in Mirzapur district was booked on charges of promoting enmity between different groups on grounds of religion, caste, etc., after she allegedly removed a RSS flag from the university's playground Tuesday, The Indian Express reported.
A case by a local RSS office bearer, Chandramohan, was filed against Kiran Damle for allegedly removing a Rashtriya Swayamsevak Sangh (RSS) flag from the campus. She resigned the same day, following protests by a group of students and local RSS workers.
Station House Officer (SHO), Kotwali Dehat, Abhay Kumar Singh, said a case was registered against Damle under IPC sections 153-A (promoting enmity between different groups on grounds of religion, race, place of birth, residence, language, etc., and doing acts prejudicial to maintenance of harmony), 295-A (deliberate and malicious acts, intended to outrage religious feelings of any class by insulting its religion or religious beliefs), 504 (intentional insult with intent to provoke breach of the peace) and 505 (statements conducing to public mischief).
What transpired?
Chandramohan, head of RSS's Mirzapur district wing, claimed, "On November 12, the daily Sangh shakha was being held at the stadium on BHU South campus as it has been for the past seven years. Around 7 am, Kiran Damle uprooted a saffron flag and threw it on the floor. All swayamsevaks present there told her that the flag has importance for religious reasons. After this, Damle verbally abused Swayamsevak Neeraj Dwivedi and others present there. She also said that despite the country accepting the Supreme Court's verdict on Ayodhya, she does not."
However, deputy chief proctor (South campus), BHU, Kiran Damle, told The Indian Express,"On Tuesday, when I went to the university playground, I found an orange-coloured flag hoisted there. I asked my attendant about who put it there but he said he did not know. I then asked the students present at the playground, nobody replied. After no one took responsibility, I took out the flag, gave it to my attendant and told him to keep it in my office."
She added, "Later, some students came to me and said the flag is of the RSS. I told them that I did not know because nothing was written on it. I told them that they could conduct their activities, but should not put the flag as it is a sensitive time. Later in the afternoon, a protest was held at the university demanding my resignation. Most of the protesters were from outside [the varsity]. I told the students and protesters that I made a mistake and even apologised to them. They said an apology won't be enough and that I should resign. I told them that if that is what will make you people calm down, I will resign. I gave my resignation Tuesday from the post of deputy chief proctor. Then, some people told me they would also lodge an FIR against me. I was silent because I didn't do anything wrong."
Political twist
While SP Dharamvir Singh said removal of the flag has hurt the sentiments of 'swayam sevaks' and Damle should instead have explained and prevailed upon them for getting it removed, local Congress leader and former MLA, Lalitesh Pati Tripathi questioned the interference of RSS office bearers in the workings of the university and said that 'shakhas' should not be held on educational institutions.
It is ironical that the RSS which is an ally of the BJP refuses to accept the tricolor as the only flag of India, which is the same for every religion and every person. The RSS has always implicitly rejected India's constitution by rejecting the tricolor and instead propagate its saffron flag called the 'Bhagwa Dhwaj'. They consider this flag as the Guru and donations are made to this 'guru' with beneficial results before the tax authorities. It is regarded as the symbol of "nationalism" — ie Hindu, not Indian, nationalism.
Related:
Fact Check: The RSS Had No Role in India's Freedom Struggle
The RSS Doublespeak: Bhagwa for Itself, Tricolour for the 'Others'