Shakeela Hanga, 52 is wailing inside a marriage hall. She is surrounded by womenfolk who have come to console her. Shakeela's world has turned upside down after she has lost her son and her house while her husband is battling for life in a hospital.

"Please convey to the Indian media that my son wasn't a militant, he was innocent," she pleads in agony.
Her son, Rayees Habibullah, was killed during an encounter with the government forces in the Fateh Kadel area of Srinagar. His family allege that he was "beaten to a pulp" and then taken to some unknown location before being killed and strongly refute claims that he was an 'accomplice' of the slain militants.
On Wednesday midnight, SOG (Special Operation Group) of Jammu & Kashmir police along with the CRPF (Central Reserved Police Forces) barged inside the family's house.
"I was sleeping with my daughter when forces broke our door. We got very much frightened after they started abusing and kicking us while looking for militants," says Shakeela.
The four-storey house of Habibullah Hanga, the father of Rayees Ahmad, has a bakery shop on the ground floor which was run by Rayees. The encounter destroyed the entire building along with killing his son and two militants.
"We haven't received post-mortem report because we were told that we will get the death certificate from the Municipal Committee Srinagar," said his mother.
"When I saw his dead body, it was bruised. He probably was shot in his head," said a neighbour who wished not to be named. He added that the forces laid a cordon around 12 am and the firing started around 6 am.
"My house is close to Hanga's home. I saw a militant coming out of the window and firing many rounds towards security forces," he says.
Raees is survived by his wife, Nargis, and 15-month-old son, Mohammad.
Shakeela said she went upstairs and woke her husband and sons. When her husband saw the force, he collapsed.
"He fell on the ground and my younger son shifted him to the hospital," said Shakeela, adding "her elder son was asked by the forces to accompany them."
"They searched our house but found nothing," said Shakeela.
Shakeela further added that forces took Rayees upstairs and asked him to locate the militants. They started beating him, she said. "I could hear his screams sir mujhe kyun maar rahe ho, maine kya kiya (Sir why you are beating me? What did I do?) They beat him ruthlessly and we couldn't do anything as we were surrounded by forces," she says.
Shakeela, her daughter and other female members of the family were asked to stay in the kitchen, which is located in the rear of the house.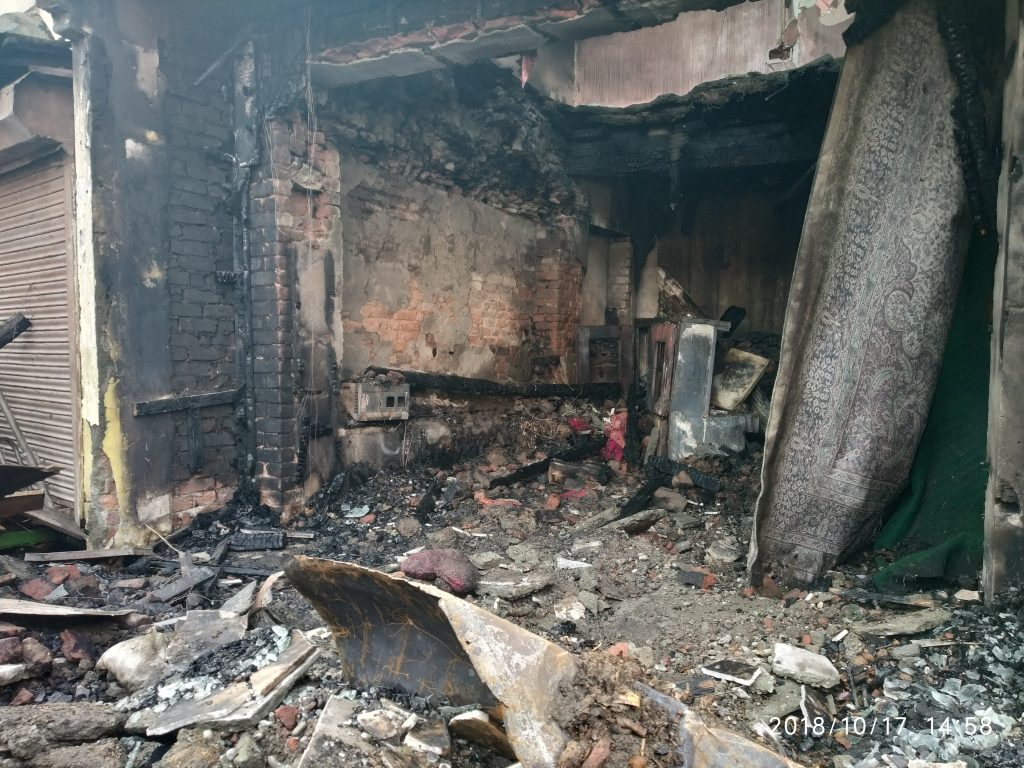 Forces told them to stay inside as they "will burst crackers outside".
"At 6 am, we were asked to come out and were shifted to another house," said Shakeela adding that "she saw forces firing a shell towards here house which later went into flames."
The family said there was no militant present in the house.
"Had there been any militant the forces would not have been able to search," an inconsolable Shakeela said.
While she was narrating the story, people were getting ready for the funeral of Rayees, whose body was yet to be handed over to his family.
The mother of the slain youth said government forces dragged her son out of the house and whisked him away in a jeep. "I begged the security official to release my son and he told me that he will be released soon. At 6 am we were told that your son was an OWG (Over Ground Worker) and he has been killed in the encounter," she said, as tears rolled down her cheeks. "This is all a lie," she added.
"He was an innocent guy who was supporting his family by running a bakery shop, he was killed and latter dubbed as an OGW of the militants," says a neighbour of Rayees who wished not to be named.
Two militants and a policeman were killed and three CRPF personnel got wounded in the gunfight, the police said. The Police also added that they were investigating the role of Rayees who was killed along with two militants in a gunfight.
"The complicity of Rayees Ahmad who was part of the group in providing shelter and logistics to the militants is being investigated," said a Police spokesman.
A top police official while talking to TwoCircles.net said that militants were hiding at Hanga's house and he 'voluntarily' decided to be with them. He was an 'accomplice,' he added.
"We had strong inputs about the presence of militants in that house and we were informed that Rayees provided logistical support to them," he said wishing anonymity because he is not authorised to speak to media.
Courtesy: Two Circles