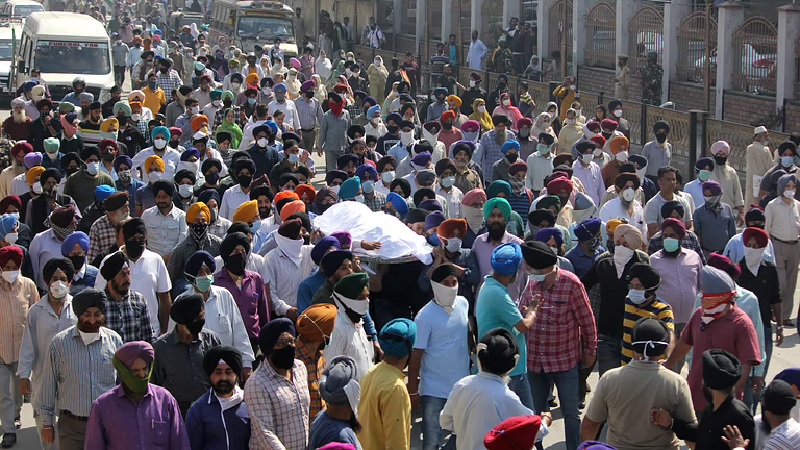 Image Courtesy:greaterkashmir.com
Principal Supinder (Satinder) Kour's final rites were carried out by grieving family, friends, and community members on Friday. She was among the civilians gunned down by terrorists, and the only woman, and Sikh to be targeted. The school principal was shot dead in cold blood on October 7, along with another teacher Deepak Chand, a Kashmiri Pandit.
The Valley's Sikh community had assembled at Kour's residence in Aloochi Bagh area, carrying her mortal remains out in a march that also marked their protest at the targeting of innocents. According to news reports, the march grew as it covered a large distance – Aloochi Bagh to Jehangir Chowk – raising slogans demanding justice for the victims. The protesters also held a silent sit-in at the Civil Secretariat, the seat of the Jammu and Kashmir government. Later, Kour's mortal remains were taken to the cremation grounds for the final rites.
"My father Makhan Lal Bindroo a Kashmiri Pandit will never die. You can just kill the body and he will be alive in the spirit," says Dr Shraddha Bindroo. #srinagar #Kashmir pic.twitter.com/Ai938ty2wP

— Parvaiz Ahmad Qadri (@Parvaiz_Qadri) October 6, 2021
Adding to the tragedy were images of the last rites of Virendar Paswan, who hailed from Bhagalpur in Bihar, who had just come to the Union Territory to earn a living and worked as street food vendor in Srinagar. According to reports, his funeral was held at Srinagar because his family couldn't afford taking the body back home. Killed by terrorists because he was an "outsider", Paswan's mortal remains ironically became one with the elements in Srinagar itself.
The Peoples Democratic Party (PDP) also held a protest in Srinagar in the wake of terror attacks in Jammu and Kashmir and demanded that Lieutenant Governor (LG) Manoj Sinha resign from his post. The PDP Spokesperson Syed Suhail Bukhari said, "We strongly condemn and demand that Governor Manoj Sinha should give resignation as he totally failed to handle the situation. We ask the Government of India why it happened if militancy is over and the situation is normal. Since the abrogation of Articles 370 and 35A, the home ministry is monitoring the situation then why these incidents happened. So, it is clear the Government of India, security agencies totally failed to control the situation."
The terror attacks on members of the minority Kashmiri Pandit and Sikh communities are being viewed as an intention to divide people on the lines of religion yet again. The PDP appealed to the people of Jammu and Kashmir to be "united to defeat vested interests of people, who are trying to disturb peace and damage communal harmony." The Jammu and Kashmir Peoples Forum also staged a protest in Jammu against Pakistan over the killings.
According to a report in the Greater Kashmir, Jagmohan Singh Raina, the chairman of All Parties Sikh Coordination Committee (APSCC) said the Sikh community was cautious not to allow "any vested interests to vitiate the cordial relation of communal brotherhood," adding that "the Sikh minority for the last 30 years has ensured that there is communal harmony and brotherhood in Kashmir. We have never allowed the peaceful communal harmony be disturbed and won't let it happen. There is a need for firm brotherhood even today". Raina too asked that the LG-led administration ensure that the situation is not allowed to "go out of control", stated the news report.
Kashmiri Pandit leader Sanjay Tickoo told Sabrangindia that repeated pleas with LG Manoj Sinha to enhance security for Pandit families had gone unanswered. "Where is the security for KP families in the Valley?" he had asked as the nightmare of 1990 appears to be repeating itself. Now, SabrangIndia's sister organisation Citizens for Justice and Peace (CJP) has joined the Kashmiri Pandit Sangharsh Samiti to petition the LG to provide adequate security to minorities. The petition may be signed here.
Meanwhile, a section of the right wing is busy fuelling communal fire with hate filled posts such as this:
This video must be shared widely amongst NRI Sikh community so that they know who is their real enemy instead of collaborating with Jehadis. https://t.co/Q63pDNiQbX

— Vivek Ranjan Agnihotri (@vivekagnihotri) October 8, 2021
Related:
Killing three civilians, terrorists send a bloody message across Jammu and
Jammu and Kashmir: Press Council of India to investigate intimidation of journalists
Will events following Syed Ali Shah Geelani's death impact Kashmir politics?