Calling to defeat Communal, regressive forces, Mevani, Shehla, Gurmehar, Swara Bhaskar, Fatima Nafees, Teesta Setalvad join a rally and Jan-Sabha after Kanhaiya Kumar files his nomination as a CPI candidate in Begusarai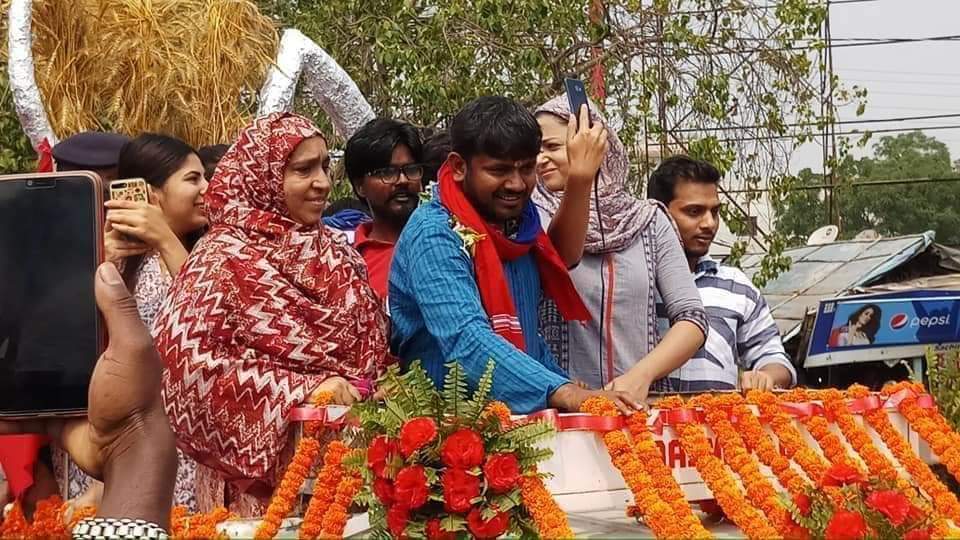 A massive rally took place in Begusarai, Bihar today in support of youth leader, ex-JNU president and CPI candidate from Begusarai, Kanhaiya Kumar. Eminent activists Teesta Setalvad, Fatima Nafees, Gujarat MLA Jignesh Mevani, actress Swara Bhaskar, youth leaders Shehla Rashid and Gurmehar Kaur joined the rally in support along with several other youths and locals. Even rains and hailstorms were not able to affect the enthusiasm of the massive crowd which shows no sign of dispersing anytime soon.
Around 15,000 people walked a distance of eight and a half to ten kilometres of the rally that was splashed with rain drops and hail. More than ten thousand people gathered for the Jan-Sabha at the BSS high school ground in Begusarai.
Fatima Nafees, an activist in her own might and mother of the missing JNU scholar Najeeb Ahmed addressed the gathering palpable with raw energy and cheer. She highlighted how the student wing of the ruling Bharatiya Janata Party (BJP), Akhil Bharatiya Vidhyarthi Parishad (ABVP) perpetrated violence on Najeeb and has been responsible for several such episodes across the country. She said, "Kanhaiya has become my voice. Wherever he goes he definitely talks about us, whether that be Najeeb or Akhlaq or Pehlu Khan. He has never differentiated between Hindus and Muslims. The time to crush the communal forces has come. I want that [these forces] should be taught a lesson and Modi should be sent back to sell chaay pakoda in Gujarat." She even said that Modi will not be able to work like Kanhaiya will.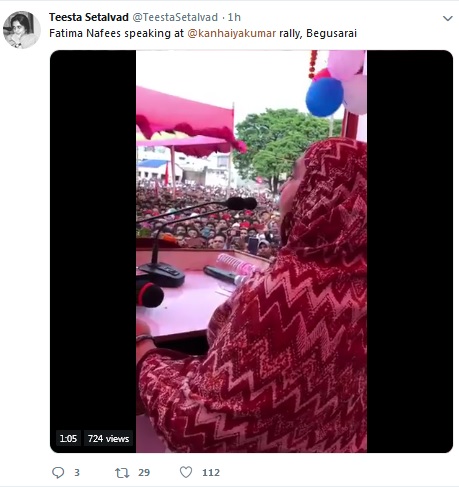 Jignesh Mevani, the firebrand MLA from Vadgam, Gujarat said, "It is time to rise above the politics of religion and give birth to a new kind of politics. I am very hopeful that all you people, who have participated in the rally with such rigour, those who have worked for, 12-14-16 [and more hours] will work hard and ensure that Kanhaiya Kumar reaches Delhi."
Swara Bhaskar, the actress with several critically acclaimed movies up her sleeves, also came to campaign for Kanhaiya. She said, "Don't think that a Heroine has come amongst you. Today I have not come as an actress but as the granddaughter of Bihar. Begusarai is my maternal home. Begusarai was the Nanihal of my fua-nani. Today Bihar's daughter has come home. [In common parlance] The word Bihari is used like an innuendo, those people [who use it like an abuse] should meet Kanhaiya. They will feel a sense of pride. "
Shehla Rashid said, "We feel that this isn't the fight in Begusarai alone, but of the entire country. The country needs a new leader. We respect all the other candidates, but this is a request from Begusarai that give new leadership to the country."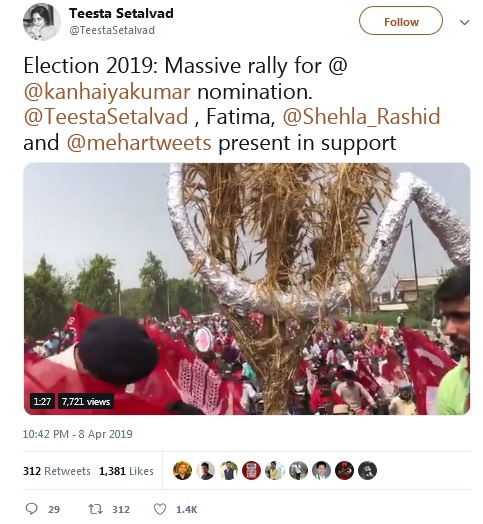 "Very happy that a youth leader has emerged at such an age. I don't remember such a huge rally for a non-dynast. I think this is an Indian victory. This is the victory of the entire nation," said peace warrior Gurmehar Kaur.
Amidst huge applause and cheer, Kanhaiya Kumar said, "There have been several attempts to weaken the constitution. This is so that the questions of basics, of food, house, affordable education, of dignity can be weakened. All of you must feel that all of you are candidates in this election. And that You have to unite to fight for the development and dignity of Begusarai. And we know that no fight that has been fought with all the heart, can be lost!"
For Kumar, the challenge is going to be double folded as not just Giriraj Singh of BJP stands in opposition, but also Tanveer Hassan of the Rashtriya Janata Dal (RJD) grand alliance. This seat goes for Lok Sabha polls in the fourth stage of elections, on April 29.
The Jan Sabha is still going on as the story is filed.