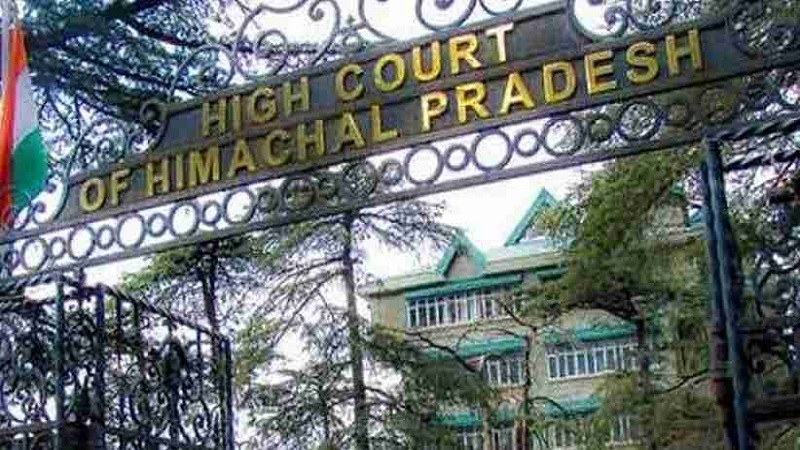 Image Courtesy:lawstreet.co
In the matter Mamta Devi vs State of Himachal Pradesh and others (CWP No. 3100 of 2020), the Division Bench at Shimla has held that "The State cannot act in a misogynistic way, carving ways to debar compassionate employment to married daughters and such acts fall within the definition of discrimination based on sex, which is against Article 15 of the Constitution of India." This remark was made by the High Court to allow the daughter's plea seeking compassionate appointment in her deceased father's position.
Mr. Maan Singh appeared for the petitioner and Mr. Hemant Vaid, Mr. Hemanshu Mishra (Additional Advocates General) and Mr. J.S Guleria (Deputy Advocate General) appeared for the State before the Bench comprising Justice Sureshwar Thakur and Justice Chander Bhusan Barowalia on October 28, 2020.
The Bench further added that, "If the marital status of a son does not make any difference in the eyes of law, then it is difficult to think, how marital status of a daughter makes such a huge difference in her eligibility. In fact, marriage does not have proximate nexus with identity and even after marriage, a daughter continues to be a daughter. Therefore, if a married son has right to compassionate appointment, then a married daughter also stands on the same footing and her exclusion does not have any plausible basis or logic, so her exclusion has no justifiable criteria."
The court also made some crucial observations with respect to the policy of compassionate employment. It said, "The object of compassionate employment is not only social welfare, but also to support the family of the deceased government servant, who dies in harness, and by excluding married daughter(s) from the sweep of the family, the real purpose of social purpose cannot be achieved."
"The aim and object of the policy for compassionate appointment is to provide financial assistance to the family of the deceased employee. In the absence of any male child in the family, the State cannot shut its eyes and act arbitrarily towards the family, which may also be facing financial constraints after the death of their sole bread earner", it added further.
The Bench also rejected the submission made by the Respondent State that the compassionate employment policy does not discriminate against married daughters and the solitary object and rationale behind the same is that married daughters are no more dependent on the employee who died in harness. It said, "The policy of providing compassionate employment, which is in vogue, evidently provide a criterion of dependency on the deceased government servant, now, it is difficult to understand that married sons remain dependent and dependency of married daughters ceases with marriage, hence forming an exception."
The court gave a twin fold hypothetical rationale behind such an exception. It said, "This exception may have hypothetical rationale, which though not offered, behind depriving employment assistance to a married daughter and it can be twin-fold, viz., (i) with marriage, financial dependency of a female shifts from her parents to her husband and his family; and (ii) least or no expectation from a married daughter to look after her surviving mother/father and siblings, who have chosen to give 'No objection' in favour of a married daughter, for her's being given employment on compassionate grounds."
The court opined that both these rationales failed to "constitute a valid and viable basis depriving employment on compassionate grounds to married daughters, especially when daughters, married or unmarried have been given all legal rights, as available to sons (married/unmarried), after the death of parents." The real test of dependency, according to the court is when an applicant seeking for compassionate employment was dependent on the parent "prior to his/her demise." Thus, any other condition debarring a married daughter "is not only against the scheme of Constitution of India, but also against the dependency test."
Background
The petitioner's father was a class IV employee in a District Ayurvedic Office, Kullu who died before retirement. As the entire family was financially dependent on the deceased, the petitioner who is M.A. (Hindi) and has a diploma in Computers, applied on compassionate grounds. But her application was rejected on the basis that this policy of employment assistance was not granted to "married daughters of the deceased Government employee."
The court allowed the petition filed and directed the office to provide her a compassionate appointment if she otherwise fulfils other required eligibility criteria under the policy.
Similar orders by High Courts
The Chhattisgarh High Court, in Smt. Sarojni Bhoi vs State of Chhattisgarh & Ors (WPS No. 296 of 2014) allowed the Writ petition moved by a married daughter of a deceased and directed the Government to reconsider the claim of petitioner for being appointed on compassionate grounds afresh. Justice Sanjay K. Agrawal said that a policy of the State Government disqualifying a married daughter and excluding her from consideration apart from being arbitrary and discriminating is a retrograde step of the State Government as a welfare State.
"A daughter even after marriage remains the daughter of her father and she cannot be treated as not belonging to her father's family. The institution of marriage is an important and basic civil right of man and woman and marriage by itself is not a disqualification and impugned policy of the State Government barring and prohibiting the consideration of the married daughter from seeking compassionate appointment merely on the ground of marriage is plainly arbitrary and violative of constitutional guarantee envisaged in Article 14 (equality before law), 15 (discrimination against all grounds) and 16(2) (discrimination on all grounds in an office) of the Constitution of India being unconstitutional", the court held.
In Joint Registrar/ Managing Director, Virudhunagar District Central Co-operative Bank Ltd vs P Asothai (W.A. [MD] No. 122 of 2017), the Madras High Court directed the Government to offer the daughter compassionate employment in place of her deceased father and also took note of the role played by women in the society. "Women are not just the procreators of the clan, but have been welcomed to become that reliant person who can take care of her own family and her newfound family. 'She' have risen from dependents to nurtures of relationship, and for a woman to take care of her own parents is not a norm, but a welcome trend in society as they are doing an impressive diligence at it", the Division Bench of Justices R.Subbiah and J.Nisha Banu held.
They further added, "The gender equality is more than a goal in itself. It is a precondition for meeting the challenge of reducing poverty, promoting sustainable development and building good governance and therefore, our constitution has not discriminated male from female and any order passed discriminating male from female will be only against the Constitution and it cannot be sustained."
Apex Court ruling
The Supreme Court has also opined on this theme significantly holding that marriage cannot be a ground for not granting compassionate employment to women. In Miss C.B. Muthamma v. Union of India 1979 SCC (4) 260, the Supreme Court said that no discrimination can be made in public employment on gender basis as Article 16(2) of the Constitution of India clearly provides that no citizen shall on the ground of sex be ineligible or discriminated against in respect of any employment or office under the State. In this case the petitioner was a senior member of the Indian Foreign Service who was denied promotion to Grade I of the Indian Foreign Service illegally and unconstitutionally.
"If a married man has a right, a married woman, other things being equal, stands on no worse footing. This misogynous posture is a hangover of the masculine culture of manacling the weaker sex forgetting how our struggle for national freedom was also a battle against woman's thraldom. Freedom is indivisible, so is Justice. That our founding faith enshrined in Articles 14 and 16 should have been tragically ignored vis-a-vis half of India's humanity, viz., our women, is a sad reflection on the distance between Constitution in the book and Law in Action", it remarked.
On the issue of whether pension and other welfare schemes would interfere with providing compassionate employment, the Supreme Court in Balbir Kaur vs Steel Authority of India Ltd 2000 (6) SCC 493 held that, "Family Benefit Scheme cannot in any way be equated with the benefit of compassionate appointments. The sudden jerk in the family by reason of the death of the bread earner can only be absorbed by some lump sum amount being made available to the family – this is rather unfortunate but this is a reality. The feeling of security drops to zero on the death of the bread earner and insecurity thereafter reigns and it is at that juncture if some lump sum amount is made available with a compassionate appointment, the grief-stricken family may find some solace to the mental agony and manage its affairs in the normal course of events. It is not that monetary benefit would be the replacement of the bread earners, but that would undoubtedly bring some solace to the situation." So, as a rule welfare schemes and benefits cannot substitute for employment.
The Himachal Pradesh order may be read here:
Related:
Women have right to stay in the marital home under domestic violence laws: SC
How to get India's women working: First let them out of the house!