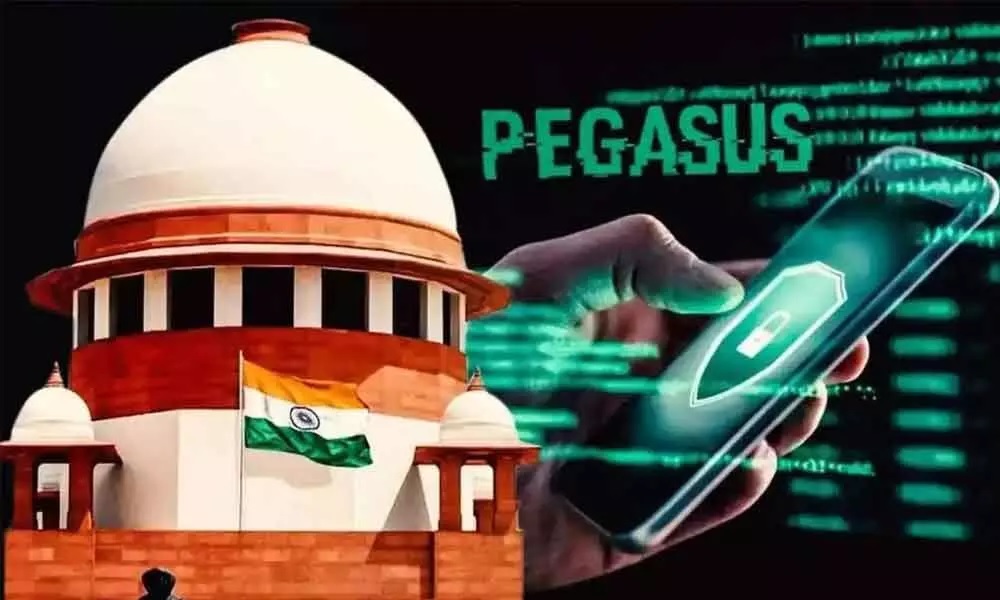 The Supreme Court has ordered the formation of an independent expert committee to look into allegations of the use of the Pegasus spyware for targeted surveillance of several journalists, activists and political dissidents.
A bench comprising Chief Justice NV Ramana, and Justices Surya Kant and Hima Kohli, that was hearing a batch of petitions demanding a probe into these allegations. Pegasus is a spyware developed by an Israeli company named NSO that has categorially stated that it only sells the product to "vetted governments", however, the Government of India has so far refused to file an affidavit before the court on whether or not it used Pegasus, siting "national security" concerns.
On this subject, the Supreme Court observed, "It is a settled position of law that in matters pertaining to national security, the scope of judicial review is limited. However, this does not mean that the State gets a free pass every time the spectre of "national security" is raised. National security cannot be the bugbear that the judiciary shies away from, by virtue of its mere mentioning."
In fact, the Government will not be allowed to have its way was made clear in the very beginning of the judgment that began with an Orwellian quote:
"If you want to keep a secret, you must also hide it from yourself." ­
___George Orwell, 1984
Expert Committee to probe allegations
The court has now directed that a three-member committee of technical experts be constituted to probe the allegations. The three technical experts are:
Dr. Naveen Kumar Chaudhary, Professor (Cyber Security and Digital Forensics) and Dean, National Forensics University, Gandhinagar, Gujarat.

Dr. Prabaharan P., Professor (School of Engineering), Amrita Vishwa Vidyapeetham, Amritapuri, Kerala.

Dr. Ashwin Anil Gumaste, Institute Chair Associate Professor (Computer Science and Engineering), Indian Institute of Technology, Bombay, Maharashtra.
The functioning of this committee will be overseen by Justice RV Raveendran, former Judge, Supreme Court of India. Justice Raveendran will be assisted by:
Mr. Alok Joshi, former IPS officer (1976 batch)

Dr. Sundeep Oberoi, Chairman, ISO/IEC JTC1 SC7 (International Organisation of Standardisation/ International Electro ­Technical Commission/Joint Technical Committee)
What will the Committee probe?
The Committee will investigate whether the "Pegasus suite of spyware was used on phones or other devices of the citizens of India to access stored data, eavesdrop on conversations, intercept information and/or for any information". It will also get "details of the victims and/or persons affected by such a spyware attack." The committee will also ascertain what "steps/actions have been taken by the Respondent­ Union of India after reports were published in the year 2019 about hacking of Whatsapp accounts of Indian citizens, using the Pegasus suite spyware."
But most significantly, the Committee will enquire "whether any Pegasus suite of spyware was acquired by the Respondent ­Union of India, or any State Government, or any central or state agency for use against the citizens of India?" If it is discovered that the State did use Pegasus to spy on Indians, the Committee is to ascertains "under what law, rule, guideline, protocol or lawful procedure was such deployment made?"
The court will hear the matter again after eight weeks.
The complete order may be read here:
Related:
Defence Ministry has had no transaction with Pegasus developer NSO Group: Centre in RS
Centre refuses to disclose use of Pegasus in affidavit, pleads national security
Pegasus Project: 5 targeted journalists move SC, say have been subject to intrusive hacking
Pegasus Snoopgate: RS MP, Journalists move SC for court monitored probe