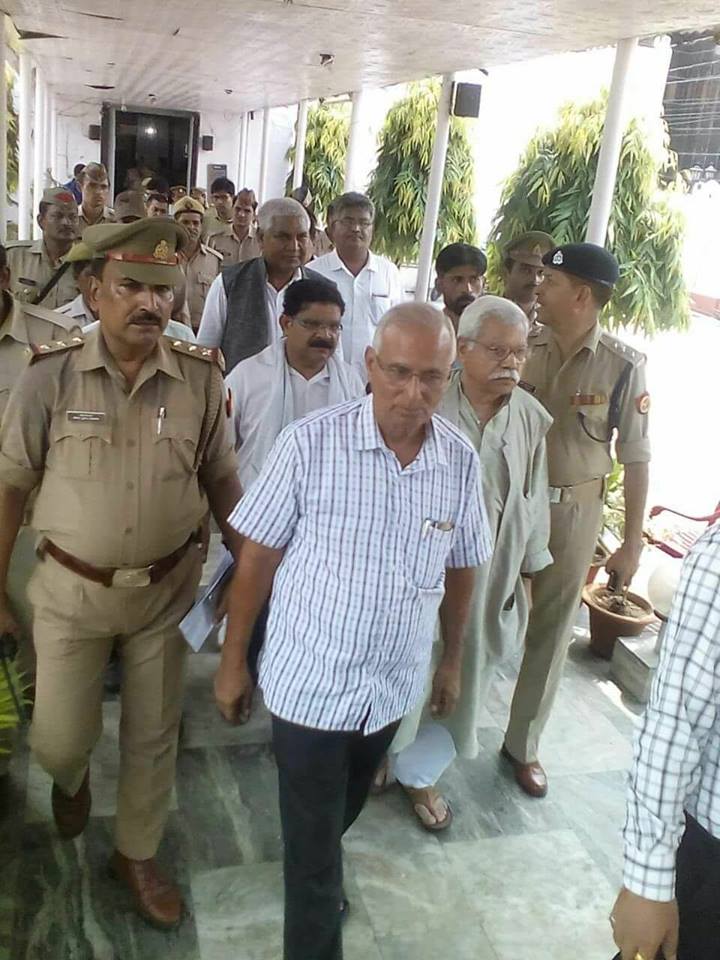 FB Photo
Does holding a press conference against atrocities on Dalits warrant arrest? It would appear so in Modi-Yogi's Uttar Pradesh. Well-known Dalit activists Ram Kumar and SR Darapuri were among 31 people arrested today in Lucknow by the Uttar Pradesh police, and later given bail, for allegedly planning a protest rally against Chief Minister Yogi Adityanath. About to address a press conference on the increasing atrocities in the state, eight of the arrested were picked up from the UP Press Club, where they had planned a press conference to condemn the UP government for forcibly sending back Dalit activists from Gujarat who were coming to UP.
This just after the day that 45 activists from Gujarat were earlier detained and sent back from the railway station in Jhansi on Sunday evening. They were travelling on the Sabarmati Express and had brought with them a 125 kg soap with an image of Gautam Buddha carved on it. They wanted to gift the giant soap to Chief Minister Yogi Adityanath to "cleanse his mentality towards Dalits". The protests were in response to a rather obnoxious incident this May, where (police and other government) officials had gifted soap bars and shampoos to 100 odd Musahar Dalit families in Kushi Nagar a day before Chief Minister Yogi Adityanath was to visit them.
The Gujarati Dalit activists who had brought the 125 kg soap bar were sent back forcibly from Jhansi because the police claimed it feared their presence in Lucknow could disturb peace. Protests disturb peace in a state where the attacks on Dalits by the state have seen a sharp increase since the BJP swept to power in March this year. A day later, Dalit activists Ram Kumar and SR Darapuri called a press conference at the UP Press Club to condemn the police's refusal to allow the Gujarati activists into the state. They also planned to condemn incidents of violence against Dalits across the state, which they claim have been on the rise. Two Dalit women were gang-raped in separate incidents in east UP just last week. In May, one Dalit had died in Thakur-Dalit clashes in Saharnpur, western UP.
They have all been charged with Section 151 of the Criminal Procedure Code, which gives police the power to arrest anyone to prevent commission of cognisable offences.
This is part of an unhealthy trend leading a question, is Uttar Pradesh in a state of emergency? Not so long ago, in May 2017, Dalits protesting atrocities against the community under watch of UP chief minister, Yogi Adityanath, over 500 of them blocked the roads, raised slogans against the CM and greeted him black flags in Moradabad on Sunday, ABP news channel had reported. The police have registered a case against 500 persons who are incensed over the growing "discrimination" and "unjust practices" against UP Dalits in general and in particular at the atrocities against the community in Saharanpur district by Thakurs on May 5. Then there was the crackdown on Bhim Army chief Chandrashekhar Azad.
The police had clearly planned in advance to not allow Dalit activists to hold their press conference against Dalit atrocities. A large posse of policemen was waiting at the UP Press Club since morning. Eyewitnesses say the activists were arrested even before the press conference could begin.
State president of the Nationalist Congress Party, Ramesh Dixit, also reached the spot, offering to change the venue of the press conference to the NCP office. When he questioned the policemen on why the Dalit activists were being arrested, they replied it was because they were planning to take out a rally without permission, marching towards the chief minister's office, in support of the Gujarati activists who were returned from Jhansi.
Eyewitnesses say Ramesh Dixit and the Dalit activists said they were there only to hold a press conference and there was no plan for any rally or march, and even if there was, how was it illegal? At this, Dixit was also arrested. Apart form the 8 arrested at the Press Club, 23 others were arrested from the Chowk locality. They were all taken not to the nearest police station but to Police Lines. The arrests happened around 1:30 pm and were granted bail around 5:30 pm. They have all been charged with Section 151 of the Criminal Procedure Code, which gives police the power to arrest anyone to prevent commission of cognisable offences.
Ram Kumar runs the Dynamic Action Group, a non-profit working on violence against Dalits for about two decades. SR Darapuri is a retired IPS officer, an eminent human rights activist and Dalit intellectual. The two have been at loggerheads with previous governments too, including that of Dalit leader Mayawati, but have never been arrested by them.
Clearly appointing a 'Dalit' as Presidential Nominee is a sop even while Modi-Yogi duo continue to run administrations that are displaying increasingly anti-Dalit biases.