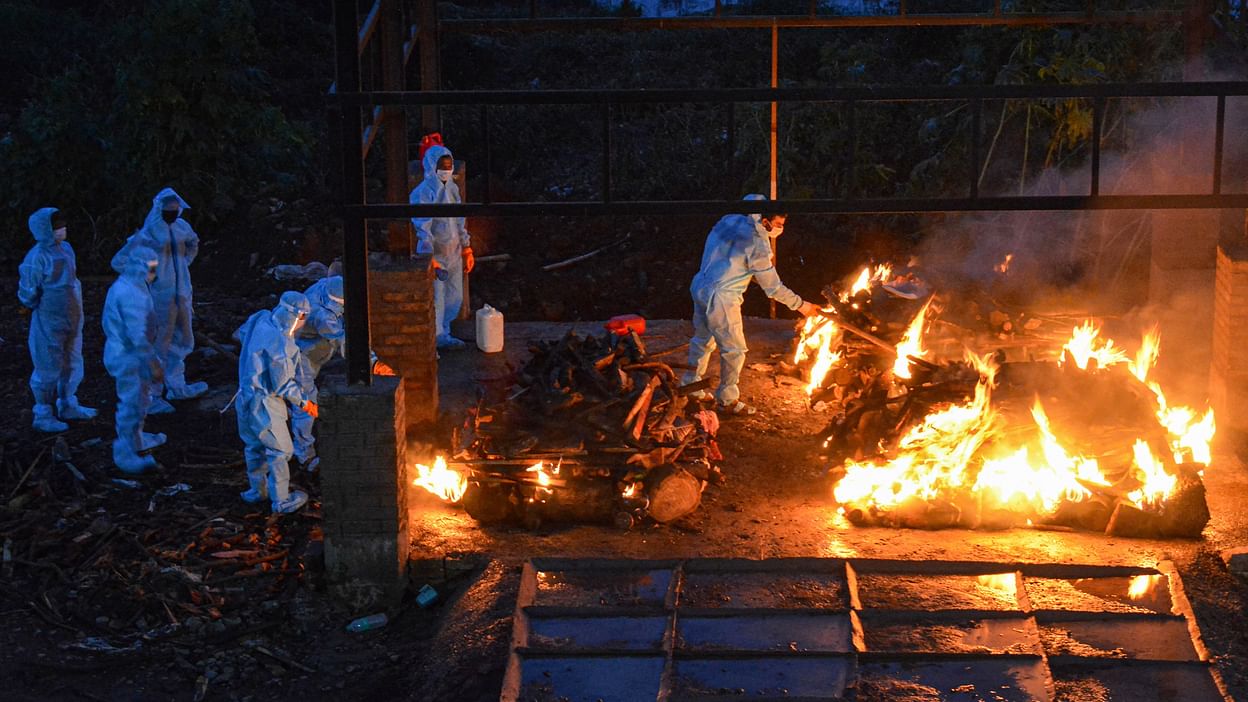 Image: PTI
A Gujarat High Court Bench comprising Chief Justice Vikram Nath and Justice Bhargav D Karia, that has been hearing a suo motu Public Interest Litigation (PIL) regarding the Covid-19 situation in the state since April 12, has now observed that more could have been done to control the crisis.
In today's hearing on April 15, Chief Justice Nath referred to the rise of cases in Gujarat over the past few days, that has gone up to 7,410 cases a day. Bar & Bench quoted him saying, "Not that the State was sleeping, but little more should have been done."
Bar & Bench reported that in the previous hearing, the court expressed its dissatisfaction with certain policies of the government albeit it observed that the state was doing its best to deal with the situation. The Bench had directed the state to file its response in the matter.
The High Court had observed that several media reports on the pandemic indicated that Gujarat was heading towards a "health emergency of sorts" and initiated a suo motu public interest litigation over the coronavirus situation in the state.
Advocate General Kamal Trivedi (appearing for the State) ensured the Bench that the State is fighting together against the pandemic and that the laboratories are responsible for reducing the staff and the production of Remdesivir, a medicine approved for treating Covid. He reportedly blamed the press for showing the government in bad light and stated that the government's "intention is not bad". To this, the court remarked, "Nobody is saying you are to blame for the tsunami of cases. Press is only saying that the state should have been more prepared", reported B&B.
Dr. Jayanti S. Ravi, Principal Secretary, Department of Health and Family Welfare, as per B&B, informed the court about the following immediate measures undertaken by the state:
Not more than 50 persons can assemble at wedding functions and funerals and the time duration is restricted to curfew timings from April 14

Religious celebrations and festivities are prohibited for the months of April and May.

Public gatherings, processions, social events, for any reason, are strictly prohibited.

Strength of employees coming in to work reduced to 50% and on alternate days. This is not applicable to essential services.

Religious places to be closed. Entry to worshipers and pilgrims to be stalled till April 30.

Negative RT-PCR report mandatory for all passengers coming into Gujarat from April 1, 2021.

22 Senior IAS officers assigned special duty of monitoring corporations and districts where the number of cases are increasing.

8 senior IAS officers have been given special responsibility of monitoring Covid-19 care centres in corporations.

Vaccination available to all above 45 years.

Night curfew imposed in 20 cities along with 4 metro cities from 8 pm till 6 am till April 30.

Education institutes in the State to remain closed till April 30.

Public transport closed in Surat and Ahmedabad Corporation.

Interns, doctors and students of final year of nursing and MBBS dental, physiotherapy is involved in containment activities of Covid-19

Strict implementation of social distancing and mask-wearing measures.

Mass gatherings, social and political or other activities prohibited. Festivities restricted to symbolic offerings. Chaitri Navratri, Gui Padavo, Ram Navami, Ramzan Eid celebrations restricted.

Suggestions received from the Gujarat High Court Advocates' Association (GHCAA) for physical infrastructure, availability of medication, availability of oxygen, norms of physical movement, restrictions on assembly for social or religious events have been considered duly.
On the healthcare infrastructure
The Government informed the High Court Bench that the State currently has 97 testing labs, of which 43 are government hospitals and 54 are private labs, according to some media reports. As many as 70 RT-PCR machines are available in government labs and 40 are being purchased to enhance testing capacity.
According to the State's response, Rapid Antigen Testing (RAT) has started in all Primary Health Centres (PHC), Community Health Centres (CHC), Health and Wellness Centres, Urban Health Centres and Outdoor walk-in facility kiosks, and 2177.7 tests per day per million are being conducted as against 66 tests per day per million on June 15, 2020, reported Bar & Bench.
Shortage of Remdesivir injections
The state has been reporting the shortage of this antiviral drug used to treat Covid and the High Court took note of the grim situation in the said PIL titled In Re : Uncontrolled upsurge and serious management issues in COVID control. The State was asked to file an affidavit on the situation of shortage and directed the State to explain what it is, and when, where, and to whom it should be given.
According to a report in Bar & Bench, the State clarified that the drug is not viewed as direct treatment for Covid but is currently being used as an antiviral drug to fight it. They have submitted before the court that it is to be given on an emergency basis and under supervision to patients complaining of continuous, high-grade fever and showing a lack of oxygen saturation. However, even according to the World Health Organisation (WHO), there is no evidence that Remdesivir improves survival in corona patients, says the reply.
According to the media, the State told the court that due to the dip in cases, the manufacturers reportedly scaled down their production very significantly by about 5-10% affecting the supply chain. The issue of fluctuating Remdesivir prices, over charging, hoarding, black marketing and short supply was also raised in the court. The State, as per Bar & Bench, told the court that on April 14, a communication flagging these issues was addressed to the Chairman of the National Pharmaceutical Pricing Authority, New Delhi.
The State has lastly submitted in its affidavit that the Centre has stopped the export of Remdesivir since April 2021 and that the manufacturers have also been asked to scale up production. The police have also been cracking down on hoarders and black marketeers of Remdesivir, pushing the tally to 6 cases over its illegal sale.
Related:
Covid-19: Gujarat HC says state heading towards a "health emergency", Gov't stays silent
Night curfew back in Gujarat, as Covid-19 cases surge again
Covid-19: Over 1,45,384 new infections reported in India on Saturday