The Madhya Pradesh government has arrested two senior tribal rights activists, Rahul Yadav and Pavan Yadav, attached with the well-known anti-dam movement, Narmada Bachao Andolan (NBA), as they reportedly tried to take objection to "illegalsand mining in Narmada riverbed in Badwani district.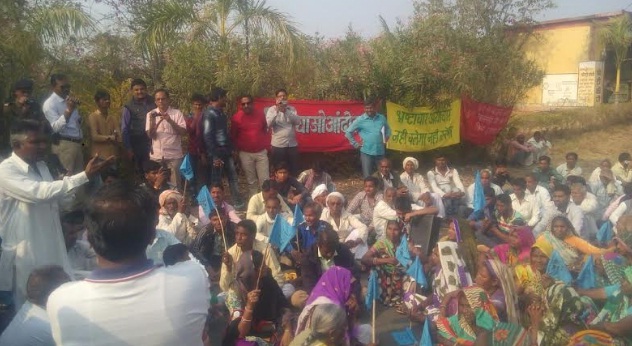 NBA campaign against "illegal" sand mining
Arrested under the Scheduled Castes and Scheduled Tribes (Prevention of Atrocities) Amendment Act, 2015, an NBA communiqué, characterizing the government action as "repressive", said, it all began on January 6, 2017, when the two, accompanied by several other activists, stopped a tractor, whose owner happens to be a tribal, from carrying sand, mined at the riverbed.
"The NBA activists demanded explanation from the driver as to how could he take away the riverbed sand when the Supreme Court had stayed mining in the Narmada Valley and riverbed on May 6, 2015, and the National Green Tribunal (NGT) declared it illegal", the communiqué said, adding, "Ever since, the NBA has been helping the administration to taking steps against those involved in illegal sand mining and confiscate vehicles being used for it."
Pointing out that despite apex court stay and NGT stay, "illegal" mining has been continuing in "gross violation of the law", the communiqué said, "Instead of stopping illegal mining, the tractor owner drove the vehicle towards NBA activists to scare them. This forced them to file an FIR with the police against the owner."
Two days later, on January 8, said the communiqué, the district collector's car was found to be going for the Namami Devi Narmade campaign, claimed to be conceived by the Madhya Pradesh government to "protect" environment. "NBA workers stopped his car at Shaheed Stambh (Martyrs' Square), asking him as to why no action was being taken against those involved in illegal mining."
"The workers also asked the official as to why, when NBA is helping confiscate tractors involved in illegal mining, no action was taken against the culprits, who were being set free, and also why the chief minister and other officials were not speaking a word against illegal mining", the communiqué said.
"When the officials failed to answer any questions", claimed NBA, "the owner of the tractor, who happens to be a tribal, and against whom an FIR has been registered, was called in, and a case was registered under Indian Penal Code (IPC) sections 294, 323, 506, 341, 34 as also Prevention of SC/ST Atrocities Act, against Rahul Yadav and Pavan Yadav. Then, they were arrested."
Calling the arrest a "conspiracy" against those who are fighting and raising voice against illegal sand mining in Narmada Valley, NBA said, "The arrest clearly suggests that the sand mining mafia and the Madhya Pradesh administration are hand in glove."
It added, "The arrest also exposes the real face of the Namami Devi Narmade campaign, run by the ruling BJP. The entire campaign is being run by religious leaders, with chief minister Shivraj Singh Chauhan merely reaching amidst the campaign in a chopper for a speech, with little effort being made to help those adversely affected by the Narmada dam."