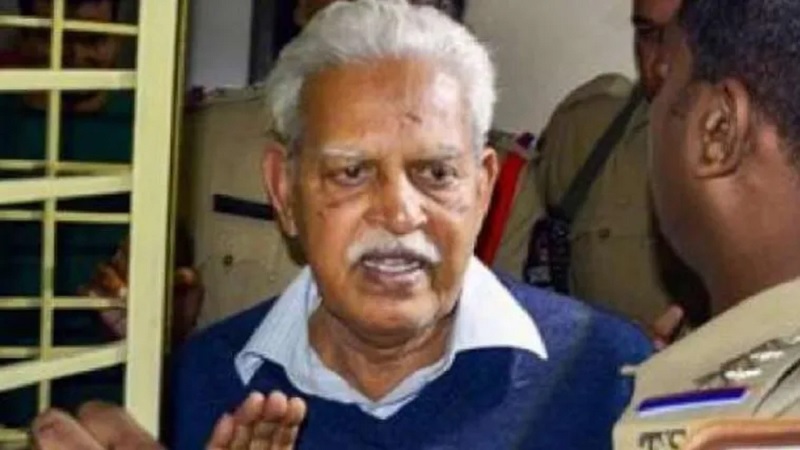 Image Courtesy:republicworld.com
The Bombay High Court continued to hear Bhima Koregaon accused Dr. Varavara Rao's bail matter on medical grounds today, on February 1. The Bench has reserved its order and in the interim, Dr. Rao will remain admitted in Nanavati Hospital.
Bar & Bench reported that Justice SS Shinde informed the National Investigation Agency (NIA) Counsel Anil Singh, that the medical reports submitted to the court does not clarify whether Rao suffers from dementia or not. Taking into account the medical reports from all hospitals, Justice Shinde remarked, "How can we ignore the reports of JJ Hospital, St. George and Taloja, we can't go by the last report only. St. George's report from last year mentions dementia."
Further, Justice Shinde asked Senior Counsel Anand Grover, appearing for Dr. Rao if his relatives were satisfied with the treatment, he has been receiving at Nanavati Hospital and that whether he should be shifted to JJ Hospital since the bail is being sought on medical grounds, tweeted LiveLaw.
Senior Counsel Grover told the Division Bench of Justices SS Shinde and Manish Pitale that the fact that the State is arguing for Dr. Rao's admission in JJ Hospital, it is clear that they accept Taloja jail's incapability to take care of him.
According to LiveLaw, Anand Grover argued that it was "torture" to keep Dr. Rao in JJ Hospital, a hot bed of infections, especially when Nanavati Hospital's report says that indoor management is not required. He said, "He is neurologically compromised. The best treatment is with friends and family."
As Justice Shinde wondered about the suggestion that Dr. Varavara could be released on bail but only in Mumbai, Anand Grover contended that his family is based out of Hyderabad and that it would be more appropriate if he is allowed to go to Hyderabad only for three months. He argued that the jailed poet has had "exemplary record" and for the serious charges against him in 24 cases, he has stood trial. He further argued that he has either been acquitted or discharged except in three pending cases, reported LiveLaw.
Chief Public Prosecutor for the State, Deepak Thakre opposed the prayer to send him to Hyderabad and submitted that it was not about Taloja Jail's lack of medical facilities, but the kind of monitoring being sought that cannot be fulfilled. Hence, the State prayed for him to be shifted to JJ Hospital.
Senior Advocate Indira Jaising, representing Dr. Varavara Rao requested the court to observe that he is still an undertrial and that his continuing incarceration is incompatible to his health, tweeted Bar & Bench. "This is a victimless crime; death penalty will not be attracted as he has not killed anyone. While stating that his crimes were serious, what were his crimes? Some evidence was found in a co-accused's electronic files which mentions his names. But that is also a purported conspiracy", she submitted orally.
Jaising further reiterated that the care provided to him by his family in Hyderabad will be unmatched to any care and treatment elsewhere in the country. Bar & Bench also reported that Senior Advocate Jaising referred to the case of a 38- year- old UAPA accused Kanchan Nanaware, who died on January 24, after six years of incarceration, before the trial against her could begin and before her medical bail could be decided.
She concluded by remarking, "Life is dear to everyone, including a prisoner, and the court is here to protect it. The record speaks for itself, out of 365 days in a year he has spent 149 days in hospital."
The court then reserved his bail matter for orders.
Related:
Varavara Rao bail: Bom HC questions if keeping him in custody will be detrimental to his health
Varavara Rao seeks temporary bail, State suggests transfer to JJ Hospital