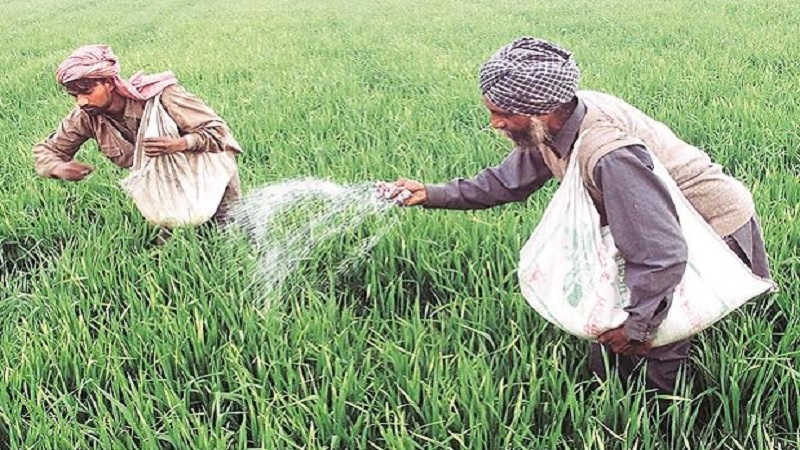 Image Courtesy:business-standard.com
Demanding that the central government repeal the new price hikes on fertilisers, the All India Kisan Sabha (AIKS) on April 8, 2021 called upon all units to protest the Centre's decision.
AIKS President Ashok Dhawale condemned fertiliser companies' huge price hikes in chemical fertilizers such as the diammonium phosphate (DAP 18-46-00) that will now be sold at Rs.38,000 per metric tonne instead of Rs.24,000 per metric tonne in 2020.
This means an increase of Rs.14,000 per metric tonne for what is described by the Indian Farmers Fertiliser Cooperative Limited (IFFCO) as "the most popular phosphatic fertiliser".
"Farmers, who were paying Rs.1,200 for a 50 kg bag, have to now pay Rs. 1,900. The prices of NPK complex fertilizers have also seen an exorbitant rise. NPK-I (10-26-26) prices increased from Rs. 23,500 to Rs. 35,500, an increase of Rs.12,000. NPK-II (12-32-16) prices increased from Rs. 23,700 to Rs. 36,000, an increase of Rs. 12,300. NP (20-20-0- 13) prices also increased from Rs. 18,500 to Rs. 27,000. AIKS demands immediate rollback of the increase in prices," said Dhawale.
Similarly, AIKS General Secretary Hannan Mollah pointed out that this IFFCO-provided information was published mere two months after the government claimed that prices will not be increased as they aimed to reduce agricultural input cost to farmers.
"This has happened as the government has promoted deregulation in the fertilizer sector and companies are fixing farm gate prices without even transferring fertilizer subsidies benefits to farmers. Prime Minister Narendra Modi and the BJP-led government are doubling farmers' woes rather than their incomes," said Mollah.
Leaders reminded that farmers have already suffered huge losses due to the unplanned lockdown announcements last year. Moreover, increasing fuel prices and other agricultural inputs have also increased the cost of production. This also comes at a time when internationally crude oil prices are low.
Meanwhile, farmers' group Samyukt Kisan Morcha (SKM) decried the government decision in light of repeated demands regarding fair crop prices and rising input cost.
"Farmers are not getting prices of their crops as per fixed MSP. Parallelly, the input cost of farming is increasing so much that it exceeds the prices of the crop. Similarly, the prices of other products have also increased. This is a direct attack on farmers where farmers will have to buy DAP at expensive prices," said SKM leaders in a press release.
Leaders warned that the national movement will be intensified if the IFFCO and the government do not reduce product prices.
Related:
Employees to strengthen farmers' protests during wheat harvest time
Mumbai's prominent union leader Datta Iswalkar passes away
Haryana: Farmers condemn police lathi-charge on peaceful protesters
Provide adequate budget to FCI! Protect the hungry! Demand India's farmers