#StopCriminalisationOfTripleTalaq
#RedraftMuslimWomen'sRightsBill,2018
We, the undersigned individuals, women's rights activists and allies of the women's movements, are opposed to the Muslim Women (Protection of Rights on Marriage) Bill, 2018 in its present form. We appeal to the Members of Rajya Sabha to completely withdraw the Bill and significantly re-draft it in the interest of Muslim women.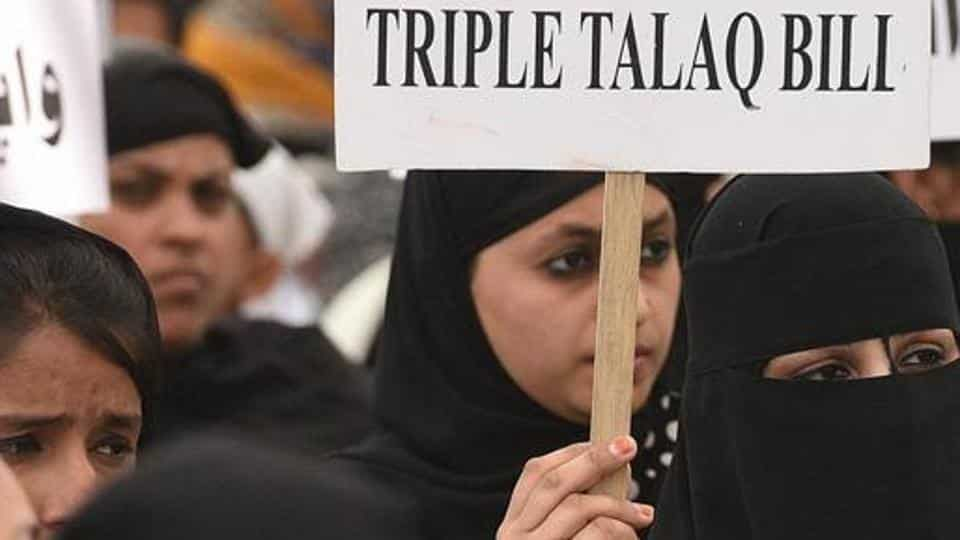 The Muslim Women (Protection of Rights on Marriage) Bill, 2017, was passed by the Lok Sabha on December 28, 2017 and is pending before the Rajya Sabha. This Bill was not referred to a Select Committee as urged by the members of Rajya Sabha, but the Union Cabinet incorporated three amendments based on the issues raised by the Opposition. It included the provision of bail when the wife appears before the Magistrate, allowing only the aggrieved woman and her relatives (by blood or marriage) to file a complaint, and making the offence compoundable. Owing to severe opposition to this Bill in the Rajya Sabha, the Union Cabinet issued the Muslim Women (Protection of Rights on Marriage) Ordinance on September 19, 2018, which criminalised the pronouncement of triple talaq (or talaq-e-bidat) with punishment of up to 3 years of imprisonment and with fine.
We are writing on behalf of Muslim women from across the country and women's groups to oppose this Bill, which is arbitrary, excessive, and violative of fundamental rights enshrined in the Indian Constitution. Overall, if this Bill is passed it would make Muslim women more vulnerable to violence, as well as harm their economic, household and social security.
Below are our points of objection to the Bill:
1. This Bill is purportedly brought in accordance with the Supreme Court judgement in the matter of Shayara Bano Vs. Union of India and others on August 22, 2017. But it disregards the very fact that the object of this Bill—to protect the rights of married Muslim women and to prohibit divorce by pronouncing talaq by their husband—has already been achieved by the judgement of the Supreme Court.
2. The Hon'ble Supreme Court in Shayara Bano's case held that the practice of talaq-e-bidat is manifestly arbitrary, and therefore unconstitutional. A reading of the judgment clearly indicates that mere pronouncing of triple talaq does not dissolve the marriage and there is no legal implication on pronouncing talaq. Following the same, an act that has no legal consequences being made a criminal offence, cognizable and non-bailable is manifestly arbitrary and therefore violative of Article 14.
3. There is no rationale to criminalise the practice of talaq-e-biddat and imprison the Muslim man. The effect of Supreme Court's judgment is that the marriage is legally valid and the persons continue to be lawfully wedded. Now, if this law is passed, the Muslim men will be incarcerated thus violating the rights of conjugality of these two persons. Criminalising the husband would also lead to unwanted separation between the couple, against the wishes of the wife.
4. Since Muslim marriage is a civil contract between two adult persons, the procedures to be followed on its breakdown should also be of civil nature. Penal action to discourage the practice of instant triple talaq is a myopic view as it leaves many other issues of economic and social security of women unaddressed.
5. Using penal actions leading to imprisonment to discourage the practice of triple talaq will not help in getting justice for women. When a woman reports a complaint about triple talaq, she wants to continue staying in her matrimonial home and draw financial support from her marital home. When the husband is put behind bars, he will be unable to pay the maintenance and contribute to raising their children for 3 years, thus depriving Muslim women and children of financial security. The Government ought to strengthen the negotiating capacities of women by providing them economic and socio-legal support rather than criminalising the pronouncement of triple talaq.
6. Penal provisions in the Bill will make Muslim women more vulnerable to violence from their matrimonial household, as the marital family members would be hostile and blame the woman for the husband being in jail. It would hinder her household security, and she might be thrown out of her matrimonial household.
7. The pronouncement of triple talaq having no legal consequences on the marriage means that such a proclamation by a Muslim man is essentially a desertion of the wife. In any of Personal Laws, the desertion of a wife by a man is not a criminal offence. Therefore, while the Bill aims to criminalize the pronouncement of talaq, in effect it is only criminalising the act of desertion of a Muslim wife by her husband. Criminalising desertion by Muslim men, which constitutes only a civil offence for men of all other religions, is discriminatory under the Constitution.
8. If there is violence within the marriage in addition to the pronouncement of triple talaq, then the woman could use the existing provisions of the Protection of Women from Domestic Violence Act, 2005 and Section 498A of the Indian Penal Code. These two laws, taken together, represent a wide spectrum of legal options available for women survivors of domestic violence, encompassing both criminal and civil provisions. The Domestic Violence Act presents women with civil redressal with its focus on availing monetary relief, custody, residence and protection orders, whereas Section 498A presents women with the option of prosecution and imprisonment.
9. No economic and socio-legal support is provided by the government to women, children and other dependents, when the erring men are put behind bars. The Domestic Violence Act, 2005 under Section 21 already provides for the aggrieved woman to be provided custody of the child and Section 20 provides for maintenance to be paid to her. Section 125 of the Code of Criminal Procedure, 1973 also provides for maintenance for the aggrieved woman. The Bill therefore, does not provide anything by way of additional rights to the existing laws already in place. In fact, the Bill takes a step back in only providing for subsistence allowance for the woman.
10. The Bill talks about providing "subsistence allowance" for the aggrieved Muslim woman. Subsistence allowance is not defined and is open to interpretation. The law on maintenance has gone much further in providing much more than just subsistence allowance for the complainants. By providing only subsistence allowance, this Bill provides an aggrieved Muslim less than what she is legally due.
11. The Bill allows for the aggrieved woman as well as anyone related to her by blood or marriage to be the complainant. There is no provision for a relative to seek the consent of an aggrieved woman before filing a complaint. It becomes therefore easy for a family member of a woman to file a complaint of triple talaq against her husband without her consent leading to his imprisonment and separation from her. Further, it becomes an easy avenue for relatives of women who have entered into marriages against their wishes to separate the couple and exact revenge. The problem becomes particularly acute in the case of inter-religious marriages of Muslim men with a woman of another religion.
12. The punishment prescribed in the Bill is up to three years, and makes the offence a cognizable and non-bailable one. The same is draconian and disproportionate. A punishment, to be just, should have only that degree of severity which is sufficient to deter others. The terms of imprisonment up to 3 years is arbitrary and excessive. Serious crimes like Causing death by rash or negligent act (IPC Sec 304A), Rioting (IPC Sec 147), Injuring or defiling place of worship with intent to insult the religion of any class (IPC Sec 295) — all punishable by 2 years in jail or fine or both; Bribery (IPC Sec 171E) is punishable by 1 year; Negligent act likely to spread infection of disease dangerous to life (IPC Sec 269), Causing hurt by act endangering life or personal safety of others (IPC Sec 337) — are punishable by 6 months in jail or fine. All these criminal acts have lesser punishment than pronouncing triple talaq, which is arbitrary and excessive, and violative of Article 14 of the Constitution.
13. The Law Minister Mr. Ravi Shankar Prasad has said that the practice is still "continuing unabated". He has pegged the number of divorce cases pronounced by way of triple talaq to 400 in 13 months. This data, for a country as large as India, is not enough to draw conclusions and create a criminalising bill. Moreover, the statement seems to be based on popular beliefs or perception rather than corroborated by any material evidence.
14. The Law Minister has also said that there is an urgent need to criminalise triple talaq, and hence the Ordinance was passed. However, the practice of unilateral triple talaq has been going on for hundreds of years, and no government had banned the practice until the Supreme Court declared it unconstitutional. If it was as urgent, why was no legislation passed against it until after the SC judgement? This is a move to serve political ends than truly meeting the needs of Muslim women.
15. The move to imprison Muslim men will add to the prevailing insecurity and alienation of the Muslim community. Family and community members might create undue pressures on the woman not to report against her husband. Criminalization of instant triple talaq will further stifle the voices of Muslim women instead of offering them avenues for justice.
The Muslim Women (Protection of Rights) Bill instead of protecting the rights of Muslim women makes them vulnerable to violence and insecurity. We wish for the Government of India to withdraw this Bill from consideration in the Rajya Sabha, and review the fundamental flaws pending broad based community consultations.
Endorsed,
1. Bebaak Collective (Voice of The Fearless)
2. Arundhati Dhuru, NAPM, Humsafar Support Centre
3. Farah Naqvi, Writer and Activist, Delhi
4. Ayesha Kidwai, JNU
5. Uma Chakravarti
6. Kavita Krishnan
7. Habitat and livelihood welfare association
8. Arshie Qureshi, Kashmir women's collective
9. MASUM, Pune
10. Parwaaz sansthaa, Ahmedabad
11. Irfan Engineer, All India Secular Forum
12. Najmussaher Ansari
13. Aawaaz-e-Niswaan
14. Ridhima, Research Scholar, Jawaharlal Nehru University.
15. Lara Jesani, PUCL
16. Nasreen Fazalbhoy
17. Pallavi Gupta, PhD Student
18. Vahida Nainar, Women's Research & Action Group
19. Brinelle D'souza, TISS Mumbai
20. Nandini Manjrekar, TISS Mumbai
21. Shweta Damle, Habitat and Livelihood Welfare Association
22. Amrita Nandy, Researcher.
23. Sheba George, SAHR WARU
24. Jaya Sagade
25. Anuradha Kapoor, Swayam
26. Reshma and Rita, Sahiyar stree sangathan
27. Madhu Bhushan, Activist (re)searcher, Bangalore
28. Pamela Philipose, New Delhi
29. Putul Sathe, Associate Professor, Research Centre for Women's Studies, S.N.D.T Women's University, Mumbai
30. rita manchanda
31. Shabanam Hashmi, Anhad, New Delhi
32. LABIA – a Queer Feminist LBT Collective
33. Saajhi Duniya, Roop Rekha Verma
34. Richa, Women rights activist, Lucknow
35. Hameeda Khatoon, Women's Rights Activist, Lucknow
36. Shadab Jahan, Muzaffarnagar
37. Gabriele Dietrich
38. Poonam, Pragatisheel mahila sangathan, Delhi
39. Sophia Khan, Safar Group, Ahmedabad
40. Shukla Sen, Trade Union Activist