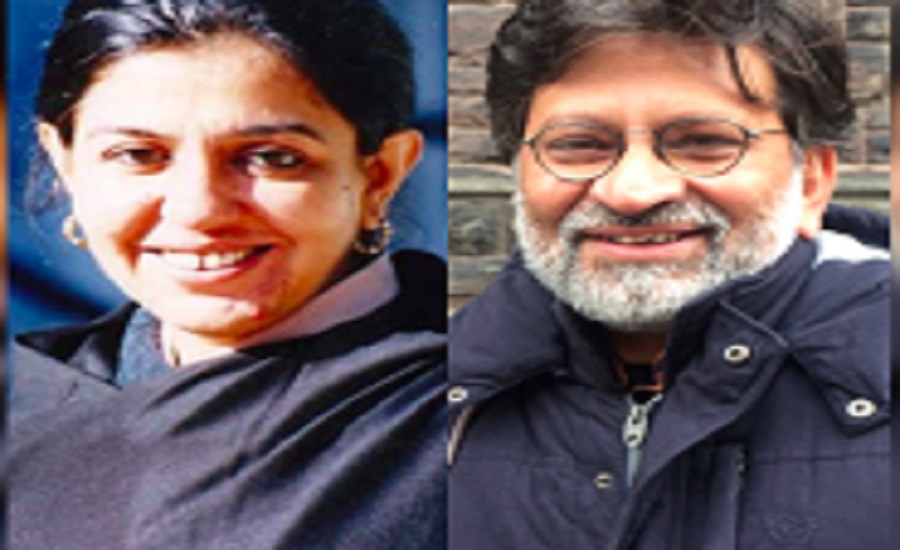 Filmmakers, and social activists Rahul Roy, Saba Dewan questioned by Delhi Police Special Cell for over eight hours on Monday reporte Scroll, and others. According to news reports citing police sources, the two filmmaker's names came up while probing North East Delhi riots of February 2020. The Delhi Police Special Cell questioned them on Monday in connection with the North East Delhi communal violence, and can ask them to return for further questioning if needed. They may also be asked to "join investigations". News reports quoted police sources who said the two were asked about their "presence at anti-CAA protests."
"They were called for questioning at 1 p.m. and were allowed to go at 8 p.m. If required they will be again asked to join the investigation," added another officer.
The two filmmakers were called a day after former Jawaharlal Nehru University (JNU) student leader Dr. Umar Khalid was arrested under Unlawful Activities (Prevention) Act (UAPA), for his alleged role in the riots. On Saturday, the Delhi Police had filed a supplementary chargesheet in connection with the communal violence that broke out in North East Delhi in February 2020. In what appears to be yet another desperate attempt to drag known dissenters into the case, police have named activists, academics and even leaders from the other end of the political spectrum in this supplementary chargesheet based on 'disclosure statements' of accused already in custody.
The supplementary chargesheet names Delhi University professor Apoorvanand, documentary filmmaker Rahul Roy, economist Prof. Jayati Ghosh, activist Dr. Umar Khalid, and senior politicians Sitaram Yechury of CPI (M) and Yogendra Yadav (Swaraj Abhiyaan). As reported by SabrangIndia earlier, it is noteworthy that shortly after a news agency tweeted that the above-mentioned people had been named as co-conspirators, Delhi Police was forced to play on the backfoot and issue a statement clarifying that Yechury, Yadav and Ghosh were not named as either accused or co-conspirators. "It is clarified that Shri Sitaram Yechury, Shri Yogendra Yadav and Smt Jayati Ghosh have not been arraigned as accused in the supplementary chargesheet filed by Delhi Police," stated the Police. These names have a certain recall value as people who have never shied away from calling out the regime's misgovernance, and dragging them into the case on any pretext can be viewed as an attempt to pin the blame for the violence on those who were peacefully protesting the Citizenship Amendment Act (CAA), National Register of Citizens (NRC) and National Population Register (NPR).
On Tuesday, the People's Union for Civil Liberties (PUCL), an independent, voluntary human rights body which was founded during the Emergency by Jayaprakash Narayan, Acharya Kripalani and others and led by prominent jurists/ academics like Justice Tarkunde, Justice Sachar, Shri Kannabiran, Prof. Rajni Kothari and Prof. Prabhakar Sinha, amongst others, wrote to SN Srivastava, Commissioner, Delhi Police asking him to "urgently stop the motivated and malicious investigation and carry out a bona fide investigation into the violence in North East Delhi."
They have asked the police to "stop filing of charge sheet on the basis of fabricated evidence and false confessions in the conspiracy case made out in FIR number 59/2020." They recalled that the FIR was originally registered on March 6, 2020, by an officer of the Crime Branch, based solely on 'information' by an unnamed informant under sections of the IPC 147/148/149/120B, relating to conspiracy, for unlawful assembly and rioting among others was then pumped up. "It is matter of great alarm the manner in which Delhi police is trying to beef up an otherwise hollow foundation and has added charges which include 19 IPC Sections – 120 (B) read with 302, 307, 124 (A), 153 A, 109, 114, 147, 148, 149, 186, 212, 353, 395, 427, 435, 436, 452, 34 – and sections 3 & 4 of the PDPP Act, sections 25 & 27 of the Arms Act and sections 13, 16, 17, 18 of the UAPA" stated PUCL. The charge-sheet in this matter is to be filed before September 17, 2020."
They listed major concerns regarding the investigation under FIR 59/20, and sought the Commissioner's urgent intervention. They write that a "false theory of conspiracy by all those who were part of the movement against Citizenship Amendment Bill (CAA)." They state that "Chargesheets like the latest Supplementary charge-sheet in FIR No. 50/2020, Jafrabad Police station shows the motivated investigation that the Delhi police have indulged in."
"The frequent clubbing of the terms 'anti CAA Protestor / rioter' in the chargesheet shows a predetermined mindset of the Delhi police to project every law abiding citizen, who in exercise of their fundamental right of freedom of speech and expression and in the performance of their fundamental duties to defend the country and its Constitution, protested against an unjust law," stated the PUCL.
PUCL has reiterated that the WhatsApp group, named 'Delhi Protest Solidarity Group' (DPSG), consisted of a motley group of people, who were there with a simple objective as citizens to support a people's movement. They are alarmed that this "is being made out to be some dangerous hub of this alleged criminal conspiracy. Discussions on this group are being taken out of context and being presented as a part of the 'sinister' plan to provoke violence."
The PUCL has urged Delhi Police Commissioner to "uphold sanctity of due process, conduct a fair and just investigation, as mandated by the law, CrPC and the Delhi Police rules." asking him to "ensure a fair and just investigation into the violence that shook Northeast Delhi in end February, 2020 so that the real perpetrators are brought to book."
The entire letter may be read here:
Related:
More activists named in riots case: Delhi Police getting desperate?
Umar Khalid arrested by Delhi Police Special Cell
Police need to stop criminalising the anti CAA protests: Prof. Apoorvanand