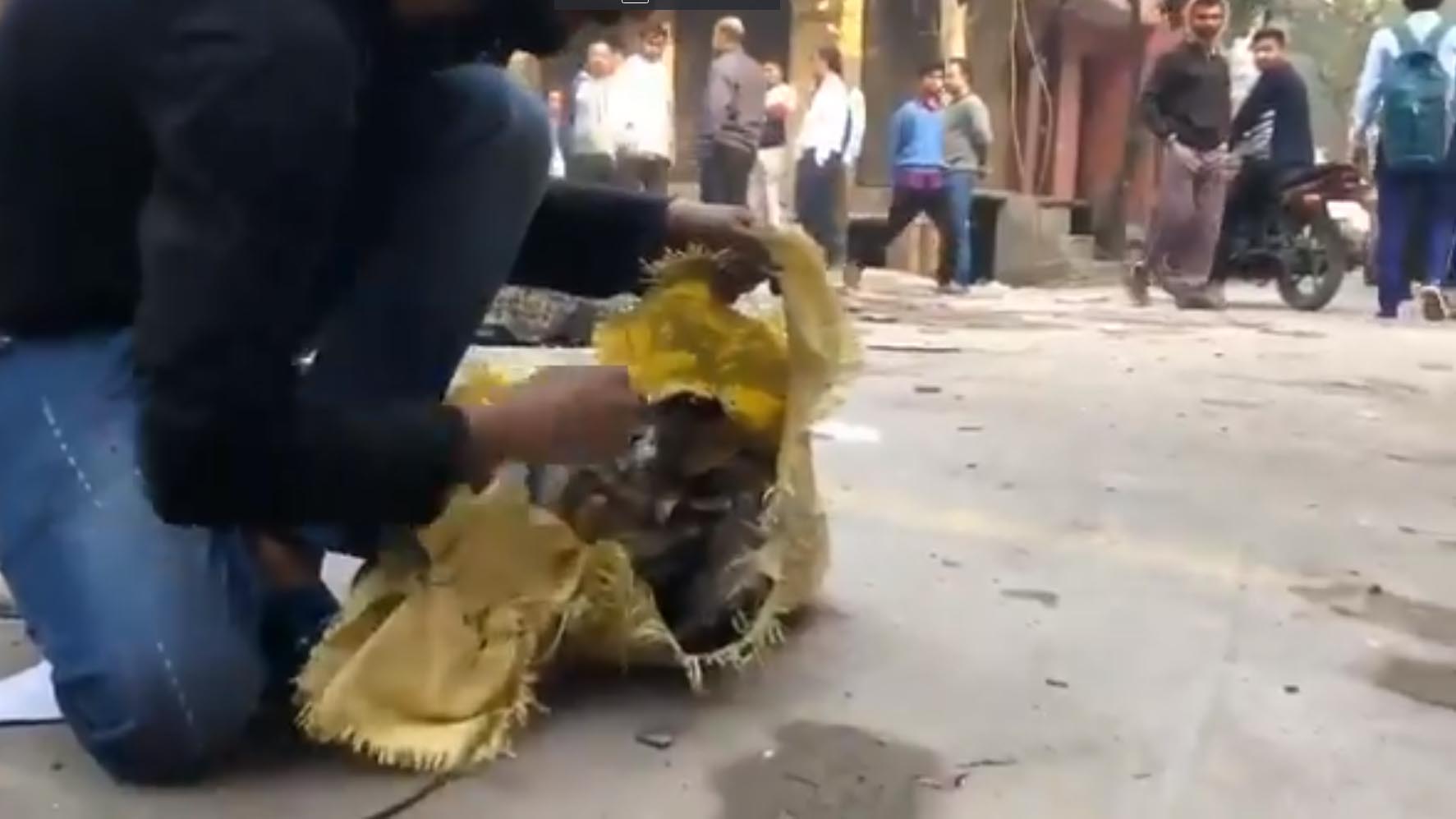 Amid the stories of gruesome violence and disruption of communal harmony coming in from the national capital New Delhi, it is heartening to see stories of hope too coming through, disrupting the narrative of intolerance and hate.
The good people at the heart of the violence have come out to help their anxious and fearful fellow citizens showing utmost respect for all religions and supporting each other through this trying time brought about by anti-minority elements.
Respect for all faiths: Saving the Holy Quran
After vandalizing a mosque in Ashok Nagar, a man, allegedly from a fringe Hindutva group climbed atop its minaret and hoisted a flag dedicated to Lord Hanuman on it. The burnt pages of the Holy Quran that were strewn on the road post the damage, were then collected by members of both, the Hindu and Muslim communities.
Hindus and Muslims collecting burnt pages of Quran outside the Masjid that was vandalized in Ashok Nagar, Delhi yesterday.

Such is the unity of India that BJP wants to break pic.twitter.com/j4U2qpM9bk

— Kamran (@CitizenKamran) February 26, 2020
Delhi's Ganga – Jamuni Tehzeeb
At Chand Bagh, one of the worst affected areas in the violence, Muslim residents formed a human chain around a temple to save it from any damage.
Saleem (67) told the Indian Express, "It would have been shameful for us if the temple would have been damaged."
Tabassum (30), another resident said, "We have ensured that nothing happens to the temple. We also ensured that no damage happens to the shops of our Hindu brothers."
Some rays of hope: Delhi: Chand Bagh Muslims protect temple by forming human chain https://t.co/0qBtVEzjHW

— geeta seshu (@geetaseshu) February 27, 2020
In Maujpur too, members of the Muslim faith protected a temple in the area and stood guard in the area so that nobody could escalate violence in the area.
In Shiv Vihar, when a Hindutva mob ran amok to assault the minorities, a Hindu protected Asif and his family, reported Maktoob Media. For two days, the Hindu family offered shelter and have also suffered attacks once the Hindutva mob got to know of it saving the Muslims. Yet, unity and peace prevailed.
Escorting the fearful to safety
A group of Hindu men also helped Muslim women and other elders to move away from the centre of the violence safely. An elderly Muslim man who was attending a wedding in Gonda with his two grandsons which stood cancelled due to the violence there, was safely escorted out of the area by the group of Hindu youth who said that they didn't believe in the Hindu – Muslim narrative and that they were all Indians and human beings first who were meant to protect each other from harm.
This is our Delhi❤

Ray of hope amidst violence protest#DelhiRiots2020 pic.twitter.com/2F1pu90I33

— Siddharth Setia (@ethicalsid) February 26, 2020
Ronak Chhabra, a journalist with Newsclick who was covering the incident, was attacked by a minority mob who were troubled by the media coverage they had been receiving. Thinking that Ronak was one of the journalists who belonged to the pro-government channels, they attacked him. Ronak heard them say, "They won't show how the saffron flag bearers rampaged through our lanes." "We don't trust the media…"
However, he was saved by the same community that hurt him. He was rescued by two men, Faizan and Shoeb (name changed) who rescued him and assured him that he was safe. They told Ronak who was drenched in blood, "Nothing will happen to you. We will get you treatment."
The men ensured that Ronak was taken to a clinic and treated for the head injury he had sustained. Shoeb, a compunder, treated him for his wounds while Faizan, a pharmacist called informed Ronak's family and friends about his condition.
Faizan said, "We have been protesting since more than a month in a peaceful manner. We don't want violence. We just wanted our voices to be heard."
Protecting each other's homes
At Indira Vihar, there are only 8 Hindu families live among 3,200 Muslim families. Amid the violence, three Muslim men sat guard at a Hindu temple to ensure no harm came to it. Not just that, the Muslims members helped the Hindus by changing the name plates of their homes, by either covering them up or writing Muslim names on it.
Delhi riots: How outsiders were kept at bay in this 'island of peace'

While northeast Delhi was caught in a communal frenzy, Indira Vihar, a locality in Shiv Vihar, proved gallantly different.https://t.co/6i3H1kc6vd via @TOIDelhi pic.twitter.com/QIwIo3uHX9

— Times of India (@timesofindia) February 27, 2020
In Mustafabad, a Muslim neighbour saved a Hindu resident from a violent mob. "Yehi sab the hamare sang," said an elderly Hindu lady about the members of the minority community who ensured the safety of the area.
Hindu, Muslim Bhai Bhai!
People from the two communities also took out a Unity March pledging that they wouldn't let the atmosphere of their area get affected or influenced by hatred.
Don't wait for the Govt,
Don't wait for the Police,
They are part of the problem.

We must take out peace & unity march like this in each & every corner of East Delhi. Show them we are ONE. Hindu-Muslim Ekta Zindabad. Hindustan Zindabad! pic.twitter.com/ybPukUhaiG

— Salman Nizami (@SalmanNizami_) February 25, 2020
Chants of 'Hindu Muslim Sikh Isai' reverberated in narrow gullies as the communities got together to share a laugh and ease anxiousness during this tense atmosphere.
And as proven before that there is no better medium of unity than food, the two communities erupted in laughter as a Hindu brother said, "Biryani tum khilao, halwa hum khilayenge."
"Biryani tum khilao halwa hum khilainge" people from different communities joined together to show unity in diversity amid communal violence in parts of Delhi. pic.twitter.com/ObYR5SSiUT

— ???? ????? (@karmariaz) February 26, 2020
The Sikh community has opened its doors to Muslim families who have reportedly started leaving their homes out of the fear for their lives. The Majnu Tila Gurudwara has offered shelter to Muslims who have now been forced to leave the area. Other Gurudwaras too came forward to provide shelter to those who were in need of refuge, shelter and food.
Another heart rending story comes of Seelampur, one of the worst hit areas of the violence. There, the Dalit community blocked routes leading to Muslim localities and stood guard to prevent the entry of rioters in the area.
https://twitter.com/nilanjanaroy/status/1232303148766617601
Citizens also formed a human chain around school girls to escort them to a safe place. The police did not come to their rescue.
WATCH : Video from Yamuna vihar

Men forming a human chain to safely escort school girls to safe place!

No Police, No Force to Save them, they are on their own now.#GenocideInDelhi #DelhiBurning #DelhiPolice #DelhiRiots #DelhiViolence pic.twitter.com/0cKXGaTEsJ

— CAA / NRC Protest Info. (@NrcProtest) February 25, 2020
Activists too have come forward, making support groups and launching helplines for all those who are in need of ration and those who are anxious for their safety.
Since medical facilities are critical, we share the names of hospitals and doctors therein.
Please send a DM for more details and we will get back. pic.twitter.com/oTdB7S7YZt

— Karwan e Mohabbat (@karwanemohabbat) February 25, 2020
The most heart-wrenching story was of Premkant Baghel who literally jumped into fire to save his Muslim brothers and sisters after their house was set on fire by rioters. Premkant had already saved six people of the family, but his friend's mother was still in the house. Premkant suffered burn injuries as he tried to save her. Because the Shiv Vihar area was in the midst of the violence, Premkant couldn't avail an ambulance and suffered at home. His family members were not sure if he would survive the night. He was then taken to GTB Hospital the next morning where his condition is critical.
Both, Hindus and Muslims, have suffered indiscriminate horror during this violence. Reporters speaking to people at the epicentre have shown that people say it is the 'common man' who lost their lives and livelihoods.
While the police and the politicians did not step up to do their duty, it was the public who suffered the 'targeted' violence.
However, the examples of humans stepping beyond the deep religious divide only instil more hope in us that no matter how bad the situation, there will always be good people who will stand up for love over hatred.
Related:
Videos of hate speech by Kapil Mishra played before Delhi HC
Delhi HC convenes late night hearing, directs DCP to ensure safe passage for ambulances
Listen to Video, HC tells SG, asking him to advise police chief to lodge FIR against 3 BJP leaders: Delhi